The Danube Floodplain project, supported by Interreg Europe through the Danube Transnational Programme (DTP), will be implemented by 18 partners with 4 associated strategic partners across ten countries sharing the Danube River Basin (Austria, Bulgaria, Croatia, Czech Republic, Germany, Hungary, Slovakia, Slovenia, Romania and Serbia).
The main objective of the project is to improve transnational water management and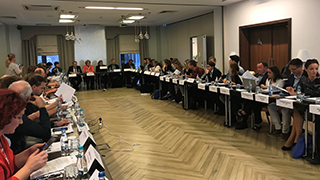 flood risk prevention while maximizing benefits for biodiversity. This can contribute to a network of more stable and living water ecosystems which provides further advantages for local people and is able to mitigate the various human impacts, as well as extreme climatic events. The project will result in improved knowledge among the Danube countries on integrative water management through restoration of floodplains, combination of grey and green infrastructure, natural retention measures, involving all related stakeholders, whose cooperation is very important regarding the planning and realization of such projects.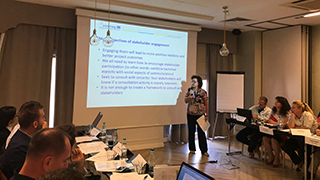 Danube Floodplain project Kick-Off Meeting set the stage for 30 months of intense transnational cooperation across the Danube river basin. The Kick-Off Meeting was open only to project partners, who reviewed and detailed the project's activities and its work plan while agreeing on immediate actions for the ongoing period and the next six months.
In order to ensure streamlined and efficient external communication and stakeholder engagement during all phases of the project, Global Water Partnership Central and Eastern Europe (GWP CEE) together with World Wildlife Fund Hungary will develop a communication and stakeholder engagement strategy. The aim is to have a more enhanced, well established and permanent cooperation among the relevant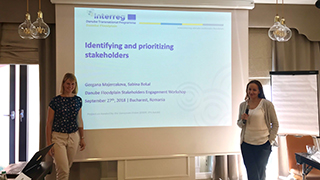 stakeholders involved in transnational water management and flood risk prevention in the Danube region, which will be the basis for reaching the overall project objective. During the Kick-Off Meeting, GWP CEE conducted a Stakeholder engagement workshop to present key information on stakeholders' engagement for the project activities and to set up a roadmap/process plan for stakeholder involvement.
In 28 September 2018 was held the 1st meeting of the project Steering Committee where all the Project Partners and ASPs are represented at decision level, aiming to be informed about the state of the project.
Background
The Danube Floodplain project started in 1st June 2018 and will run until 30 November 2020.
The project is implemented under the umbrella of Interreg Europe – a European Union programme for interregional cooperation that helps regional and local governments across Europe to develop and deliver better policy – through the targeted Danube Transnational Programme (DTP), which promotes economic, social and territorial cohesion in the Danube Region through policy integration in selected fields.
Danube Floodplain falls into the "Environment and Culture Responsible Danube Region" priority area of the DTP, with a specific objective to strengthen transnational water management and flood risk prevention.
The amount of overall funding for Danube Floodplain is EUR 3.67 million.