Organised upon the request of the Japanese High-level Experts and Leaders Panel on Water and Disaster, the objective of the consultation was to collect comments on the proposed Principles on Investments and Financing for water related disaster risk reduction.
It is generally known that the water related disasters bring significant damages to the economies. Floods, storms, heat waves and droughts have become more frequent and intense in the most parts of Europe. The governments have made some improvements in the preventive efforts, such as early warning systems, better monitoring and forecast. However, to scale these up to meet current and future needs remains a central challenge. The importance to increase investments and financing for disaster risk reduction is now widely recognized in international agreements (Sendai Framework for DRR).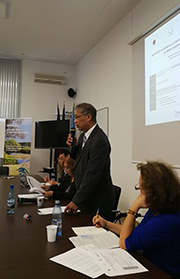 As discussed at the consultation meeting, the current investments are directed to emergency response and recovery of economic damages, while the investments for disaster prevention and preparedness are still very limited. The key message of the consultation was that the countermeasures implemented in advance against water related disasters are not a cost but an investment for the future.
GWP CEE, together with partners of 10 countries under the DriDanube project are engaged to shift the paradigm from reactive to proactive drought management.
Water -related disaster risk reduction is indispensable for socio-economic developmentent. Thus the consultation with HELP experts provided an excellent opportunity to go beyond the technical approaches and addressed the policy and financial implications of the DRR. The following pillars of the principles were presented:
Ex-ante measures of water related disaster risk reduction should be prioritized
Governments should improve their fiscal systems and allocate sufficient budget for water related disaster risk reduction
The international community should expand financing for water related disaster risk reduction
Financing for science and technology should be strengthened to support sound investment decisions
GWP CEE will follow the fate of the principles that are expected to be endorsed in early 2019.