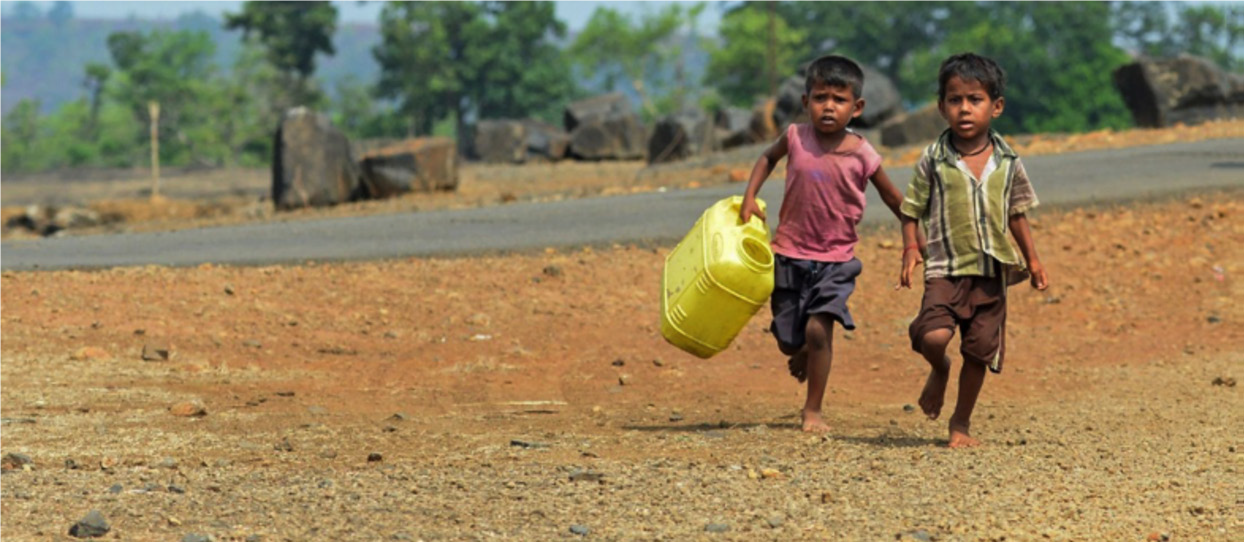 Green River: Community-led ecosystems and livelihood regeneration in Gundar River Basin, Tamil Nadu, India
Please briefly describe your Water ChangeMaker journey
Cyclical monsoon rainfalls have become more unpredictable and in the last two years, the region has experienced their driest period of the past 150 years. Several years ago, DHAN Foundation began restoring deteriorated ancient 1000-year-old water tanks, large man-made reservoirs in the landscape that catch and hold the monsoon rain, part of the traditional water management system. Tamil Nadu, South India, ranks at the top of drought-stricken regions on the planet. Communities in the Gundar Basin region are facing degraded landscapes causing severe droughts, resulting in water scarcity and further depletion of the environment. Current livelihood strategies and ways to acquire water are causing even more destruction to the already degraded land. It's a Catch-22! A different approach is needed. Through carefully listening to the community needs and aspirations (see annex Green River, July 2017) and, by looking at best practices in and outside India, DHAN Foundation and Frank Heckman with his Embassy of the Earth have co-created a holistic new vision for a bio-regional riverbasin-ecosystem called Green River which is now in its 3rd year on a 10 year mission timeline as aimed for by the communities.
Please describe the change that your initiative created and how was it achieved
The methodology is based on a holistic, co-creative approach. Local communities are provided with all the necessary 'pieces of the puzzle' and, through this sharing of knowledge and practices, designed their own community-based plans. They determine their own indicators for success, embedded in the wider healthy river-based ecosystem vision. With a new approach based on restoring the ancient water harvesting cascade systems in the landscape, and through applying ancestral knowledge, new technologies and best practices of regeneration, communities bring back the natural flow in the whole watershed. This provides a structure for ecosystem regeneration: the emergence of a 'Green River'! In a 5 - 10 year timeframe we'll see vital and resilient communities in biodiverse, well-functioning ecosystems providing healthy livelihoods for all living beings. Green River is an evolutionary process and unique in that it identifies the whole watershed as the optimal landscape for bio-regional regeneration. The holistic, village-global approach gives it realistic opportunities for success.
How did your initiative help build resilience to climate change?
The project concerns ecosystem regeneration by reintroducing and restoring the traditional water management system. This is an 'ecological infrastructure' to channel monsoon rainfall down the slope of their watershed. Earthen water catchment basins store rainwater, distribute it through smaller ponds and wells to irrigate vegetation and crops, creating a 'green river'. Additional gullies and 'cuts' are made to trace water back to the aquifers and wells around the villages for home-use, long after the monsoon rains have ended. Besides harvesting rainwater runoff, reforestation activities plays an important role in restoration of climatic conditions conducive for stimulating rainfall and to achieve a full water cycle. Ecological agricultural regeneration creates benefits for all living beings, biodiverse landscapes with healthy soils providing good livelihoods. Healthy soils and biodiverse landscapes are also important carbon sinks and substantially contribute to both climate change mitigation and adaptation. More importantly however is that Green River is a community-led initiative showing how communities themselves can create a change regarding global climate effects in their own direct environment because they have learned how to organize themselves. Resilient communities, resilient ecosystems.
What water-related decisions did your initiative influence or improve?
The project assists in establishing local ownership of the tanks and ponds, in the absence of government financing and management, through the participation in co-financing of each community of approximately 25% of the cost, in addition to the labor they are providing. One year after the actual work had begun, the government stepped in financially supporting Green River and thus the often poor communities that are leading the initiative.
What were some of the challenges faced and how were they overcome?
The Dhan Foundation invited us to open up the Asian Embassy of the Earth Center in 2016. We accepted and kicked off with a Summer School in which we prepared 30 people from Dhan in the practice of Open Systems Thinking / Social Ecology with a focus on future planning and design. With hands-on field experience many of these people became part of the Green River Team. The trust between Dhan and Embassy of the Earth is exceptional and the foundation of this adventure. Working grass-root in non-dominant structures was a challenge in a society still in the process of shaking off their ancient Caste System. And years of centralist British rule was not an exact match with grassroots approaches either. But the immense drought and destruction of the land was a wake-up call for all. The alternative was to leave the homestead and walk to the city slums. With no water, people, the land and their animals were dying. This approach made it clear: 'Take life back into your own hands!' And restore the relationship with your natural habitat. With new knowledge and skills, traditional /tribal knowledge of water management and councils, technology and moderate resources and a solid community-based plan, people went past the point of no return.
In your view: Will the change that was created by your initiative continue?
Green River is an ongoing initiative with an initial mission timeline of 10 years. Tank restoration is continually being funded by Unilever and various other foreign funds. The whole watershed (see Annex) includes 2276 tanks over a length of 155 km in six districts with a poppulation of 2,289,876. Communities are continuously reforesting and planting trees in and around the water catchments, canals and their own communities. Improving soil, water infiltration and retention are supporting the return of local water cycles. Frank: "I'm confident that Green River will achieve its goals and that the changes that have been achieved already will continue its positive effects because communities are in the lead and they actually see the effects in the land. I was invited with the Embassy of the Earth by DHAN Foundation. DHAN Foundation has for 10 years worked with and provided services to an estimated 2,500 economically marginal farming families in the long watershed of the Upper Gundar River region. They continue supporting the communities as they are doing all across India."
What did you learn during the initiative or after? And is it possible that others could learn from you?
First, taking time to explore and discover really helped to get focus and clarity and was critical in building relationships. So, to sit under the tree and listen to the community is no luxury. Relationships are more important than project principles. We have dropped the name of the project altogether, too strong a connotation with traditional top-down style project management. We now call it the Green River Movement. The holistic approach is not only a theory and concept but a very powerful way to make the community visible, learning how to think and act in terms of relationships and mutual dependence. The notion of the River calling, the Water leading the way was important. It touches on the sacredness of being and living on and with the land. For the people here, and in other places where we work, it restored the confidence in themselves and the lineage with their ancestors. In it, tacit knowledge started to surface, broadening the capacity to effectively adapt to the challenges. For more than one thousand years back these communities were masters in regulating the waters in the semi-arid landscape, through councils and participatory water management. Using people from Dhan to lead and facilitate the future and action planning – Future Search Conference -- was key to the change. Raised in the same region, speaking Tamil, the work-sessions were natural, inclusive, expressive and effective. And more.
In light of your submission, please describe or explain the extent and breadth of different economic, ecological and socio-cultural values recognized and taken into consideration within your journey.
When exploring Green River in 2016-17, this monsoon-affected region was one the severest drought-stricken places on the planet! Local villagers were hit by climate change. India's shift to capitalism and technological innovation led to massive urbanization, most often a dead end for rural migrants. We (Embassy of the Earth is very fortunate to have the locally established Dhan Foundation as a partner) would be sitting under a tree, typically in a village surrounded by degraded, eroded land, asking: "Does anybody know about local water cycles?" The Elder would speak: "I remember not so far from here there were some old trees, and through the roots a spring was bubbling up. We cut the trees and sold the wood in the city." It was the story of - often landless - people surviving, slowly undermining their own livelihoods, breaking the social fabric when hunger hit at the household level. Every community we visited in the foothills close to the source of the river took ownership for their vicious destruction cycle in talking about it, singing water songs, and expressing their pain and fears, especially for their children. Crossing that threshold, also for us, opened the door for Green River. Now, communities are implementing their own local action-plans related to the overall Green River strategies and Vision: "A living Gundar River ecosystem builds on strong social capital and is a pollution and encroachment free river brimming with biodiversity that ensures sustained and disaster resilient livelihoods for generations of Gundar basin."