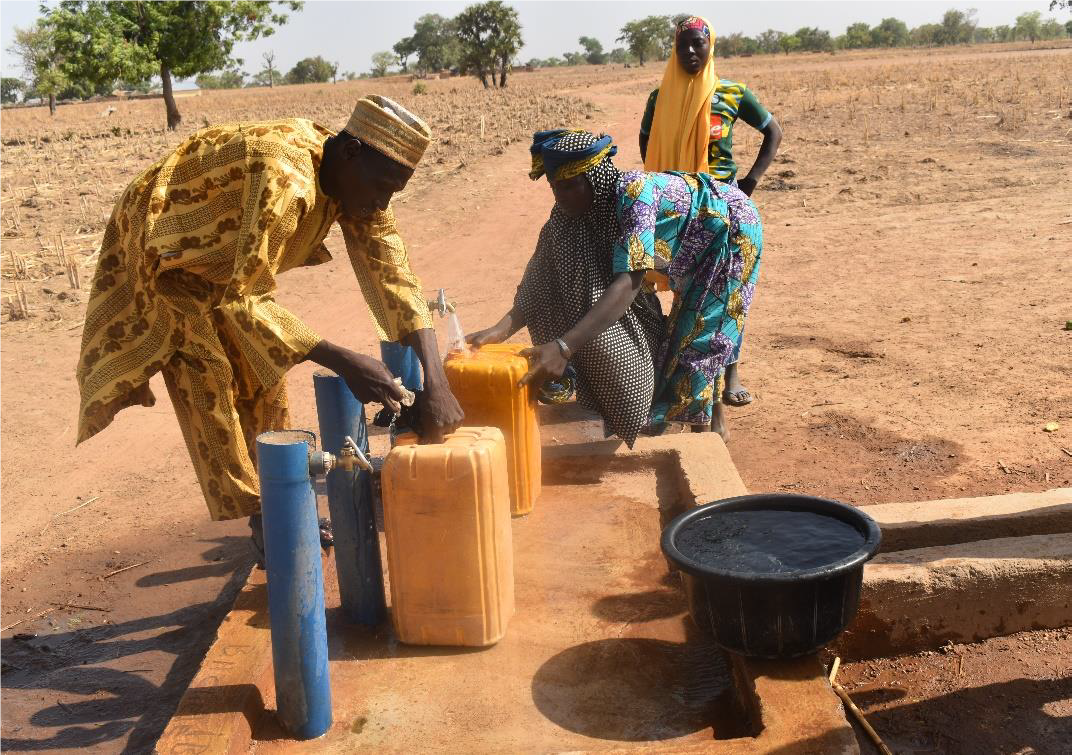 Clean, solar-powered water supply unlocks health, gender equality and economic prosperity in vulnerable Nigerian communities
Please briefly describe your Water ChangeMaker journey
The community of D'ka is in the Danko/Wasagu Local Government Area (LGA) of Kebbi state, north-western Nigeria. It is home to approximately 2,500 people of which 55 percent of the population is female. Years of neglect, desertification and a lack of clean water had left the community disempowered and without hope. Engaged largely in farming, it was a daily challenge to secure the water needed for income-generating agriculture activities and for drinking, cooking and bathing in households. Globally, women and girls are responsible for the collection of water in eight out of every 10 households with water off premises (UNICEF/WHO, 2017). In D'Ka women and children gathered water from unsafe wells or the closest functioning hand-pumped borehole, located more than half a kilometre away. This responsibility placed them at physical risk in traversing difficult terrain and significantly reduced their ability to engage in either education or earning activities. Water scarcity would peak during dry seasons which are worsening due to climate change and force the women to search further afield for available sources. With a majority female population, this significantly undermined not only the health, but the economic potential for both individuals and the community alike.
Please describe the change that your initiative created and how was it achieved
This initiative was a partnership between international NGO WaterAid and global company Diageo as part of their Water of Life project. In response to the water challenge, a solar-powered borehole has been constructed by WaterAid with a 20,000-litre capacity, two pipelines and ten tap heads. This technical combination is critical to responding to the farming and domestic needs of the community. WaterAid leveraged a pre-existing UNICEF community management structure and emboldened it through additional training to upskill the community in operational management. This activity directly contributes to community development and ensures the long-term, community-led sustainability of the project. WaterAid Nigeria also leveraged existing relationships with both state and community institutions involved in rural water and sanitation resource management to ensure government support and contribute to ongoing official systems strengthening. The outcome achieved is not merely clean water provision, but improvement to the health, gender equality and earning capacity of people in D'Ka and surrounding communities. A D'Ka community resident said, "Honestly, this progress in D'ka is beneficial for everyone. Before now, we faced difficulty in getting water. Our women and young girls used to walk for about 1-2 kilometres just to get drinking water. Sometimes, they slept over at the place and returned in the morning because of human traffic waiting to fetch water at the only unsafe source. Even then, the water was still bad. As farmers, we already dug a few man-made reservoirs, waiting for the rainy season but with this new water scheme, everything will be alright."
How did your initiative help build resilience to climate change?
Climate change has led to significant and mounting water stress around the globe. Access to clean water is a first line of defence against the human impact of the climate driven water crisis. A lack of access to clean water deteriorates community health through water-borne disease and makes good handwashing hygiene impossible – a practice critical to preventing the spread of infectious disease including coronavirus in the current global pandemic. This initiative tackles climate change and builds community resilience to its impact through solar technology. In north-western Nigeria the weather is hot and dry, with dry seasons becoming more severe. The choice of solar to power the water facility has effectively and continuously provided clean water supply year-round to the community and other neighbouring settlements. The project contributes zero emissions to the environment which was a critical consideration given desertification is one of the challenges faced by the community.
What water-related decisions did your initiative influence or improve?
The technical design of the water facility was shared with Kebbi State Rural Water Supply and Sanitation Agency who reviewed and adopted it as part of their designs in the state for other projects. The local government's water, sanitation and hygiene (WASH) unit has taken on responsibility of oversight and supervision beyond the project which has created a platform for feedback between the community and the local government. The project also contributed to increasing the knowledge of the community around water resource management especially as it includes efficient use of water for household consumption and water safety. In addition to receiving training on water resource management, community members on the volunteer water, sanitation and hygiene committee were trained to carry out routine maintenance of the facility using the maintenance kits supplied by the Danko/ Wasagu local government council. These committee members were also trained on 'safe hygiene behaviours' and now act as hygiene champions in D'Ka community. The design, construction and operational structure of the water facility is in line with WaterAid's equity and inclusion principles which include but are not limited to considerations of gender equity, physical ability and financial capacity.
What were some of the challenges faced and how were they overcome?
The primary challenges faced in this project were: no power supply in the community; remote location of the community; security risks; and limited government presence. To mitigate this: Solar energy was implemented to power the facility, supporting environmental and user sustainability through off-grid supply. WaterAid's mission is to reach the world's most remote, rural and deprived communities with WASH, and its global learnings and successes over the past 40 years were vital to informing this project. Holding participatory meetings with community district heads and the local government areas at the inception phase provided the opportunity to establish government support and build community ownership of the intervention. Furthermore, creating a project implementation committee – consisting of the representatives of the target community, State Ministry of Water Resources, and Rural Water Supply and Sanitation Agency (RUWASSA) - also aided in drawing government's attention to other challenges faced by the community. The unique collaborative model between NGO, company, government and community contributed to an exceptional Water ChangeMaker journey which strides towards the achievement of SDG6. By ensuring access to WASH, this project has resulted in long-term positive benefits to the health and earning potential of Nigerian communities, local business resilience and future economic prosperity.
In your view: Will the change that was created by your initiative continue?
WaterAid applies the Quality Programme Standards to all projects, which requires long-term sustainability to be considered and enacted from inception in the design phase. The use of solar-powered pump technology and other high-quality materials in the design assures the initiatives long-term operational potential. Contributing greatly to the achievement of sustainability standards is the community management structure, established and trained to oversee operations and maintenance of the facility. The community committee made a collective contribution of N50,000 ($129 USD) to a maintenance kitty, which was matched by Kebbi RUWASSA in support. The community's youth have also been meaningfully engaged to foster pride and ownership in the next generation. The proactive engagement of Kebbi RUWASSA in all the delivery phases of the initiative is a further testament to the potential for enduring change. In evidence, a follow-up water quality test has been conducted by Kebbi RUWASSA one-year post construction.
What did you learn during the initiative or after? And is it possible that others could learn from you?
The importance of 'participatory design and implementation' in successfully implementing and delivering water supply interventions was made clear. Establishing community management structures contributed to the sustainability of the intervention as it created and empowered community ownership. The integration of hygiene interventions in rural water supply projects is also critical to promoting improved health outcomes given the relationship between clean water, hygiene and health. The knowledge gained from these hygiene promotion activities equipped members of the D'Ka community with increased awareness of the importance of handwashing in preventing the spread of infectious diseases – this has been an imperative foundation during COVID-19. Similarly, engaging government institutions with a statutory mandate for project delivery and involving them in the design, implementation, supervision and evaluation of the project has proved advantageous. This collaboration ensures ownership by the state and ensures the continued oversight and technical support required by the community to deliver sustainability.