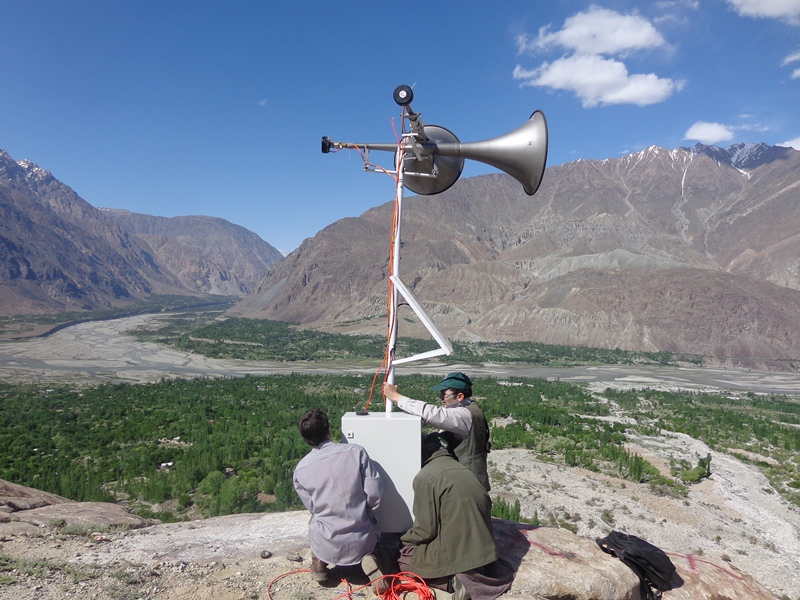 Prepared for the flood: Resilience building of vulnerable mountain communities in Pakistan
Please briefly describe your Water ChangeMaker journey
The Hindu Kush Himalaya (HKH) is prone to climate-induced hazards like floods and debris flow. Variability in intensity and frequency of rainfall pose further extremes at the sub-regional level, especially within the Upper Indus basin. Gilgit-Baltistan (GB), home to 12 of the world's 30 tallest mountain peaks, houses some of the most vulnerable mountain communities, especially prone to water-induced hazards. Furthermore, inadequate technological coping mechanisms and limited mitigation capacity of relevant institutions further exacerbate these vulnerabilities. Taking into account that local and indigenous methods of warning and preparedness are not sufficient to cope with the changing flood patterns, ICIMOD has integrated the community-based flood early warning system (CBFEWS) in five disaster-prone rivers in GB. CBFEWS comprises a set of simple instruments installed upstream to detect floods. It generates flood signals that are communicated to downstream communities. The primary goal of the intervention, also noted by the Hyogo Framework for Action and the Intergovernmental Panel on Climate Change, has been to provide effective flood early warning to vulnerable communities in consultation with local communities and nodal disaster management authorities.
Please describe the change that your initiative created and how was it achieved
One of the key changes achieved through the initiative is strengthened community preparedness against water-induced hazards. Learning from our experiences in piloting CBFEWS in similar regions of the HKH (Afghanistan, India, and Nepal), we encouraged close community participation through hands-on, refresher, and field-based training. We prioritized community leadership and ownership by appointing community caretakers for the technology. We focused on upscaling the technology and ensuring its sustainability through close coordination and partnerships with relevant grassroots organizations, local government organizations, and civil society organizations. We formed a partners' consortium with organizations like World Wide Fund for Nature (WWF) – Pakistan, Gilgit-Baltistan Disaster Management Authority (GBDMA), and Aga Khan Agency for Habitat (AKAH) to harness their expertise in piloting and implementing the CBFEWS approach in five disaster prone sites in GB. The partners also ensured further support in upscaling the technology to other disaster-prone areas in the region and joined hands for policy advocacy through evidence-based information.
How did your initiative help build resilience to climate change?
In a 2017 ICIMOD survey of 250 households in the GB region, around 26% of survey respondents attributed the lack of coping mechanisms as key to low resilience to climate. In that regard, enhancement of flood preparedness through capacity building trainings, technological support, and sensitization of flood risks has played a major role in building community resilience. Sherqilla village stands out as a success story where the community promptly responded to the alarm in two occasions of flash floods in 2017 and evacuated themselves and their livestock to safety. Further, piloting and demonstration of CBFEWS with the involvement of the GBDMA and civil society organizations has provided local-level authorities with a viable solution to replicate the technology in disaster-prone areas. Also, we pushed for the capacity enhancement of these institutions to help enable them to devise better flood preparedness strategies for minimal loss of lives and property.
What water-related decisions did your initiative influence or improve?
The lessons and evidence generated through the pilot interventions were used to support the disaster management strategies and policies of the relevant government institutions. Importantly, our initiative has demonstrated the importance of enabling stronger community preparedness for water-induced hazards. Given the effectiveness of CBFEWS as a disaster management solution, the GBDMA has signed a memorandum with partners to assume ownership of the five pilot CBFEWS interventions and to ensure its sustained functioning. In addition, the initiative has also helped the GBDMA to identify and revisit gaps in its plan. The existing disaster management plan is primarily focused on post-disaster relief and contingency management. Recognizing that disaster preparedness should also be prioritized, the institution has requested ICIMOD's support in revisiting the plan with the inclusion of the CBFEWS approach for further upscaling throughout the GB province. In addition, the initiative seeks to assist the National Disaster Management Authority (NDMA) in Pakistan to expand the disaster preparedness approach in plans prepared by other disaster management authorities in the country.
What were some of the challenges faced and how were they overcome?
Scattered populations, remote areas, and limited technological solutions offered by multiple stakeholders posed key challenges. Therefore, the initiative collaboratively worked with different humanitarian and government agencies in GB to tackle those challenges. Although managing partnerships among a diverse set of institutions was also a challenge, the initiative addressed this with clearly defined roles among partners and regular communication. Political sensitivities came into play during the transfer of the technology from the ICIMOD headquarters in Nepal to the communities in GB. CBFEWS was also put under scrutiny by local law enforcement agencies. This challenge was managed by engaging and enabling private sector partners in Pakistan to manufacture the equipment locally. Moreover, influencing government disaster management policies and strategies to integrate lessons from the pilot interventions was a time-consuming process. This process was supported further through roundtable discussions, technical backstopping, and development of relevant knowledge products for support in revisiting the strategies.
In your view: Will the change that was created by your initiative continue?
The GBDMA'S involvement with the initiative throughout the phases of risk assessment, installation, dissemination and communication, and response has been instrumental in the operation of CBFEWS in GB. This involvement will also be crucial for the sustainability of the CBFEWS approach. The willingness of relevant government departments to revisit disaster management policies and strategies indicates their intention to not only sustain the existing pilot interventions but also upscale the approach throughout all water-induced hazard prone areas in GB. Furthermore, capacities of the disaster management authorities, relevant civil society organizations, and communities have been enhanced to ensure sustainability. On the ground, the community caretakers have been appointed to manage the system, ensure timely repair and maintenance, and maintain accountability. We have also aimed to engage the private sector for supply of equipment so that the government can upgrade the products in a timely manner.
What did you learn during the initiative or after? And is it possible that others could learn from you?
Our lessons have been based on our interactions with communities through the pilot interventions and the collaboration with our implementation partners: 1) Engaging the relevant local government departments in the planning and implementation process can be helpful for the intervention's sustainability and upscaling 2) Harnessing relevant organizations' expertise through partnerships can be very helpful to bring in the relevant expertise and local knowledge 3) Working with local private sector organizations help bring in new and innovative technological solutions and technology transfer for potential outscaling 4) Working with the local communities for risk scoping, generating information, and dissemination of information is crucial for attaining successful results from the CBFEWS approach 5) Capacity enhancement and preparedness of local communities, government bodies, and other partners is important for the intervention's success