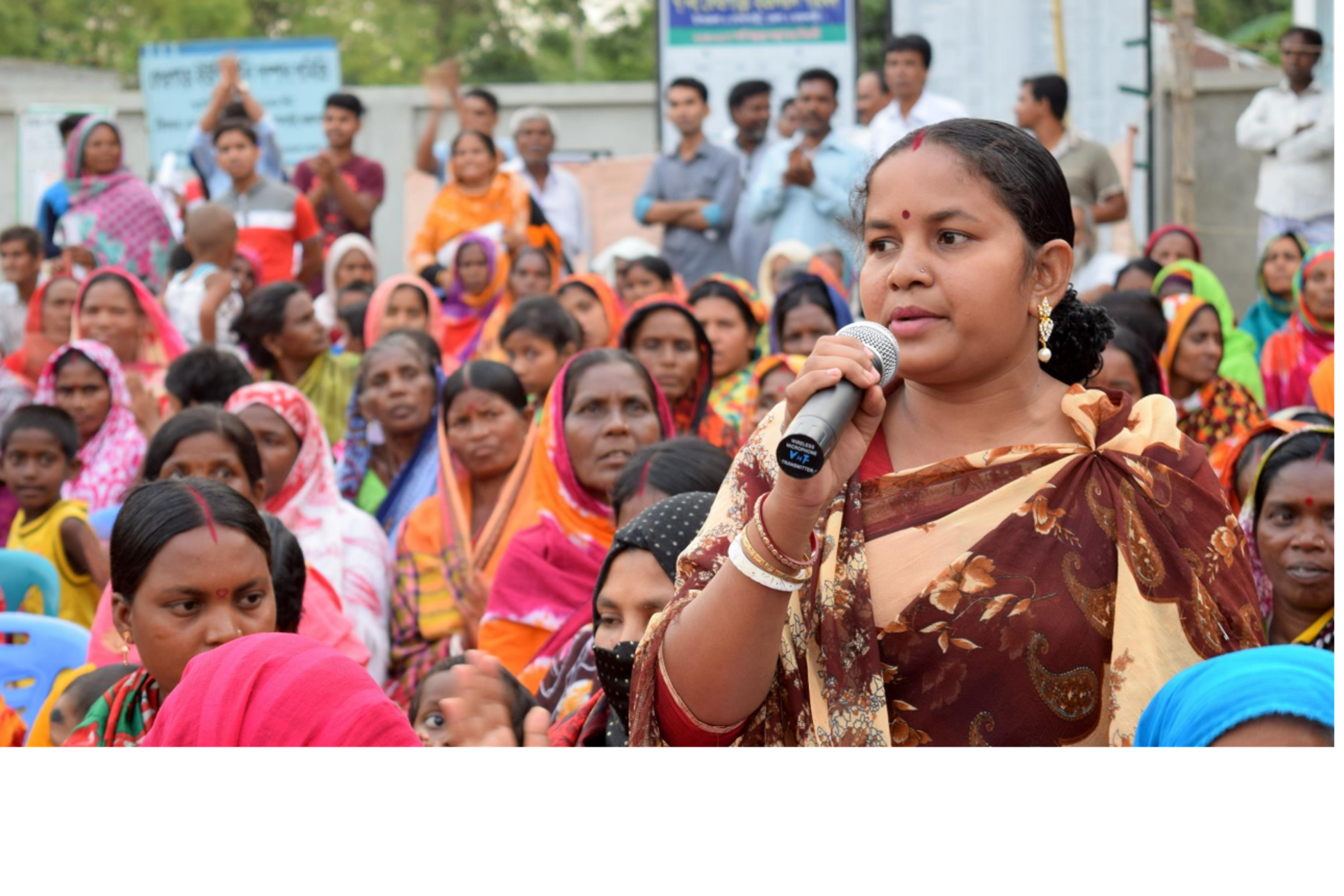 Photo credits: Md. Sawkat Chowdhury, DORP
Mothers parliaments advocate for climate resilient WASH facilities
Please briefly describe your Water ChangeMaker journey
The southwest coastal region of Bangladesh is extremely vulnerable to the effects of climate change, while 38% of the population lives below the poverty line. Climate change affects the population through high levels of salinity in groundwater, soils and drinking water due to sea level rise, saline intrusion and an increased frequency and severity of flooding. Communities have steadily limited access to potable water, affecting their health and sanitation. The barriers to gain access to suitable water facilities were related to decision making at local levels, leading to inadequate budget allocation by the local government for WASH facilities. Furthermore, community members lacked awareness to demand their water rights. This Change Maker journey focuses on the Mothers Parliaments, a body of 9 elected women at sub-district level, who successfully advocated for increased budget allocation of 125% for suitable and affordable access to water. They were established in 2017 with the support from a local NGO, DORP (Development Organization of the Rural Poor), a partner in the HELVETAS Panii Jibon (Water is Life) project, which addresses water-related threats and vulnerabilities, facilitating sustainable and affordable solutions for WASH, linked to local governance processes and empowerment of communities, especially women.
Please describe the change that your initiative created and how was it achieved
To raise awareness of the communities and create a space for their concerns to be discussed and resolved, 130 Health Village Groups (HVG) each consisting of 25 members, were established, representing the vulnerable and disadvantaged women households. They formed an apex body called Mothers Parliament (MP), who meet 3 times a year, to discuss WASH related concerns of communities with Local Government institutions to advocate and solve issues raised by water users. The Mothers Parliament works closely together with the HVGs who identify communities' needs and concerns and bring them to the agenda of the Mothers Parliament. The MP plays a key role to advocate with respective Government line departments and Local governments to solve the water problem on behalf of HVGs and community people. They discuss the communities' needs, set priorities for action and lobby and advocate with local government and line departments to resolve issues. DORP based the initiative on their earlier experience in Bagerhat District in 2012, where they worked at ward level (lowest tier). In 2017, the Panii Jibon project adapted this approach for sub-district level, to empower women to influence water decisions and improve their resilience to Climate Change.
How did your initiative help build resilience to climate change?
The MPs successfully advocated for affordable WASH technology that deals with increased salinity and flooding in their communities due to Climate Change, such as Pond Sand Filter systems. This simple technology pumps water from a pond, and then passes through a number of chambers containing sand and gravel to store rainwater for later use as a safe drinking water facility. In the 2018-19 fiscal year, the MPs achieved an increased budget allocation of 125%, to a total of USD 64,422/UP for WASH at local level. In Morrelganj, they managed to find additional sources of funding; here investment increased by 212%. Approximately 12,500 people have better access to potable water at both household and community level because of this initiative. All water infrastructure remained functional during the recent Cyclone AMPHAN, showing that they can withstand intense rainfall and floodings and make people more resilient to these future extremes.
What water-related decisions did your initiative influence or improve?
The MP initiative, supported by the HVGs, made a positive impact on the local decision-making process of water budget allocation and utilization. Before the initiative, people were not aware about their WASH rights and they had very little opportunity to raise their voice regarding budget allocation at local government level. Now, community people raise their voices for WASH rights, for instance at locally held budget meetings. The local government (UP) discloses their final budget publicly on billboards and walls to transparently display budget allocation and utilization. The whole process is led by the MP where HVGs, community people including youth, as well as elected women members of local government (UP) participate in the decision-making process. This women-led initiative includes problem identification, prioritization of the problems, advocacy for budget allocation on priority problems, monitoring of budget utilization, and finally monitoring the quality of implementation. Cost-benefit analysis of solutions, considering benefits and costs, is part of this process. The MP is closely connected with HVGs, influential community and political leaders, and civil society groups to get their support in the decision-making process.
What were some of the challenges faced and how were they overcome?
The Mothers Parliaments faced major challenges during their journey. At first, it was really challenging for them to convince stakeholders including Union Parishad (UP) and government line departments, to consider their initiative as a priority. It was difficult for them to convince local governments that there was inadequate budget allocation to meet communities' demand for WASH services at UP level. When the MPs engaged locally elected UP members to verify the prioritized needs, using their newly developed advocacy skills, the scenery gradually improved. By raising real issues with concrete evidence to the local government institutions and mobilizing influential leaders such as the UP members, the MPs started to be heard. The trainings that the MP and HVG members received on lobby and advocacy techniques, on how to conduct a meeting, how to identify water issues in their communities, and for MPs how to review a budget, were successfully applied and contributed to the success of the women. This, in turn, improved their confidence.
In your view: Will the change that was created by your initiative continue?
Since 2017, the capacity of the 3 MPs and 130 HVGs and of the communities has been strengthened to engage in local decision making on water constructively. They know how to demand their WASH rights and what channels to use for advocacy. The spaces, structures and processes are in place to ensure continuation of this good practice. These are good prerequisites for sustainability. We believe that the level of confidence that was built in doing advocacy with stakeholders, obtaining budget allocation, and addressing people needs will inspire the MPs to continue their ChangeMaker initiative in the future. In the next 3 years of the project, this needs to be further ensured, for instance, by identifying any capacity gaps that may still exist, together with the 3 MPs, followed by an action and exit plan.
What did you learn during the initiative or after? And is it possible that others could learn from you?
The journey taught us that women's empowerment and voice can be strengthened if structures and processes are put in place that enables them to do so. It was also important that they developed soft skills around deliberation techniques, advocacy using evidence, and how to approach different stakeholders. The support of the HVGs was another important element, as the MPs could show with concrete cases, the problems of the communities. Some of this was based on previous HELVETAS' experience on participatory local governance processes in other projects (e.g. Sharique). The Mothers' Parliament was adapted based on previous experience of DORP. A training manual on the functioning of HVGs and MPs is available. Other organizations or groups can learn from our experience by visiting the field and meeting with the MP, HVG, community people, UP, and Government line departments to understand the process and achievements.