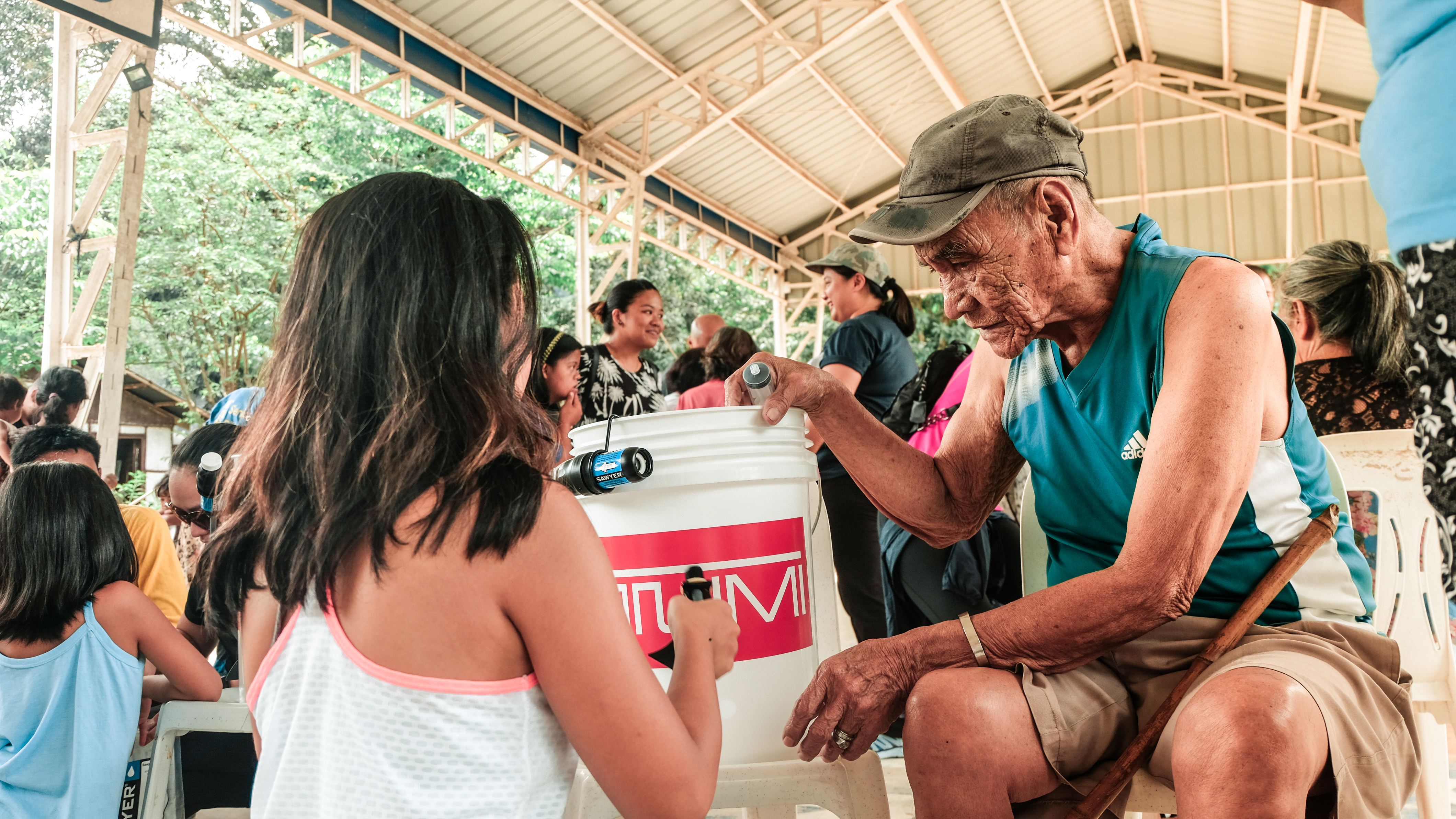 The Masungi Georeserve story: Restoring forgotten watersheds through youth-led movements
Please briefly describe your Water ChangeMaker journey
In the Philippines, only 3% of primary forests remain due to rampant deforestation, mineral extraction, and poor environmental enforcement. The area of Masungi Georeserve east of Manila is a microcosm of these problems in a highly sensitive karst landscape which serves as a natural filter for vital waterways. While the georeserve has been restored after 20 years of protection, its surrounding mountains remain desperately threatened by land trafficking, slash-and-burn farming, charcoal-making and illegal logging, exacerbated by decades of institutional problems such as the lack of resources, corrupt practices, and neglect. This has led to the forest being cleared and for clean water supply in the local communities of almost 40,000 people to be diminished. In 2009, Typhoon Ondoy hit these mountains, driving massive floods and landslides to both rural communities and lowland cities across Metro Manila. This resulted in the loss of more than 600 lives and damages of > $1 billion to the Philippine economy. The Philippines is reported to be one of the most vulnerable countries to climate change. The Masungi Geopark Project, one of the largest collaborative reforestation efforts in the country, aims to help solve the triple crises of biodiversity loss, climate change, and a looming water crisis through powerful youth-led movements.
Please describe the change that your initiative created and how was it achieved
In 2017, the Masungi Georeserve Foundation entered into a landmark agreement with the national government to restore and rewild some 3,000 hectares of degraded land around the Masungi limestone formations using self-generated funds from low-volume, nature-based experiences. The project, largely led by young people under 30, increased measures to protect this area from threats like quarrying, treasure-hunting and land trafficking by engaging up to 100 full-time park rangers and forming coalitions with different sectors. We have over 200 corporate partners in tree planting and nurturing, 40 educational institutions for nature conservation education, and at least 30 research and NGO partners for biodiversity monitoring and community development. In a partnership with Waves 4 Water, we helped 250 households and 4 local schools have better access to clean water by providing water filters and water tanks. Since enforcement is one of the primary problems in forest protection, we immediately formalised a partnership with the army and police to avert environmental violations by unscrupulous groups. The MGP has created a holistic and collaborative movement to restore this watershed area led by a young community of advocates. Although a local project, its reach and influence spans the entire country through strong storytelling in social media (over 200,000 followers). In the last two years, the project was recognised as a global example by international organisations such as the UNDP, IUCN, WTTC and the UNWTO, helping create long-delayed and much-needed momentum and support for the restoration of the Upper Marikina watershed.
How did your initiative help build resilience to climate change?
The MGP helps build resilience to climate change by protecting and restoring the forests in the watershed and its biodiversity. Nature-based Solution: By protecting about 430 hectares of secondary forest and 2,270 of grasslands from deforestation, the project acts as a carbon sink. The protected area currently stores an estimate of 160,000 tons of Carbon or the equivalent of 66 million gallons of gasoline consumed. Once fully restored, the area will be able to store almost 1 million tons of Carbon and sequester even more every year. Climate Change Adaptation: Over 47,000 native trees have been planted in the MGP. But planting alone is not enough - Masungi focuses on the maintenance and protection of the land and the revival of the entire ecosystem. The new forest will help avert landslides and floods by restoring the natural ability of the watershed to regulate water for upland communities and lowland cities of Pasig, Marikina and Quezon City.
What water-related decisions did your initiative influence or improve?
The project has resulted in a major momentum to protect the Upper Marikina River Basin Protected Landscape (Upper Marikina Watershed) against long-standing threats. 1. Our #SaveMasungi movement in 2020 led the government to cancel quarrying permits inside the watershed. Without this, some 1,500 hectares of the watershed would have been lost to illegal mining and communities would have lost their only water source totally. The campaign was widely reported by national media and supported by government leaders after public outcry (i.e. the movement's 8-minute micro-documentary released over the quarantine has over half a million views on Facebook). A Senate resolution was also filed to investigate quarrying in the protected area in aid of legislation. 2. During the COVID-19 lockdowns, we reported increasing incidences of forest fires in the region. Photos of forest fires quickly went viral on social media, reaching more than 5 million people. This vigilance and reach sparked fast government action to assemble "rapid response" teams across the Philippines to ensure forests are still protected from illegal activities despite the lockdowns. 3. In 2020, we began circulating a White Paper to invite lawmakers to institutionalise and incentivise private-public partnerships on protected areas and watershed rehabilitation.
What were some of the challenges faced and how were they overcome?
When we started the project, we discovered many illegal activities happening inside the site due to corruption or inaction. The risks our young team faces are unimaginable. In 2016, a professional squatting syndicate occupied a portion of Masungi together with a private security agency, a mob of 40 men, and rogue elements in government. They fired machine-guns and handcuffed our park rangers who were protecting the area. In 2017, forest fires ravaged hundreds of newly planted tree seedlings. With no water sources, our team had to put them out by hand. In 2020, a quarry fenced off 500 hectares of the reforestation site and hammered barbed wires into trees to block our team's access. We received malicious attacks from the quarry's cohorts. But we did not back down despite these risks. We pursued the project courageously and creatively by telling stories of these challenges to the public and forming important partnerships. For example, a year from the 2016 incident, the military became our partner for forest protection through a MOA. We now take on joint forest patrols to monitor illegal activities. One step at the time, we can turn the tide.
In your view: Will the change that was created by your initiative continue?
The change we've created shall continue to grow; we set out to do this project with perpetual conservation in mind. The biggest risk to the sustainability of the project is political. In our fight against destructive industries and syndicated activities, we inevitably go against powerful interests. To address this risk, we are focused on sustaining our public engagement and education initiatives. We host local and national conferences and information campaigns every year to tell the public why we need to protect Masungi and its watershed. We are also increasingly working with thought leaders and the wider environment sector to empower the work we do. On Earth Day 2020, we led an Open Letter called "A Culture of Care for Nature" (http://carefornatureph.org) signed by over 300 Filipino scientists and conservationists. It called for the nation's leaders to put nature conservation at the heart of decision-making following COVID-19.
What did you learn during the initiative or after? And is it possible that others could learn from you?
In our ChangeMaker journey, we learned how education, tourism and social media storytelling could build a movement of powerful allies for conservation. Innovative and low-impact tourism has helped us generate our own funds and develop a community of inspired environmental advocates. Educating our local youth through materials and programs gained us young and energetic allies in our local region. Social media has allowed us to mainstream conservation and activism towards environmental challenges, spurring awareness and action on a national level. We have welcomed and trained over 200 government officials and protected area managers. Our learnings were also published in a chapter in the International Handbook of Geotourism. In 2019, we received a grant to develop a digital visitor management platform to empower nature-based destination managers to optimise tourism for conservation by enforcing carrying capacities and policies. This is due to launch in June 2020 in 3 destinations in the Philippines.
In light of your submission, please describe or explain the extent and breadth of different economic, ecological and socio-cultural values recognized and taken into consideration within your journey.
Disadvantaged communities in the upland regions, including indigenous communities, rarely have the proper information and education on what exactly contributes to good quality water and stable water supply (i.e. ecosystem integrity). This prevents them from actively participating in water issues and taking proper actions to secure it. For example, water is already scarce in the area due to the degradation of the watershed, yet some people may still believe that allowing quarrying will somehow not annihilate the remaining water resource. Again, community-based education plays a key role in making people more aware of the values of water and an intact forest. Besides the economic value of a healthy water supply (i.e. households won't need to pay to water companies if natural spring sources are maintained), we also emphasize the ecological and socio-cultural value of water. As part of a karst ecosystem and the larger water system of the metropolitan area, water is also an indicator of health and safety. Filipinos still remember the devastation caused by landslides and floods brought by intense typhoons in the past decade. Thus, when we talk about water, we relate it to the impacts of climate change in recent memory. These are a powerful tools in reminding us of what may happen again if we do not change our ways. For indigenous communities, water also represents significant cultural value as some water bodies are considered holy. By documenting water systems around Masungi, including falls and rivers outside of our project, we help preserve indigenous traditions.