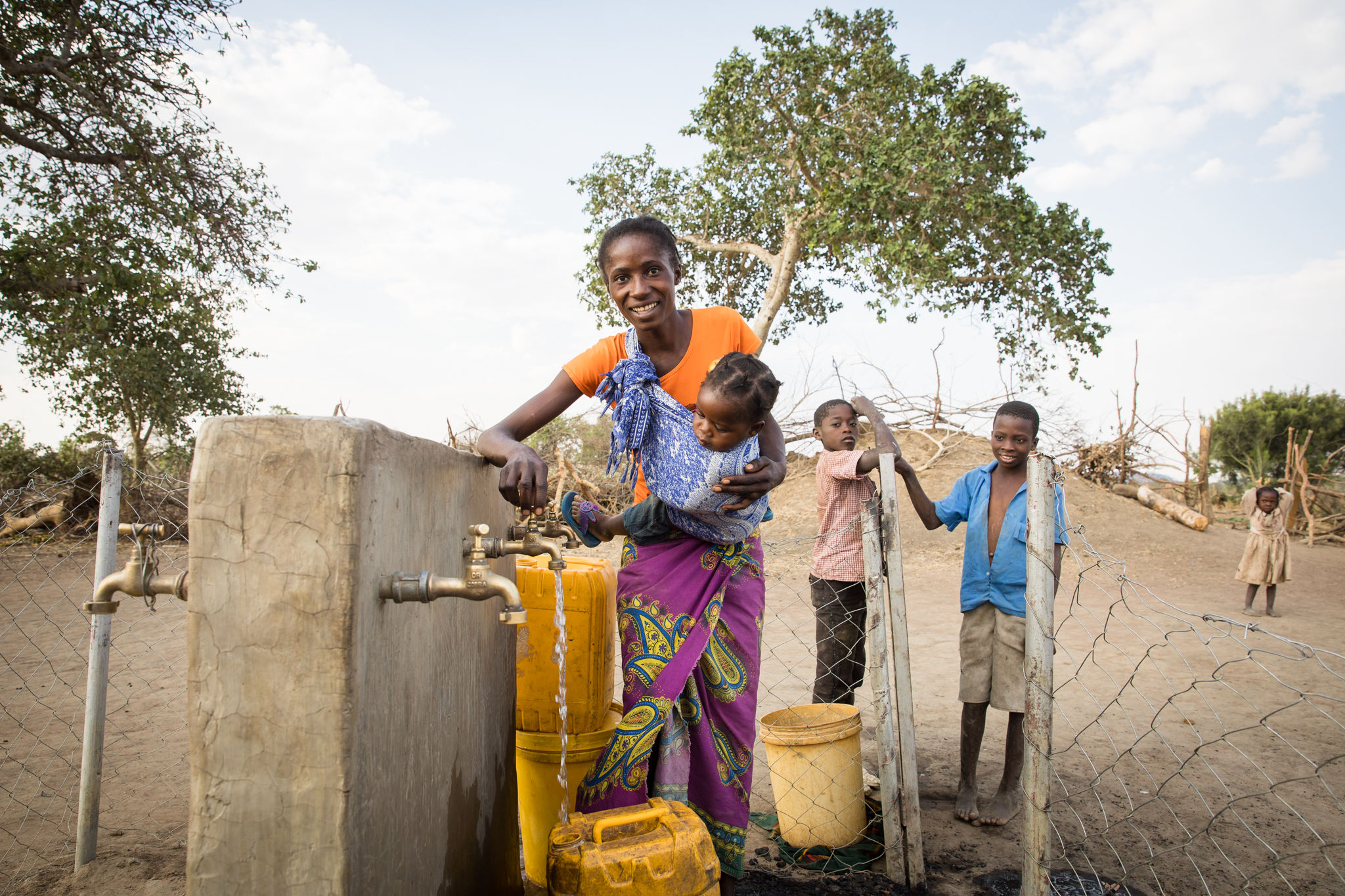 Courtesy of SCRiKA Project Implementation Unit
Strengthening climate resilience in the Kafue sub-Basin
Please briefly describe your Water ChangeMaker journey
Zambia, like most sub-Saharan countries, has not been spared by the effects of climate change, in terms of drought and/or floods. Agriculture remains a major source of food security, income, employment, and livelihoods in Kafue sub-Basin of Zambia as it is one of the sectors that is mostly affected by climate change and require interventions for vulnerable peasant farmers to adapt to the "new normal". The "Strengthening Climate Resilience in the Kafue sub-Basin" (SCRiKA) Project, is one of Pilot Programme for Climate Resilience's flagship projects, whose objective is to strengthen the adaptive capacity of rural communities to better respond to current climate variability and long-term consequences of climate change in the Kafue sub-basin. The project is financed by the Climate Investment Fund, through the African Development Bank. SCRiKA is piloting adaptive mechanisms in agricultural and natural resources management practices, climate-resilient rural infrastructure, and institutional capacity for planning against climate change. The Projects introduce innovative ways of financing community-based adaptation interventions in selected climate-vulnerable areas by focusing on production systems which emphasize diversification and intensification in agriculture and natural resources technological innovations at the community level. This is in order to provide alternative livelihoods and ameliorate over-dependency on rain-fed agriculture.
Please describe the change that your initiative created and how was it achieved
SCRiKA has been providing vulnerable communities with water points powered by green energy, solar, as these vulnerable communities are situated in remote areas, off the hydroelectricity grid. The SCRiKA-supported water points are used for horticulture irrigation, agro-forestry, for livestock production and management, fish farming, as well as for household drinking and sanitation. This has facilitated the communities' change of mind-set from over-dependency on rain-fed monoculture-type of agriculture (growing mainly maize as staple food), and provided diversity towards horticulture and growing of other cash crops outside the rainy season. The peasant farmers are now able to have enough food for their homestead, as well as sell the excess, thereby improving their livelihood. SCRiKA is implemented in 11 districts in Central, Southern and Lusaka Provinces and heavily relies on partnerships and coalitions among the public sector, private sector, and NGOs. Implementation is community-driven using a bottom-up approach, in order to ensure sustainability. Community mobilization was facilitated in collaboration with NGOs, who trained them in crop and livestock production, management, agri-business and other relevant skills. The communities elect their own leadership and establish a maintenance committee to oversee the maintenance of the infrastructure, for sustainability purposes, with the District Project Implementation Team from local government providing technical backstopping. At community level, experts from line ministries provide extension services to assist communities with technical expertise and supervise their implementation. This will also help in terms of sustainability beyond the project life-span.
How did your initiative help build resilience to climate change?
SCRiKA helped build resilience through increasing reliable access to water. This was informed by a Risk and Vulnerability Assessment which identified the Kafue Basin as one of the regions most affected by climate change, thereby rendering it a difficult region to maximise rain-fed agriculture in the face of climate change. As such, there was a need for a change in the mindset of the local communities to look at alternative sources of water for their agriculture and livestock production. Further, there was need to change the narrative of agriculture from mono-cropping of staple food to diversifying to other cash crops, as well as embark on fish farming and rearing climate resilient livestock such as small ruminants, village chickens, in order to provide a safeguard for crop failure in the face of climate change. Crop areas affected by droughts during extreme climate events in the pilot district have reduced by 76% (MTR Report, 2018).
What water-related decisions did your initiative influence or improve?
SCRiKA empowered vulnerable communities and influenced a bottom-up participatory approach by bringing them together to identify climate change risks at their local level. Common among the risks was that of drought which left them with no water for half of the year, beyond the rainy season. With risks identified, communities spelled out alternative livelihoods sources interventions needed as they adapt to the "new normal". Common among them was the need for clean sustainable supply of water, for which they trekked long distances to access. The search for water affected mostly children and women due to their household roles, traditionally. As such, gender and youth consideration were central to SCRiKA and when communities were coming together to form committees , inclusion of women and youth in leadership roles was emphasized as these were the most affected. To achieve this, the project partnered with NGOs who mobilized the communities and trained them. At local Government level, the communities were assisted by Department of Water Development, District Planning and Community Development Officers. Provision of water is done by private companies contracted to drill boreholes and equip the water points with technologies for pumping, using green solar energy .
What were some of the challenges faced and how were they overcome?
SCRiKA project was designed to be implemented using a community mode of procurement and implementation. However, due to low literacy levels in some cases, there were delays in achieving this if procurement procedures were to be followed to the letter, as per donor requirements. This resulted in prolonged delays in procurement which affected funds disbursement rate. Therefore, as much as this was the desired approach, the project had to change this and allow local authorities to assist the communities with procurement processes. Unfortunately, some local authorities started treating this as their own processes and excluded the communities in some cases, but with constant reminders on the need to include communities, the picture improved. The other major challenge was bad road network in rural areas with bad terrain, which made accessing some project sites difficult during the rainy season. The project had to be innovative on how to maximize implementation off the rainy season. Some community members resisted participating at the project inception but after seeing results being realized later in implementation, they wanted to come back and this introduced some conflicts in some cases. Community Development experts in liaison with traditional leadership were at hand to resolve such conflicts.
In your view: Will the change that was created by your initiative continue?
Yes, SCRiKA project was designed taking into account the sustainability of the initiatives. The project rides on the decentralisation framework of the Government, whereby it is implemented through local authorities who are closer to the communities. This is done through the Project Implementation Team comprised of Livestock, Fisheries, Agriculture, Water, Forestry and Community Development experts who provide regular technical backstopping to the communities. At community level, there are Extension services officers under agriculture, livestock and fisheries and forestry, who are in the Government structures and will continue assisting communities in their camps. The communities themselves have communities that oversee these projects and have a maintenance committee responsible for management of the infrastructure. They agree on small contributions which they save for repairs that may arise. Above all, the greatest safeguard is the value the communities have for water, which is motivation enough for them to protect the interventions with all their might.
What did you learn during the initiative or after? And is it possible that others could learn from you?
Community engagement and involvement from inception and continuously throughout implementation is important for ownership purposes. If this is not adequately addressed, they start viewing the project as foreign, and sustainability gets compromised. Regular communication and updates are vital too, to avoid information gaps. Embracing all stakeholders on an equal footing is important for buy-in and sustainability. Simple acts like greeting communities in their local language makes them feel you're part of them. These are remote areas with low literacy levels if any, and so no sophisticated software was used. Simple tools like flip charts were used to train the communities, and they were allowed to express themselves in their local languages, with someone interpreting for us. SCRiKA has inspired a lot of stakeholders both locally and regionally, including the central Government which is using lessons learnt to replicate the interventions in other parts of the country.