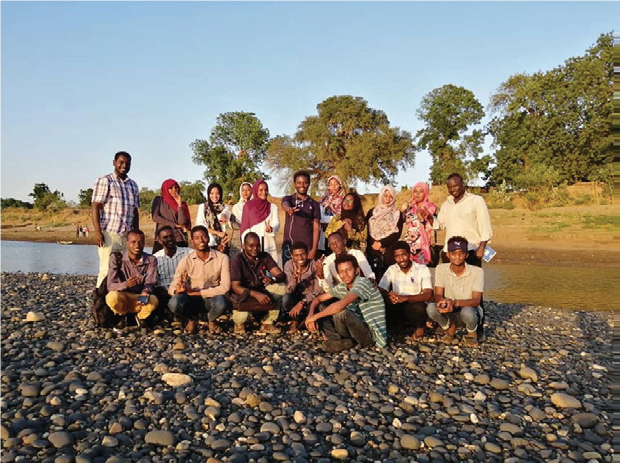 Sudanese youth driven by passion and knowledge to alter water supply and sanitation situations in Sudan
Please briefly describe your Water ChangeMaker journey
Young people have been the primary victims of local and global water-related problems. They also are potential solution providers, although they are largely constrained by a lack of experience and access to funding to implement projects. In Sudan, access to sanitation and water issues rank among the most essential, due to low education, lack of relevant data, institutional vulnerability by political change, lack of action, and relatively low government investment. To contribute solutions to these challenges in Sudan, SYPW was started in 2015 by seven (7) young people and progressively become the biggest frontline network of youth in water with innovative ideas, to build cooperative partnerships to bring change through professional interactions and network building. Providing a unique platform for youth to institute change, over the period, SYPW has implemented over 70 activities, from participation in national and international events related to the water sector, implementation of community educational and awareness programs in and around Khartoum, the capital, field projects, workshops for skills and professional development, advocacy for youth participation as stakeholders and participating in governmental policy making. SYPW activities have largely been funded by membership contributions and family supports. This notwithstanding, the membership has grown, and participation has increased.
Please describe the change that your initiative created and how was it achieved
SYPW took a different approach than many young initiatives in Sudan regarding money for activities. Having only small individual contributions, membership dues and family support, we studied and properly investigated the water problems we chose to solve, harnessing the diverse expertise at our disposal. With concrete data and research studies we designed the best solutions within our limited budget to have the utmost impact in the various villages and involved all community members/stakeholders in the discussions, to solicit their proposed solutions. Through our efforts to increase youth involvement in the water sector, we have encouraged increased female participation. It is worth mentioning that the first field activity of SYPW was conducted by a team of three female engineers. So far eight (8) successful Women's Day events have been celebrated with events and activities around Sudan. Through our increased team building, networking and apparent visibility, most recently, at the request of the Ministry of Irrigation and Water Resources, SYPW was invited to participate in a parliamentary national workshop on "Water Resources Planning and Management in Sudan: Challenges and Opportunities" where we made a presentation entitled "Towards a sustainable and comprehensive future for water in Sudan: the Sudanese Youth Parliament for Water: a bridge of communication between Sudanese youth and decision makers". SYPW implemented a hygiene promotion activity for 1500 children (including over 750 females) in one of West Sudan's Refugee camps; Locally, SYPW has contributed in combating national health disasters in watery diarrhea and currently COVID-19.
How did your initiative help build resilience to climate change?
The effect of Climate change on water is a defining issue, affecting the availability or scarcity of water and water resources, thus indirectly affecting sanitation and hygiene. We adopted a contextualization of knowledge particularly applicable in local situations, using analytical tools and prioritizing actions on education to reduce drinking water contamination: water boiling for safety, efficient transportation to reduce loss, creating awareness on water access, quality and testing (from wells, for example) to determine mineral levels and safety for domestic use. We have assisted 11 villages in effective use of dug wells (with high mineral contents). We have rigorously pursued advocacies and mobilization, building coalitions with parents, community members and other stakeholders. We offered a focused concept design and implementation of projects that tackled climate change adaptation strategies and disaster risks pertinent to children's lives. Currently, we are building a national water resource database to enhance easy access and help provide relevant information for project decisions and solutions.
What water-related decisions did your initiative influence or improve?
SYPW provides one common structure that enables Sudanese youth to speak with one voice about water issues and to ensure its recognition as a key stakeholder in the water sector. As a result of our visibility, we have been invited by the key government stakeholder, the Ministry of Irrigation and Water resources, to a National Workshop. This represents a key achievement to being heard and involved. Although we have successfully implemented over 70 activities, we hope to be able to actively engage with the government through dialogue, harmonize the vision of the youth and contribute to greater achievement of SDG 6 alongside the various implementing agencies locally. It must be said that, at the heart of SYPW is a network of young leaders who are inspired to serve local communities in Sudan, leading a water revolution and playing a crucial role in solving the water challenge, ensuring that youth are recognized as key stakeholders and potential solution providers as well. Currently, through our initiative younger people are getting involved in being part of the decision and solution process particularly, females, underprivileged communities, and the vulnerable, through our constant interactions, engagements and advocacy efforts, making these voices be heard.
What were some of the challenges faced and how were they overcome?
Our organization always found difficulty in finding sufficient and continuous funding for our projects. But with the limited resources and the team's innovative ideas, we managed to implement a number of activities with almost ZERO budget. SYPW made a huge change toward changing the way of implementing water projects in Sudan through mobilizing local resources, including volunteers, to create greater financial, project, and organizational sustainability.
In your view: Will the change that was created by your initiative continue?
Looking at the humble beginning of 7 members to 1700 within almost 5 years aged between 18 and 35, we believe this young, dynamic organization with great passion to institute change and help community development has a better chance to succeed now than could have been anticipated when it began. The membership has full geographical representation across all states in Sudan with diverse academic and professional backgrounds, which provides great versatility covering over 60 different fields under the banner "Water can unite us". This potential can be well harnessed and managed to institute great changes in society. In terms of gender, the female representation is 38%, but they have participated in more than 90% of the total organized activities. We hope to decentralize and create chapters in different states to enhance effective management of the membership and project activities to encourage active participation by all members towards the vision.
What did you learn during the initiative or after? And is it possible that others could learn from you?
In terms of the organization growing and changing, the last 4 years have been most significant for me. I have seen a real shift toward the water management approach, and we have really put our youth at the forefront. Having been part of the creative process we've gone through to get to the heart of who we are as an organization has been fulfilling and fun, although challenging. So, I have really seen what motivates us as a collaborative network/brain. I have seen patience at the heart of what we do and that's not just a saying – it's taking shape. I have seen our voice being heard, happy communities and people. The diversity in the group has really made great contributions to our learning from each other and assigning tasks, team building, receiving feedback, brainstorming and researching on the web to learn from other innovative young people.
In light of your submission, please describe or explain the extent and breadth of different economic, ecological and socio-cultural values recognized and taken into consideration within your journey.
Women are among the most neglected in decision making in Sudanese communities. However, they are the most affected by water and sanitation challenges. Having their voices heard and contributing their opinions to possible solutions have been valuable inputs by Sudan Youth Parliament for Water (SYPW). Considered the younger generation, youth are not as involved in most decision-making processes in different sectors in government agencies. Through our involvement we look forward to improving this narrative. The latest government invitation for the Ministry of Irrigation and Water Resources National workshop "Water Resources Planning and Management in Sudan: Challenges and Opportunities" provides proof that our vision will pay off well and help to define youth leadership and contributions to development in Sudan soon. We adopt focus group discussions for different sectors of society when sensitive issues are discussed in relation to gender. This has facilitated getting honest opinions from the underprivileged or from groups whose interests might not be naturally captured. Through our discussions, we have been able to obtain some consensus in having community leaders (particularly men) appreciate the need to have women and children contribute possible solutions on water and sanitation issues because they are often the most affected. Over time, this is expected to create much cohesion in the community sense of ownership to the solution by all. We work to make the community the center of change. We do this by allowing communities to propose their own solutions, find the underlining reasons for these solutions, and propose possible ways of refining them practically.