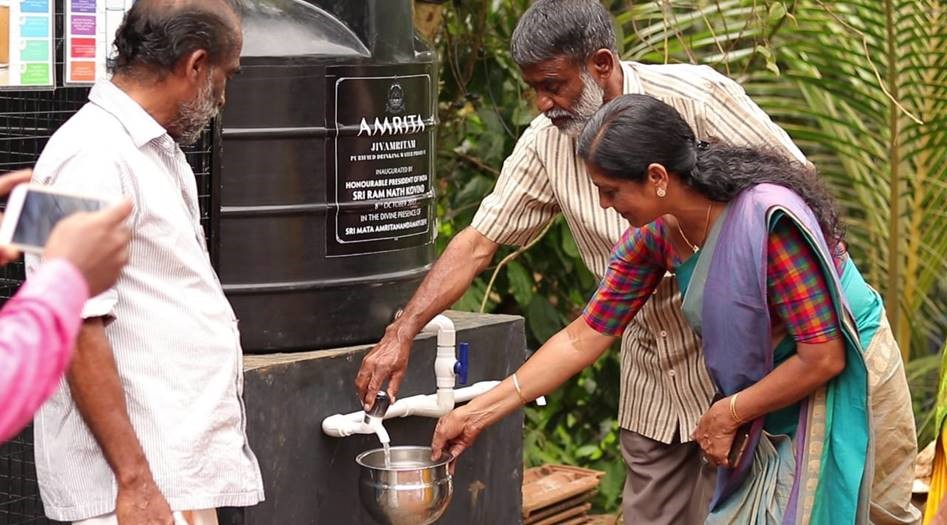 Jivamritam: A community-based purified drinking water solution
Please briefly describe your Water ChangeMaker journey
85% of the water in the rural areas that we studied are contaminated by biological factors. Rapid changes in land-use patterns, variation in population density, socio-economic-political influences, and climatic factors have contributed to the spatio-temporal variability in water quality in both surface and groundwater. Centralised water treatment facilities are mostly limited to major cities. Therefore, the rural population is left with untreated water, impacting the health and economic stability of millions of India's population. 21% of communicable diseases in India are water related, which has contributed to a rise of dengue, typhoid, cholera, hepatitis and diarrhea as well as loss of economic stability. The barriers to solving this problem involve lack of effective governance, policy regulations, and awareness among the communities about the importance of availability of clean water. There is also a lack of appropriate technology, skilled resources, financial resources, and researchers willing to put in the effort required to first build a relationship with each of the 5000 villages, win their trust, and collaborate on solutions. Affected communities, having no access to clean drinking water, are forced to depend on water sources that are either contaminated or beyond their fiscal resources. We felt compelled to find a solution.
Please describe the change that your initiative created and how was it achieved
Leveraging the dominant theme of our university's vision and priorities, this solution focuses on compassion-driven research with a strong societal impact. The massive effort involved understanding the spatio-temporal variability of water quality across states, identifying communities where contamination is very high, gathering the required support from local government officials and community members, building a coalition with Amrita Sree (local women self help groups) who was already working in the villages, and creating participative pathways for design and deployment of solutions. We also reached out to stakeholders from multiple domains and brought them together into one platform: Amrita Vishwa Vidyapeetham faculty and students (chemical, electrical, mechanical, engineering; computer science, medical, management and sustainability) International university faculty collaborators and their students, Village school students and faculty, Community members Religious groups, Semi community governance organizations such as "karayogams " and the Panchayat groups. We designed a pathway for empowering the community to engage them in developing cost-effective, inclusive and sustainable solutions using interventions such as community-level water quality classification, feasibility assessment and community level mapping, co-design of solution using a participatory approach, development and deployment of the solution, capacity building and technology transfer, and a sustainable business model. The modular water purification system for selected communities meets their dynamic needs determined by varying contaminants and contamination levels as well the level of demand of water for each community. Filtration is delivered at multiple levels for chemical, suspended and biological contaminants and is modulated by the technologies for water storage, energy usage, and delivery.
How did your initiative help build resilience to climate change?
Floods, deforestation, and tourism all contribute to contamination of the drinking water and agricultural loss. Additionally, heavy downpour during monsoon season coupled with severe drought and rising water temperatures during summer cause the aforementioned types of contamination of the drinking water. The Jivamritam techology is an all-season solution for drinking water in over 250 communities that are affected by water contamination, increasing the capacity of such communities to be resilient to water-borne diseases with minimal cost. During the Kerala floods of 2018 and 2019, government organizers of flood-relief camps used our system for clean water. We increase capacity-building in water sustainability and resilience to climate change. To augment the technology, we offer training in the communities on water conservation, water quality, rain water harvesting, awareness of the impact of climate change on local water resources, mitigation of health risks during natural disasters, and how to use technological solutions.
What water-related decisions did your initiative influence or improve?
We have brought together major stakeholders in each community related to drinking water such as the local panchayath governments, officials of water authority, doctors of local Public Health Centers, health workers, school teachers, etc. Based on our water quality analysis, the local government took the responsibility to partner with us and grant us all required permissions, provide space for the deployment, select the very poorest communities and expedite our integration into them. The government also offered the distribution of water as an additional income-generating opportunity for women's self-help groups. We are working diligently in technology-based capacity building in water sustainability with regard to water purification and water quality monitoring. Our ongoing complex research on technological, sustainability, and social science solutions regarding water is augmented by our international research partners from around the world including Ryerson University, Tel Aviv University, and the University of Tokyo. As these communities become more aware of the impact of water on health and longevity as well as their economic welfare, they, in turn, will play a major role in water quality and initiate new policies. Water ambassadors have been identified, and they are working with us and the government to make their communities "water-wise."
What were some of the challenges faced and how were they overcome?
During the initial stages of our intervention, we often observed that the stakeholders take water quality and availability of water for granted and were hesitant to cooperate with us. Creation of a robust change model was challenging. It required many conversations to understand what the villagers knew and what wisdom we needed to share, creation of an encouraging atmosphere where the villagers realized their participation would positively affect the outcome, and development of a partnership with each village for an ongoing intervention. Technical challenges included the financial resources to create the methods to scientifically measure water quality and purification as well as organizational resources so our faculty and students could visit these communities and deploy the technology. It was rewarding to see women step away from their daily chores and collaborate with us in learning, designing, and finally implementing the change in an effort to keep their families safe, thus making the effort sustainable. Also, the willingness of the schools and the teachers to create awareness among students and their parents about using the filtered water helped tremendously. Faculty and students formed committees to be change champions so everyone in the village would make changes around their use of water.
In your view: Will the change that was created by your initiative continue?
We are confident that the impact of our initiatives will make permanent changes to the lifestyle of the communities because of our participatory approach. We identified community members who were very enthusiastic to learn and change. They were named as water ambassadors and were given more training so that they can uplift the entire community even in our absence. This feature is helping us move toward our goal of 5000 deployments. Creating a unique business model in each community, one or two members of each community were given income to oversee the daily operations. Out of the hundred plus families at each deployment site that benefit from the purification system, a small group of individuals formed a committee to decide how much water is available to each family, how the daily operations and maintenance of the technology is to be done, and how to finance the maintenance and repair costs.
What did you learn during the initiative or after? And is it possible that others could learn from you?
We learned that we could not go to a village, offer a solution, and expect that it will be adopted. We did research and validated it in the community, adapted models for engagement and financial sustainability, and engaged with collaborators in academics, industry and international researchers to bring out the best knowledge. The importance of understanding how people feel about a problem and how the solutions would affect them was also an important learning. This compassionate approach to research, which is a basic tenant of how Amrita Vishwa Vidyapeetham approaches all research and mitigation of natural disasters, was an important guiding principle. It was reinforcing to actually approach problem solving with the tool of compassion. More than anything, learning was different in each community due to the variation in the socio-economic-political scenario, so the phased participatory approach gave us a pathway to learn and enhance as we implemented the solution.