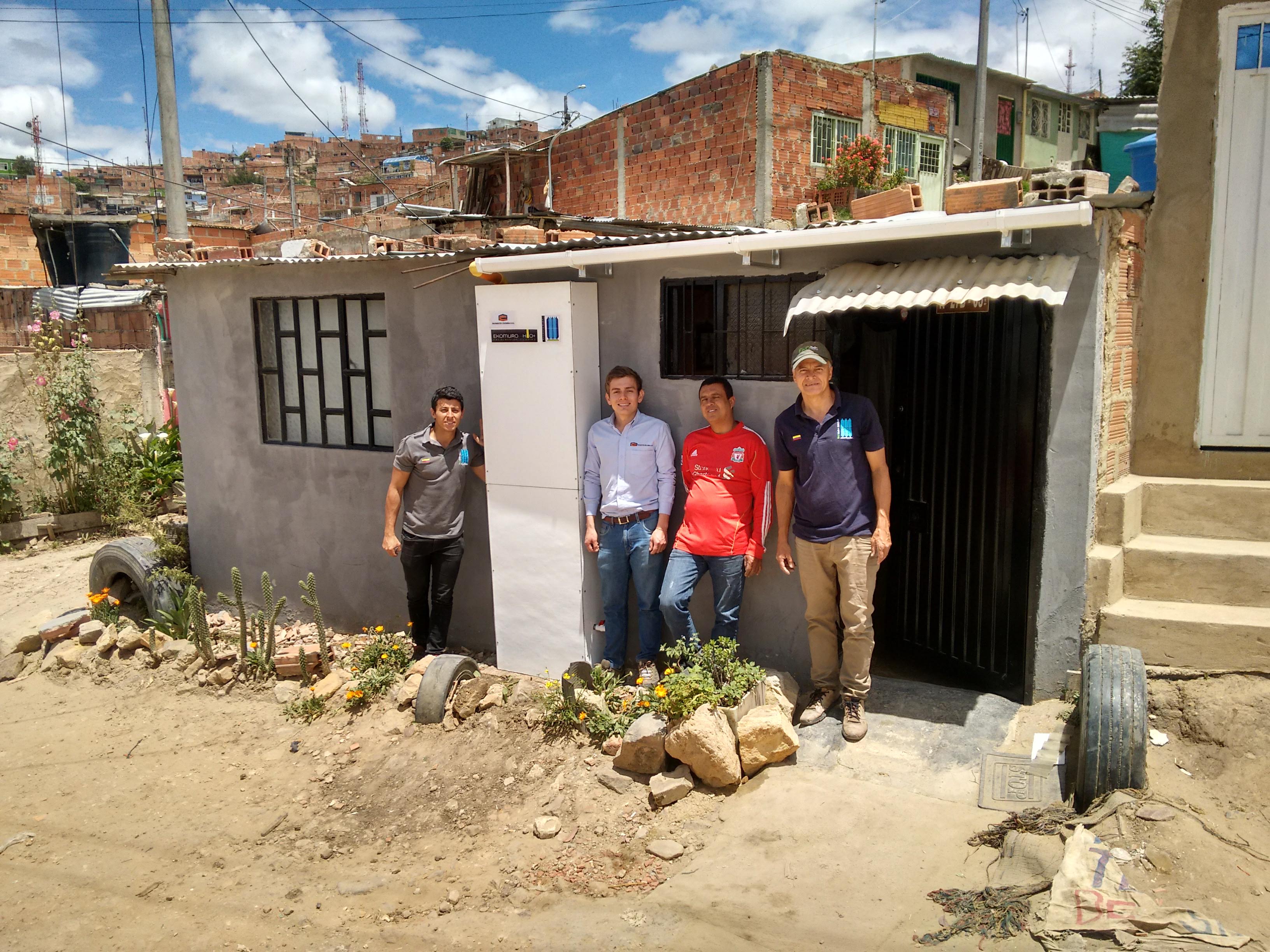 Integrated project on rainwater harvesting and the reuse of grey water from showers
THIS IS A TRANSLATION - THE STORY WAS SUBMITTED IN SPANISH
Please briefly describe your Water ChangeMaker journey
Educational institutions must supplement their environmental education activities for students, and the unmet basic needs of those living in urban areas on the outskirts of our cities are illustrated by the lack of water. Based on suitable technology, the circular economy, and environmental education, Eko Group H2O+, in strategic partnership with organisations, foundations, and educational institutions, has established and implemented the EKOMURO H2O+ system, for rainwater harvesting, and the EKODUCHA H2O+ system, for reusing grey water from showers.

In addition to being a mechanism for climate change adaptation and water preservation, the project aims to bring about a change in attitude towards harvested rainwater as a strategic natural resource for urban sustainability, risk reduction, and resilience strengthening, which will result in reduced vulnerability. The EKODUCHA systems make toilet flushing highly efficient, reducing water consumption by 30 percent. Urban and rural communities are unaware that they can access this type of sustainable solution, which aims to involve them in generating behavioural change for water preservation and benefit them economically, environmentally, and in terms of social responsibility. The EKOMURO H2O+ rainwater harvesting systems are vertical, take up minimal space, and are made from recycled PET bottles. In the EKODUCHA systems, 20-litre bottles are recycled to form a well that stores 40 litres of grey water.


Please describe the change that your initiative created and how was it achieved
Over the past eight years plus, our EKOMURO H2O+ project has become a leading example of sustainability for educational institutions, supplementing their environmental school projects, as well as for the social and environmental responsibility efforts of companies, foundations, and organisations that have supported the project, which benefits vulnerable communities. The project has been replicated in other cities and countries in the region and around the world, including Chile, Peru, Guatemala, Brazil, and Thailand, thanks to the internet, social media, and e-commerce. These tools help provide the technical information and training necessary for the project to be implemented correctly. The installation of EKOMUROS systems in schools and homes, coupled with sustainable urban planning standards in terms of the care and preservation of water, have ensured that more communities have access to this basic resource. The project's introduction into schools and homes has demonstrated to educational facilities the effectiveness of harvesting rainwater to clean floors and bathrooms and to irrigate school gardens and vegetable patches. Appropriate technology and environmental education were combined to generate attitudinal change in the community towards the use of natural resources and the reuse of grey water. "Water is vital to health and human well-being, as well as environmental conservation." Actions, ideas, and initiatives, whether individual or collective, are welcome anywhere in the world to help towards this aim.

How did your initiative help build resilience to climate change?
The environmental issue raised by the project should be seen as a process of recognising values and clarifying concepts, whereby students and the population are encouraged to acquire the skills and attitudes required to understand and appreciate how individuals and the environment interrelate. Concepts such as sustainability and eco-efficiency will generate behaviour change among participants regarding the use of natural resources, the reuse of water, and their contribution to minimising the effects of climate change. The more than 10,000 PET bottles reused to produce EKOMUROS systems and the more than 8,000 cubic metres of rainwater harvested have shown thousands of students and inhabitants in periurban communities the social and environmental benefits that we intend to disseminate through the project.
What water-related decisions did your initiative influence or improve?
Appropriate technology and environmental education were combined to generate attitudinal change in the community towards the use of natural resources. "Water is vital to health and human well-being, as well as environmental conservation." Actions, ideas, and initiatives, whether individual or collective, are welcome anywhere in the world to help towards this aim. In this context, more than 20,000 students of all ages, as well as university architecture students who include the EKOMURO and EKODUCHA systems in their sustainable housing projects, have observed the systems' reach and social and environmental purposes. Hundreds of inhabitants in periurban areas have strengthened the social fabric by implementing the project in their homes. Companies and organisations have welcomed the project as part of their social responsibility programmes, given its benefit for vulnerable households. The project's dissemination via global environmental and sustainability portals has allowed thousands of people to learn about its social and environmental objectives. Local and international awards lend us the necessary credentials to encourage many more people to replicate our modest initiative.
What were some of the challenges faced and how were they overcome?
Our approach aims to minimise the space required for rainwater harvesters and bears in mind that, unfortunately, ignorance and a lack of education mean that urban communities rule out reusing rainwater. The challenge is to change this inconsiderate attitude common among the state agencies responsible for environmental policy so that, by harvesting rainwater and reusing grey water, the population will participate in saving water and adapting to climate change. Our awards include the Pepsico/OAS Eco-Challenge 2013; the UN-Habitat Dubai International Award for Best Practices 2014; the World Water Challenges at the 7th World Water Forum in the Republic of Korea, 2015; and the One Young World 2020 Lead2030 Challenge, among others. We were also named one of the seven best projects globally that impact Sustainable Development Goals 6, 11 and 13 in the book "Ideas for Action 2019: Financing and Implementing Sustainable Development" published by the World Bank. This recognition gives us the necessary credentials to attract multinational companies such as Saint-Gobain, organisations including the Red Cross, and state entities such as the Central Region authorities, which have all implemented the project in their sustainability and social responsibility programmes, steering their public policies towards encouraging these solutions.
In your view: Will the change that was created by your initiative continue?
From the outset of the project's implementation in public schools, we considered environmental education to be fundamental if students were to develop a positive attitude to the use of natural resources, the importance of water saving, and the use of solar thermal energy to mitigate the impacts of climate change. Our working group is committed to continuing to raise awareness of these issues among the population so as to change attitudes towards saving water. Our international recognition and awards have prompted us to commit further to achieving these aims and to contributing to the Sustainable Development Goals. The scarcity of water resources is becoming increasingly evident as a result of climate change, and thousands of tonnes of plastic waste pollute our oceans. The actions that we take to mitigate these problems require the commitment of all individuals, and we are working towards this aim.
What did you learn during the initiative or after? And is it possible that others could learn from you?
It is possible to create an innovative, inclusive, and participatory initiative with social and economic benefits for the population. Concepts such as sustainability, eco-efficiency, and climate change mitigation will generate behaviour change within the population regarding the use of natural resources and recycling. It is possible, in terms of social responsibility, to bring environmentally innovative initiatives to urban communities living in poverty and to observe their willingness to accept these initiatives to reduce their vulnerability (provided that they are considered participants and protagonists of urban behavioural change), transform social realities and improve their quality of life. The internet and social media make it possible to spread the initiative worldwide. It is truly incredible and surprising that the World Bank has published our work and that a video of the EKOMURO system was broadcast on Jordanian television.