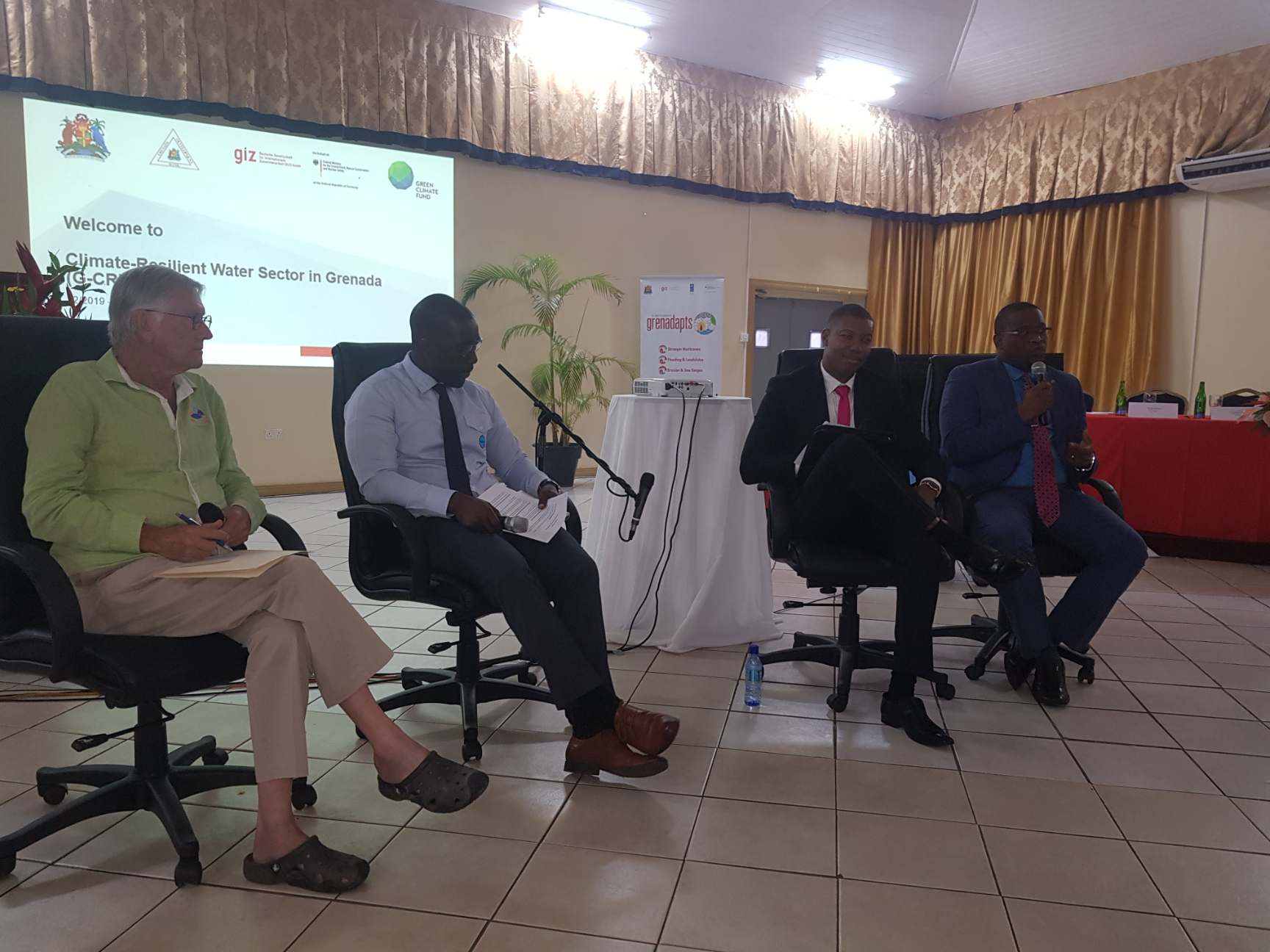 Grenada Climate-Resilient Water Sector (G-CREWS) project
Please briefly describe your Water ChangeMaker journey
The G-CREWS project aims to comprehensively mainstream and implement climate resilience into Grenada's water supply addressing two main risks and vulnerabilities – fresh water availability and disaster preparedness. It addresses the resilience of vulnerable people and communities in areas relating to operational risks associated with climate change. Water is a scarce resource in Grenada and climate change has already begun to aggravate the problem with increasing average temperature and more erratic rainfall. The health and well-being of Grenadians in the area of food security will be addressed with efficient irrigation systems, infrastructure and built environment. What caused the problem in the first place? Most of Grenada's water supply is from surface water. Declining precipitation, in conjunction with rising average temperature and more erratic rainfall and continue to have the highest impact on water availability, because 90 % of water on Grenada's mainland is collected from rainwater. Further saltwater intrusion in coastal ground aquifers due to high sea levels reduces the availability of freshwater in the future. An aging infrastructure also aids in this challenge especially in the area of non-revenue water. On average, water users demand approximately 36 imperial gallons (165 litres) per day per person. In extreme drought conditions like in the period 2009-2010, annual supply dropped to approximately 1.42 billion imperial gallons (6,455,000 m3) while demand rose to 2 billion imperial gallons (9,092,000 m3), creating a supply gap of more than 25 %. Under normal conditions, NAWASA produces approximately 2.41 billion imperial gallons of water per year (11,000,000 m3/year) – mainly rain-fed, however due to the impact of climate change, NAWASA was left with between 1.66 and 1.75 billion imperial gallons (7,546,000-7,955,000 m3) available for customers. Were there any barriers to addressing the problem? While annually, NAWASA undertakes small scales projects, and does the mandatory upgrades as required, inadequate commitment of public finances was a major barrier in addressing the challenges within the water sector. Systems that require expansion and refurbishment were targeted to run into millions of dollars, resources that have not been available under NAWASA's capital investment portfolio. Additionally, NAWASA faced low revenue streams that hindered the company's ability to finance long term investments in climate resilient infrastructure due to a tariff structure that presented rates being amongst the lowest in the region. NAWASA could not willingly amend the tariff as required, as tariff changes required cabinet approval. In addition, Grenada's public debt constraints also limited the ability of the Central Government to adequately finance the water sector. Governance in the water sector has been another barrier to addressing the water supply challenges. Most notably here is the absence of a functioning state agency that regulates the islands Water Resources to ensure that the resources are being utilized in a safe and sustainable way. Another barrier identified was the need for improved demand management. Households and businesses like hotels and farms often use water inefficiently and neglect the potential for rainwater harvesting. This puts unnecessary pressure on the scarce water resources, in particular during the dry season, when most tourists visit Grenada and farms intensify irrigation to meet demand for their produce. There is a lack of storage, both in terms of raw water and treated water capacity. This results in supply interruptions throughout year and a poor level of service. The lack of interconnections between different areas of Grenada's water distribution system leads to inflexibility between supply schemes, which prevents an optimal use of available water resources. This results in problems of water supply management in dealing with greater rainfall fluctuations and overall reduced precipitation as well as with extreme events. Who or what was involved in creating the problem - and who or what was impacted by the problem? Inadequate planning and investment in the water sector over successive decades, as the economy grew, provided the foundation for the problem that exists today. Climate change effects have worsened the matter and are projected to have a major impact on the water sector if the necessary interventions are not made. NAWASA's lack of ability to maintain the water supply network efficiently to lessen non-revenue water exacerbated the situation affecting the entire population of 106,000 people, inclusive of users in agriculture, tourism and education (St. George's University). Overall, this project supports the sector in transforming itself on multiple levels, which represents a nationwide 'paradigm shift' for Grenada's overall resilience. The paradigm shift in Grenada's water sector will include citizens and businesses as water users, and the public sector as provider of potable water and infrastructure. Behavioural changes will be triggered through new institutional structures to support appropriate water governance, regulation and awareness raising.
Please describe the change that your initiative created and how was it achieved
In identifying NAWASA's and Grenada's limited ability to finance the project, NAWASA collaborated with German Agency for International Cooperation (GIZ) and embarked on the quest to seek grant financing from the Green Climate Fund. The team started off by identifying the deficiencies within the systems and concluded that the resolution must include a three-prong approach which were identified as governance, water users and water supply system. CLIMATE RESILIENT GOVERNANCE: This will increase Grenada's adaptive capacity at the regulatory framework level in order to cope with climate change issues. The component supports the integration of climate-resilience into Grenada's water sector governance by establishing a dedicated Water Resource Management Unit (WRMU), by mainstreaming climate resilience in water sector related policies, plans and regulations as well as introducing a climate-responsive water tariff. It leads eventually to a strengthened institutional and regulatory system for climate-responsive planning and development Strengthening of the collection and management of water. The creation of this new dedicated government unit will ensure sound and climate-responsive regulation of water resource management. Through the establishment of the WRMU, and ongoing technical assistance for this new entity, the project will achieve the following benefits: ­ Development of climate-responsive regulations to protect water resources and improve efficiency in water use;­ Limitation of water abstraction from different resources, depending on impacts of climate variability and climate change on the hydrological regimes, as well as on ecosystems;­ Priority setting for water uses (domestic, ecosystems, agriculture, commercial); Upgrade and improvement of the existing climate and water information system currently managed by NAWASA (will be transferred to WRMU). In addition, a climate resilience tariff will improve the resilience of the water sector by supporting the development and implementation of a climate-responsive tariff structure for NAWASA. A climate-responsive tariff has two effects: climate-responsive price signals for water users depending on water availability and sufficient financial resources for NAWASA to upgrade infrastructure climate resilience and ensure that water production, storage and distribution happens at climate-resilient levels. The new tariff was implemented in January of 2020. CLIMATE RESILIENT WATER USERS: This aims to increase the resilience of water users. It contributes to strengthened adaptive capacity and reduces the exposure of households, farmers and tourism businesses to erratic precipitation, higher temperatures and extreme weather events through the establishment of a challenge fund. This initiative will provide post-investment grant subsidies for implementation of water efficiency measures and rainwater harvesting. In addition, it will strengthen the understanding and awareness of the public, the private sector and political decision makers about the challenges the water sector faces due to climate change. This relies on synergies with the impacts of governance particularly the cross-sectoral mainstreaming of climate resilience into policies, plans and regulations of water-related sectors and introduction of a climate-responsive water tariff. CLIMATE RESILIENT WATER SUPPLY SYSTEM: This will strengthen the climate resilience of the water supply system and infrastructure through retrofitting selected physical assets to cope with extreme weather events (tropical storms and heavy rainfalls. It also looks at expanding existing or building new physical assets to accommodate for reduced or erratic precipitation, increased temperature and salt-water intrusion due to sea level rise. The G-CREWS project will focus on the following three areas: ­ Increase the capacity of NAWASA's water supply (raw and freshwater storage, groundwater resources) to provide the required potable water resources despite climate change. Increased storage and more in-built flexibility through the interconnection of pipelines and sustainable groundwater systems will enhance NAWASA's availability to react to dry spells when less surface water is available, as well as to the increased frequency of heavy rainfall events with local impacts. ­ Installation of larger on-site storage capacities at critical infrastructure like medical centres to reduce exposure to climate-induced scarcity of piped water. ­ Improvements in the ability to respond to heavy rainfall and other disaster events through disaster-proof infrastructure and comprehensive emergency response plans, which will help to ensure that water supply interruptions are minimised. These activities contribute to strengthened adaptive capacity and reduced exposure to climate risks of the water supply system in Grenada as 16 treated water storage reservoirs would increase storage capacity by approximately 8 million gallons (40,000 cubic meters) of water. For raw water storage, the project allows for the reconstruction of the Les Avocat Water Treatment Plant, and increasing its raw water storage capacity by 24 million gallons. The project proposal was submitted in 2016, got approval in 2018 and actual commencement of work began in November of 2019. To date we have an accomplishment. In January 2020, NAWASA was able to apply new water rates as part of a Tariff Reform. As a statutory body NAWASA generates its income from water and sewerage sales which enables the financing of capital investment projects. NAWASA's only rate increase since inception in 1992 was in 2010 (18 years). The new tariff reform will enable climate resilient capital investments in the value of $178 million EC dollars in the area of pipeline upgrade, the upgrading and replacement of production facilities such as treatment plants and the development of a waste water system. For example, did you build new coalitions with others, in and outside your sector or area of work? NAWASA had to build massive coalitions with various sectors of the economy in order to bring this project to fruition. The Government of Grenada (GOG) was the main driving force behind the successful bidding for this initiative. NAWASA as a statutory organization has to receive governmental backing for any major development. The Ministry of Finance, Energy, Economic Development, Planning & Trade represented by the Project Coordination Unit worked closely with all beneficiary institutions, and will continue throughout the project's lifespan. The Ministry of Agriculture was also critical as they assisted NAWASA with land availability for new treatment facilities as well as an assessment of all catchment sources. The German Agency for International Cooperation (GIZ) was a major contributor to this success supporting Government of Grenada with the by setting up a GCF proposal and acting as one of the executing entities. Islands through the region can only access funds from accredited entities which are normally development banks or Climate Change Centers etc. The Grenada Development Bank (GDB) is a public statutory financial institution, which was established by the Grenada Agricultural and Industrial Development Act, 1976 for the purpose of granting loans and providing other forms of financial assistance for industrial and tourism development, housing, higher education, agricultural development and other development projects. The Grenada Development Bank (GDB) is a public statutory financial institution established in 1996 under the Grenada Development Bank Act. The Grenada Development Bank's purpose is to assist with the distribution of challenge fund component of the project. Did you leverage technology to enable change? Did you leverage experiences or good examples from elsewhere? This initiative will include technological advances such as SCADA systems in NAWASA's water systems. The project is giving us the backbone for significant improvements in the water sector such as through a Scada system. We are using this project basically to set the infrastructure for the development of a new CIS, GIS, New meter reading assets (SMART METERS or ultrasonic) all part of an overall change.
How did your initiative help build resilience to climate change?
To achieve resilient levels of water demand and water supply, the sector would have to undergo a comprehensive transformation on multiple levels (paradigm shift). The paradigm shift would need behavioural change triggered through appropriate governance, regulation, incentives and awareness raising, the participation of citizens and businesses in becoming more water-efficient, and the provision of sufficient and reliable water infrastructure. The outcomes will focus on resilient governance and institutions, resilient water users, resilient water supply systems, increased water and energy efficiency in NAWASA's system and regional learning and replication. The specific climate related impact will be resilience to drought with additional storage, resilience to disaster. This climate resilient initiative strengthens resilience on the governance level, contributing to enhanced climate-proof regulation and water resources management. The establishment of a Water Resources Management Unit as a national regulator and platform for exchange on water issues will enhance national adaptation planning capacities, as will the development of climate-proof policies, building codes and other regulations relevant to the water sector. The cross-sectoral representation on the Project Steering Committee will also facilitate inter- sectoral exchange and learning. Overall, the whole population of Grenada, Carriacou and Petite Martinique will benefit from these activities. Using a comprehensive communications, awareness and education approach to promote water users' climate resiliency, the project aims to promote and support climate-resilient behaviour patterns by the Grenadian population regarding water usage. It will do so by offering practical examples of how each person can conserve water. The effectiveness of the communications approach is supported by the link to the measures implemented as part of the G-CREWS project and the lessons learned, in both technical and financial terms. Again, the beneficiaries will be the whole population of Grenada, Carriacou and Petite Martinique. Through enhanced monitoring and measurement of rainfall and streamflow data, linked to other weather data, the G-CREWS project contributes to increased generation and use of climate information in national and water sector decision making. The installation of automated equipment linked to an online data system will provide the opportunity for systematic data collection, management and exchange among the various stakeholders, including NAWASA, the Water Resources Management Unit, the Forestry Division, researchers, etc.
What water-related decisions did your initiative influence or improve?
In order for Grenada to have received the grant funding, it had to enact a National Adaptation Plan to climate change. The Government of Grenada (GoG) demonstrated strong leadership in preparing the way for this paradigm shift in the water sector through clearly formulated national climate policy priorities. National climate change documents and strategies rank the water sector as one of those most affected by climate change – this includes Grenada's Nationally Determined Contribution (NDC), the recently finalised National Adaptation Plan (NAP) and the currently updated National Climate Change Policy, 2017-2021. Its function is to provide a strategic, coordinating framework for building climate resilience in Grenada, recognizing the need to develop the enabling environment for climate change adaptation as well as programmatic priorities. It is a five-year plan (2017-2021) with 12 multi-sectoral programmes of action (PoAs). The NAP dedicates the entire PoA 3 to 'Water availability', including a detailed and budgeted list of recommended activities and a budget estimate of approximately USD 50.2 million. All activities foreseen within the G-CREWS project are included in the PoAs. The National Growth and Poverty Reduction Strategy highlights the impacts of climate change, including on the water sector, for Grenada's economic development. One of the objectives of the new National Climate Change Policy for the period 2017-2021 is to build climate resilience in the following priority thematic areas: water supply and sewage management; agriculture, agri-business and food security; biodiversity and ecosystems; and human health and coastal zone management. The NCCP 2017 aims to support the reduction of water outage times during flooding and droughts, increased domestic and corporate usage of water conservation/efficiency measures, and reduced incidence of incompliant surface, sub-surface and coastal water quality.
What were some of the challenges faced and how were they overcome?
As the project is in its implementation phase, there has not been any major challenges re: project execution. In fact, the challenges identified by the team lies with the securing of the funding in the region of $125 million EC dollar. It was described as an exhaustive application process – the team overcame this by multiple submission through the GCF team, and finally developing a relationship with team members who provided guidance through the application process. The lengthy approval process was also challenging. The process was submitted in 2016 and got approval in 2018. The challenge was due to the Green Climate Fund with respect to their quarterly board meeting which is the sole avenue afforded for such approvals. Was the change difficult and why? The process can be described as tedious, as it required a lot of information gathering and the lack of information influenced the challenge. Notwithstanding this, the project team was motivated when considering the impacts of what such a project will have on the water sector in Grenada. What made your Water ChangeMaker journey special? The water sector is clearly a climate change policy priority for the Government of Grenada. It was underscored as a vulnerable sector and a priority area for adaptation action in all existing climate change policies. This transformational project valued at EC $125 Million is the single largest investment in the island's water sector to date, and will ensure that there are significant upgrades to certain systems throughout the island with the total budget financed as follows: i. The Green Climate Fund – EC 105 million (Grant); ii. Government of Germany – EC 7.5 million (Grant); iii. Government of Grenada/NAWASA –EC 12.5 million (in kind and cash). This MAJOR win presents a wonderful opportunity to comprehensively mainstream and implement climate resilience throughout Grenada's entire national water sector addressing two main climate risks and vulnerabilities of Grenada: freshwater availability and disaster preparedness. Overall, we will see replacement of a number of our aged infrastructure with improvements in water quality and quantity. In defending the project before the board, Head of the International Technical Advisory Panel (ITAP), a team of independent technical experts dispersed geographically throughout the world, who advise the board said "This project for the water sector is quite unique, we saw it as a model project because this a water utility that is running quite well. It has low water losses what we call non-revenue water. It has a high level of coverage of micro metering that measures the water they deliver to the people and in spite of being a well-run utility, if an extreme event comes there is going to be a shortage of water which this project will tackle." The G-CREWS project introduces for the first time in Grenada a funding scheme for water-efficient solutions and technologies in two of the main commercial sectors: tourism and agriculture. By providing incentives for auditing services and equipment procurement, the Challenge Fund supports the creation of an enhanced market for efficient irrigation systems, rain-water harvesting systems, shadehouses, greywater recycling facilities and efficient bathroom equipment. The information and awareness campaigns additionally support an improved market environment by educating potential buyers of above mentioned equipment on respective benefits such as water and cost savings. The new coordination mechanisms ensure broad participation of public actors of various sectors in decision-making on a climate-resilient water supply system. The G-CREWS project will put an emphasis on sustaining the cross-agency cooperation beyond the programme in order to have in the long-term a reliable decision-making system for additional adjustments to the water supply system in the future. The G-CREWS project plays an important role in developing and implementing a new and modern regulatory framework, which: a) improves water governance and the water sector policies, and; b) mainstreams climate-resilience into water-related sector policies, plans and regulations. This includes the finalisation and approval of a new water resources management act and corresponding policies. This will establish WRMU as a regulatory body outside NAWASA, thereby ensuring the abolition of any potential conflict of interest between water resources abstraction and water supply tasks. The G-CREWS project also supports the mainstreaming of climate resilience into water-related sector policies, plans and regulations, such as forestry, land use, agriculture and housing. Eventually, these changes to the regulatory framework and policies lead to an improved water sector governance and the integration of climate resilience into all water-related sectors in Grenada. Specifically, the inclusion of water efficient equipment for households and business and rain-water harvesting as a new requirement in the building codes sustains the technology market development, even beyond the project timespan. This is further supported by the introduction of tax breaks for above mentioned technologies. The envisaged climate-responsive water tariff reform sets additional new incentives for water saving and contributes to the financial sustainability of the water supplier NAWASA, thus increasing the long-term stability of the entire water system and its operator. Was achieving agreements with others challenging? Why? For example, was there inertia amongst larger organisations that had not changed in many years? All stakeholders involved in the journey towards the grant funding understood one common principle – Grenada needed this time, a lasting effect to alleviating issues during the dry and rainy seasons, the direct consequence of climate change. There were long days, difference of opinion, but a common goal that was achieved, success with approval for grant funding and paving the way for a paradigm shift in Grenada's water sector.
In your view: Will the change that was created by your initiative continue?
Yes, in fact, while this initiative will greatly resolve the issues that we are faced with now, it will not resolve all challenges by NAWASA, hence this project is a stepping stone towards the resolution of water issues. The Climate Resilient Tariff Reform will support this, as revenue will be made available to ensure that because of climate change impacts, NAWASA regularly replace, upgrade and expand or amend its infrastructure and systems. It will contribute to the 178 million dollars expected to be expended to sustainably operate and maintain these upgrades and extensions. This will build up financial resources for coping with environmental hazards and disasters and for future investments to enhance the resilience of its infrastructure and systems after 2050. Up to this point the Organization as identified by the ITAP is well run. This initiative will build on the successes that currently already exist. What makes you confident that the changes that were achieved will endure? Apart from this infrastructural investment, the G-CREWS project creates (a) conditions for long-term climate resilience of the water sector (beyond the project implementation phase and after 2050) and (b) sustainability of the project's impacts. This includes an enabling and incentivizing institutional environment, long-term (including climate-adapted) thinking by the various stakeholders and sound financial structures. The project design supports a systemic increase in the resilience of the water sector and the various stakeholders, which will ensure sustainable operation of the sector's institutions and infrastructure. The main features of the exit strategy thus are (i) institutional structures, (ii) behavioural change, (iii) financial sustainability within the water sector and (iv) cross-cutting measures. The project took into consideration maintenance in many ways, infrastructure will have maintenance plans and structures enshrined into implementation. The project makes provision for capacity building for local for training and development for NAWASA's staff and users. Also, it has that massive awareness component of water usage will help with the sustainability of the project. What, if anything, may put your achievements at risk? The physical components of the project deal primarily with minor infrastructure developments and improvements of the existing water supply system. There are no unusual risks. No negative irreversible environmental impacts are expected. The main risks of the G-CREWS project is the timely construction of the infrastructure and the uptake of the water efficiency measures and alternative supply options for farmers and hotels. Overall, taking into account the mitigating measures as described below in G.2, the level of impacts of risks to the G-CREWS project is low to medium, with a low to medium probability. However as with everything else, climate change itself may place projects at risk. While, projects will be designed taking into consideration that, you can't muzzle mother nature, as strong hurricanes etc. can be a major risk factor. The project's duration provides sufficient flexibility for implementation. In addition, the G-CREWS project will work closely with a team of experienced engineering companies, as well as with engineers from the PCU and NAWASA to come up with a realistic schedule and an effective monitoring process for time, cost and quality of the implementation. The mitigation measures will also contribute to reducing the probability that the risk occurs towards 'low'. Was anything done specifically to help the changes continue? NAWASA is working on parallel projects that will enhance the deliverable under the project such as the UK CIF, a separate investment enhancing supply to the south of the island which is Grenada's main tourism and economic base. The team is also working with the Caribbean Community Climate Change Center (5C's) focusing on additional desalination systems and a water distribution network for the sister isles of Carriacou. Additionally, the Government continues its quest to make Grenada a climate smart city.
What did you learn during the initiative or after? And is it possible that others could learn from you?
What we are learning daily is the impact of climate change facing the region. We have observed that the issues faced are similar as even in 2020, water utilities in St. Vincent and St. Lucia are feeling the drastic effect like Grenada of an intense dry season. Most Caribbean SIDS face similar vulnerabilities in the water sector, and the lessons learned from the G-CREWS project in Grenada could contribute to paving the way for improved water sector resilience also in other countries. A number of Caribbean SIDS would also benefit from Grenada's experience and lessons learned with preparing GCF projects. This can be facilitated by exchange platforms on the sub-regional and regional levels, using the Organisation of East Caribbean States (OECS) and the Caribbean Community (CARICOM) as hosts for the exchange. There are already established exchange platforms, such as in the OECS Council of Environment Ministers, or the CARICOM Ministers of Environment exchange, which take place on an annual basis. In addition, regional workshops and conferences, including those hosted by the GCF can support not only the regional visibility of the G-CREWS project but also regional learning and knowledge exchange. Finally, the project will support specific initiatives in at least 3 other countries to replicate the Grenada approach and engage with the GCF. The activities have already commenced. The G-CREWS project will increase learning and replication on the two subjects of GCF project preparation and climate- resilient water sector approaches in the Caribbean through BMUB co-funding.The component unlocks the regional potential for learning and replication in the Caribbean, because the paradigm shift potential at the national level of Grenada is almost exhausted due to the project's national scale. The component is designed to complement the project and stimulate climate action as well as engagement with the GCF in other Caribbean countries. It will contribute to strengthened institutional and regulatory systems for climate-responsive planning and development and strengthened awareness of climate threats and risk-reduction processes of government institutions in the Caribbean. The team referenced the work of 53 individuals, groupings, organizations etc. in project preparation.