是时候找出谁是来自世界各地的水改革者了!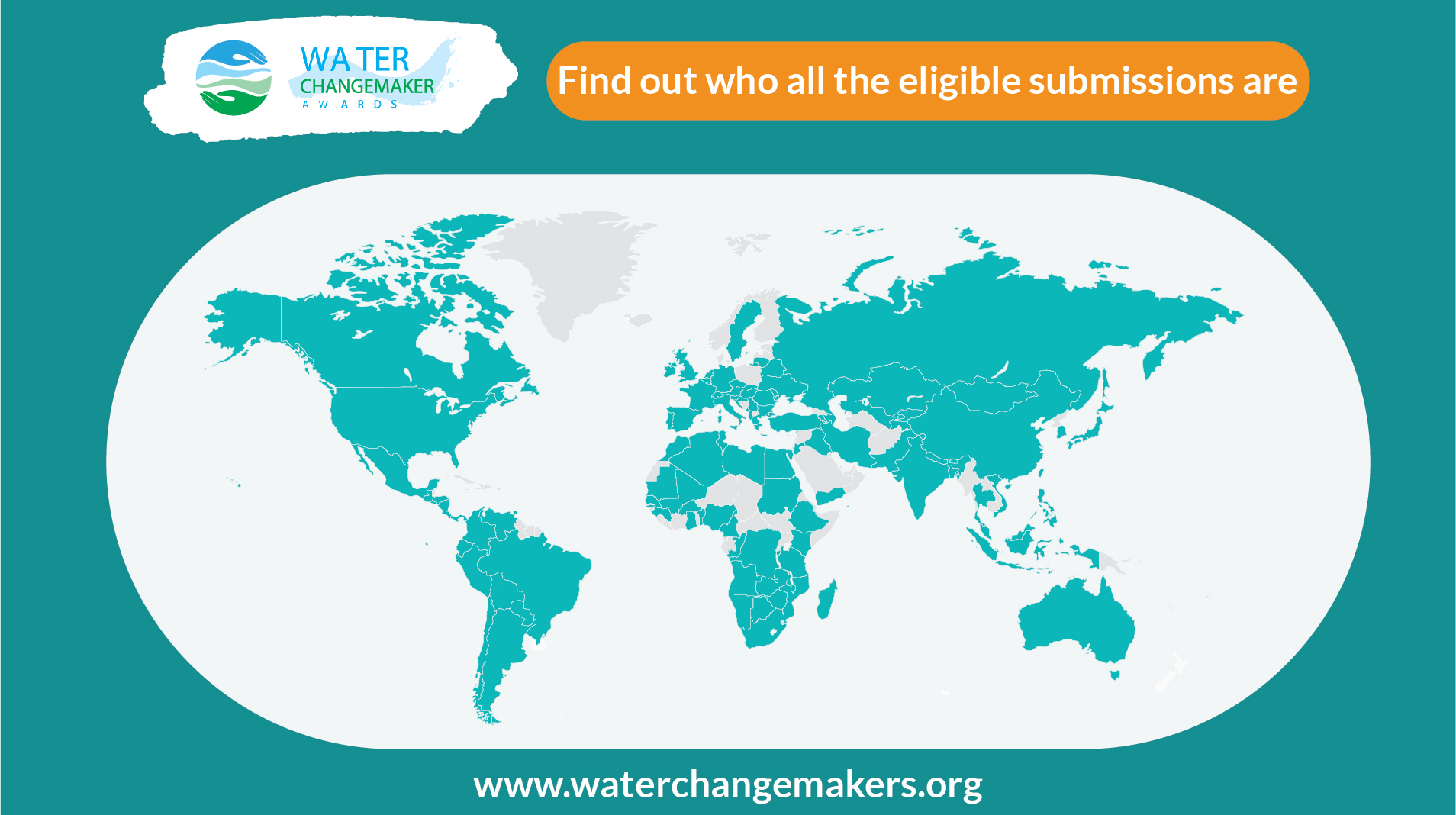 感谢您的耐心等待,也感谢所有提交改革历程的参赛者们。大家的故事令人雀跃,拜读全篇内容还须花费一些时间。下面列出了所有符合条件的提交作品,这些作品将进入技术评委团的第一阶段的遴选。别着急,我们会在未来几周内透露更多入选作品的故事细节,请大家继续关注。
您有没有找到自己国家的改革者呢?按国家的英文字母顺序排序。
A B C D E F G H I J K L M N P R S T U V Y Z
A
Angola
Luanda Gravitica Project, Reformulation of provincial water supply systems.

Empresa Pública de Águas, EPAL-E.P., Angola
Argentina
Tras la Sombra de Grandes Humedales: La valorización de pequeñas lagunas subtropicales. Centro de Ecología Aplicada del Litoral -CONICET, UNNE. Argentina (Behind the shadow of large wetlands: The enhancement of small subtropical lagoons. Center of Applied Ecology of the Littoral – CONICET, Argentina)



Reúso de Efluentes Industriales y su Transformación en Agua para uso General.

Fluence Argentina S.A. Argentina. (Reuse of Industrial Effluents and their Transformation into Water for General Use. Fluence Argentina S.A.)



Una experiencia multiplicadora

.

Fundación Las Gracias, Argentina. (A multiplying experience. Las Gracias Foundation, Argentina)

El Hombre es Agua. Asociación Civil Red Argentina de Estudios e Investigaciones en Derechos Humanos y Humanitario, Argentina (Man is Water. Civil Association of the Argentine Network of Studies and Research on Human and Humanitarian Rights, Argentina)
Armenia
A story about: How young people from Noah's Country were able to make water available to a small rural community or how drainage nets can transform our life. Youth branch of Country Water Partnership-Armenia



Let's Drink Efficiently

. ByoorAkn Team. Armenia

SelfWaterGovernance Index (SWG Index). All Rights Foundation, Armenia

AWRC. Armenian Water Research Center NGO, Armenia
Australia
*The Resilient Rivers Blueprint - Rivers for Future Generations

.

International River Foundation, Australia
Austria
The Joint Danube Survey. International Commission for the Protection of the Danube River (ICPDR), Austria, Bosnia and Herzegovina, Bulgaria, Croatia, Czechia, Germany, Hungary, Moldova, Montenegro, Romania, Serbia, Slovakia, Slovenia, Ukraine



Living Danube Partnership - A Public-Private-Civil Society Partnership for Danube wetlands

. WWF Central and Eastern Europe (WWF-CEE), Austria, Bulgaria, Croatia, Hungary, Romania, Serbia

Danube Habitat Corridor - Bridging the Danube Protected Areas. DANUBEPARKS – Danube River Network of Protected Areas – (Das Netzwerk der Donauschutzgebiete), Austria, Bulgaria, Croatia, Germany, Hungary, Romania, Serbia, Slovakia

The Faecal Sludge Field Laboratory – Enabling Informed Decision-making for Environmental Protection and Public Health.

Austrian Red Cross – (Österreichisches Rotes Kreuz), Austria
Azerbaijan
Regulation of Water Use Considering the Flow Required for Ecosystem

. Verdiyev Rafig, Azerbaijan.
B
Bangladesh
Don't Waste Water Challenge

. Global Youth Parliament (Bangladesh Chapter), Armenia, Australia, Bangladesh, Belgium, Bhutan, Botswana, Brazil, Dominica, Egypt, Gambia, Ghana, India, Iraq, Kenya, Lithuania, Malaysia, Mozambique, Nigeria, Philippines, Saint Lucia, Tanzania, Turkey, Zambia



Co2 reduction and safe drinking water in Bangladesh project

. Voice Of South Bangladesh (VoSB), Bangladesh

*Life-Water and Health. Social Economic Development Society (SEDS), Bangladesh

Youth for Water and Climate initiative bring policy change and community engagment to reduce water crisis

. YouthNet for Climate Justice, Bangladesh



Water resources optimization for climate resilience in southwest Bangladesh

. LEDARS (Local Environment Development and Agricultural Research Society), Bangladesh

Mothers parliaments advocate for climate resilient WASH facilities. HELVETAS Swiss Intercooperation, Bangladesh

Empowering Young Women through Rainwater Harvesting for Homestead Eco-Farming, Drinking Water Supply & Generate Entrepreneurship.

Bangladesh Water Partnership, Bangladesh

Innovative tool for Riverbank erosion prediction to safeguarding people against natural disaster. Center for Environmental and Geographic Information Services (CEGIS), Bangladesh
Belarus
Адаптация водных ресурсов Беларуси к изменению климата с учетом прогноза изменения речного стока. Центральный научно-исследовательский институт комплексного использования водных ресурсов, Belarus. (Adaptation of Water Resources of Belarus to Climate Change, Taking into Account the Forecast of Changes in River Flow. Central Research Institute for the Integrated Use of Water Resources, Belarus)
Belgium
Hidrodoe stands up for the climate. Are you joining us?

. Hidrodoe, Belgium
Benin
Protection Des Écosystèmes Aquatique: Gestion Durable Des Plantes Proliférantes Cas De La Jacinthe D'eau

.

JEVEV - Jeunesse et Emplois Verts pour une Economie Verte,

Benin, Réunion

(Protection Of Aquatic Ecosystems: Sustainable Management of Proliferant Plants Case Of Water Hyacinth. JEVEV - Youth and Green Jobs for a Green Economy, Benin, Reunion)

Adaptation des communautés lacustres a l'invasion de la jacinthe d'eau. ONG Jeunesse et Emplois Verts Pour Une Economire Verte, Benin. (Adaptation of Lake Communities to the Invasion of the Water Hyacinth. Youth and Green Jobs NGO for A Green Economy, Benin)

Restauration de l'écosystème d'une Tête de Bassin Versant de la rivière Mékrou au Bénin. Partenariat National de l'Eau (PNE-Bénin), Benin. (Restoration of the Ecosystem of a Watershed Head of the Mékrou River in Benin. National Water Partnership (PNE-Benin), Benin)

Water Warrior. Réseau Béninois du Parlement Mondial de la Jeunesse pour l'Eau, Benin. (Water Warrior. Beninese Network of the World Youth Parliament for Water, Benin)
Bhutan
Building Low-Cost Climate-Resilient Agriculture Technology to Address Water Scarcity Through Water Resource Management. Bhutan Water Partnership, Bhutan

Working Towards a Cleaner Chubachu Stream. Royal Society for Protection of Nature (RSPN), Bhutan
Bolivia
Agua e Hidroenergía conducen a un desarrollo autosustentable en comunidad Indígena Sarayoj. ONG PRODENER - Centro Integral ddel Desarrollo de la Energías Alternativas y de la Producción, Bolivia.

(Water and Hydropower Lead to Self-Sustainable Development in the Sarayoj Indigenous Community. NGO PRODENER - Integral Center for the Development of Alternative Energies and Production, Bolivia)

*Watershared Bank: Para financiar la conservación de las fábricas de agua de los Andes Tropicales. Fundacion Natura Bolivia, Bolivia, Colombia, Ecuador. (Watershared Bank: To Finance the Conservation of the Water Factories of the Tropical Andes. Natura Bolivia Foundation, Bolivia, Colombia, Ecuador)
Brazil
"Our Guarapiranga" – "Ecobarriers", Technology and Partnership for Water Quality in a Supply Urban Reservoir. Southwest Metropolitan Water Resources Division (MARS) of SABESP Basic Sanitation Company of the State of São Paulo Brazil, Brazil

Contaminated Plastic Packaging Recycling Without Using Water, Without Producing Waste and With High C02 Reduction. Eco Panplas, Brazil

Crisis Rooms - Participation and Transparency in Brazil's Water Crises Management

. Brazil National Water Agency, Brazil

Water Producer Project in the Pipiripau Watershed: Building Resilience in a Water-Conflict Area in Brazil. Regulatory Agency for Water, Energy and Basic Sanitation of the Federal District – Adasa, Brazil

Atlantic Forest Experimental Center – SOS Mata Atlântica. HEINEKEN Brasil, Brazil

Brazil Drought Monitor – raising awareness, building capacity, increasing preparedness

. Brazil National Water Agency, Brazil



Free Water For The World 24/7

.

Hidro Metalurgica ZM Ltda, Multiple Countries

Terra de Vidas - Reutilización de aguas grises para la implementación de sistemas agroforestales. Centro de Desenvolvimento Agroecológico Sabiá, Brazil. Terra de Vidas - Reuse of Gray Water for the Implementation of Agroforestry Systems. Sabiá Agroecological Development Center, Brazil)
Bulgaria
Save our Rivers

. Balkanka Association, Sofia, Bulgaria
Burkina Faso
Adaptation du souchet sphérique de 1200 à 600 mm d'eau par an d'eau du Burkina Faso

.

Research and Endogenous Education / Lougri and Ganhda (REE /LG), Burkina Faso. (

Adaptation of the Spherical Tigernut from 1200 to 600 mm of Water Per Year of Burkina Faso Water. Research and Endogenous Education / Lougri and Ganhda (REE /LG), Burkina Faso)
Burundi
Ecologically Sustainable Management of Water Resources. ESMWR for Ecologically Sustainable Management of Water Resources, Burundi
C
Cameroon
Strengthening Resilience to Climate Change and Development of Sahel communities in Cameroon through groundwater defluorination.

Institute for Geological and Mining Research (IRGM), Cameroon

Etat des lieux , réhabilitation et maintenance des cours d'eau dans la commune d'arrondissement Yaoundé1. Centre d'Étude et Réalisation en Environnement, Eau et Assainissement - CER2EA, Cameroon (Inventory, Rehabilitation and Maintenance of Watercourses in the Yaoundé 1 District. Municipality, Environment, Water and Sanitation Study and Realization Center - CER2EA, Cameroon)

Caravane ECOPLUS sur l'Eau et les Inondations, Association Camerounaise pour le Développement, l'Entraide Sociale et la Protection de l'Environnement -ACDESPE, Cameroon (ECOPLUS Water and Flood Caravan, Cameroonian Association for Development, Social Assistance and Protection of the Environment – ACDESPE, Cameroon)
Canada
*Protecting Agricultural Soils and Adjacent Water from Phosphates Pollution

. Camden Loche Inc., Canada



Vancouver's Rain City Strategy:Transitioning to a Water-Sensitive and Climate Resilient City

. City of Vancouver, Canada



Transitioning Oil & Gas Producers from Freshwater to Recycled Water

. Integrated Sustainability, Canada and United States

DataStream: Towards an Open and Collaborative Freshwater Future. The Gordon Foundation, Canada

Indigenous communities leading water resilience in the Andes. International Secretariat for Water, Peru

Eau Canada! - Proposition d'Une Stratégie Nationale des Eaux au Canada. Conseil Jeunesse du Premier Ministre, Canada. (Water Canada! - Proposal for a National Water Strategy in Canada. Youth Council of the Prime Minister, Canada)
Chile
* HidroSinergia

. HidroSinergia, Argentina, Bolivia, Chile, Netherlands

Un Alto en el Desierto. Fundación Un Alto en el Desierto – FUAD, Chile (A Stop in the Desert. Un Alto en el Desierto Foundation, Chile)

*Mejores flores con Menos Agua. Efiagua, Chile. (Better Flowers with Less Water. Efiagua, Chile)

Una nueva Gestión y Regulación de las Aguas en Chile con Enfoque en los Derechos Humanos. Fundación Newenko, Chile. (A new Management and Regulation of Waters in Chile with a Focus on Human Rights. Newenko Foundation, Chile)
China
The Effect of the Off-office Audit of Natural Resources Assets on Water Pollution

. School of Economics, Fujian Normal University, China


BE_RICH: Basin Enhanced RIver CHief System for win-win of Ecology and Economy in Yangtze River. Changjiang River Scientific Research Institute of Changjiang Water Resources Commission, China.


Underground Wastewater Treatment Plan (WWTP) helps Cities and Towns to Build a Green Future. China Water Environment Group Limited, China.


Aquabob's Journey to Save Fresh Water. Jiangxi Provincial Institute of Water Sciences, China


*The Relationship between Water and our Future. Baiheliang Underwater Museum, China


Plan of Water Eco-civilization Construction in Wuhan. General Institute of Water Resources and Hydropower Planning and Design, Ministry of Water Resources Water Governance Planning Team of Ecological Civilization Construction, China.


*Planning for Water Ecological Civilization Construction in Guiyang. General Institute of Water Resources and Hydropower Planning and Design, Ministry of Water Resources (GIWP) Water Governance Planning team for Ecological Civilization Construction, China

水源地规划决策管理云计算平台 FSOS-w. 南京加林系统工程技术有限公司, 加拿大 , 中国 (Water source planning and decision management cloud computing platform FSOS-w. Nanjing Jialin System Engineering Technology Co., China and Canada)

基于大数据水资源利用对环境影响. 安徽水利水电职业技术学院, 中国. (The impact of water resources utilization on the environment based on big data. Anhui Technical College of Water Resources and Hydropower, China)

给大石山区人民带来幸福水资源. 广西芸耕科技有限公司, 中国 (Bring happiness and water resources to the people of Dashishan District. Guangxi Yungeng Technology Co., Ltd., China)

2020 世界水日联合活动—"知水懂水,放心饮水"线上科普活动. E20 供水研究中心, 中国 (2020 World Water Day joint event- "Knowing water, drinking water with confidence" online science popularization event. E20 Water Supply Research Center, China)

净化污水排放不达标的解决方案. 洑水创新团队, 中国 (Solutions for substandard wastewater discharge. Weishui Innovation Team, China)

一提一补管理节水改革. 衡水惠民水务服务有限公司, 中国 (One mention, One supplement Water- Saving Management Reform. Hengshui Huimin Water Service Co., Ltd., China)

一征一保管理节水改革. 河北省衡水市枣强县肖张镇前河西村用水户协会, 中国 (Water-Saving management reform with one collection and one guarantee. Water Users Association of Qianhexi Village, Xiaozhang Town, Zaoqiang County, Hengshui City, Hebei Province, China)

河道、湖泊水体治理新技术. 北京贝特斯联合科技有限公司, 中国 (New Technology for River and Lake Water Treatment. Beijing Betters United Technology Co., Ltd., China)

一种智能化多功能水污染治理船. 北京贝特斯联合科技有限公司, 中国 (An Intelligent Multifunctional Water Pollution-control Ship. Beijing Betters United Technology Co., Ltd., China)

Straw, Garlic and Silage: Practices Coping with Climate Change from Villages in Yunnan Province. China Association for the Promotion of the People, China, Hong Kong, Macau and Taiwan

厦门集美分布式污水处理建设实践. 中联环股份有限公司, 中国 (Xiamen Jimei Distributed Wastewater Treatment Construction Practice. Zhonglianhuan Co., Ltd., China)

*藻类在线监测服务流域水源地管理. 太湖流域水文水资源监测中心, 中国 (Algae Online Monitoring Service for Watershed Management. Taihu Lake Basin Hydrology and Water Resources Monitoring Center, China)

用膜技术颠覆中国水处理模式

.

北京碧水源科技股份有限公司

,

中国 (Subvert China's Water Treatment Model with Membrane Technology. Beijing Bishuiyuan Technology Co., Ltd., China)


*创新膜技术,增加水资源

,

北京碧水源科技股份有限公司

,

中国

(Innovative membrane technology to increase water resources, Beijing Bishuiyuan Technology Co., Ltd., China)

联动革新,助力护河治水专业化, 深圳市志愿者河长联合会, 中国 (Linkage Innovation, Helping the Specialization of River Protection and Water Control, Shenzhen Volunteers and River Chiefs Association, China)

流域系统治理打造智慧健康坪山河. 中国水利水电科学研究院, 中国 (Watershed system Governance to Create a Smart and Healthy Pingshan River. China Institute of Water Resources and Hydropower Research, China)

Carry out publicity and education activities on the theme of water conservation in primary and secondary schools. Publicity and Education Center of Ministry of Water Resources, China
Colombia
Leaving no One Behind: Living in Scarcity in of the Most Water-abundant Countries. Proyecto Lomitas, Colombia


Fortalecimiento de Capacidades Comunitarias de Excombatientes y Campesinos en torno al Agua y Emprendimientos Productivos. Grupo Gestor Comunitario del ETCR La Paz - apoyados por FAO Colombia, Colombia (Strengthening of Community Capacities of Ex-combatants and rural communities around Water and Productive Enterprises. Community Management Group of ETCR La Paz -supported by FAO Colombia, Colombia)


Desarrollo Sistema de Predicción de Sequías Asociadas al Fenómeno de ENOS, Mediante Inteligencia Artificial. IREHISA - Grupo de Investigación de los Recursos Hídricos y de Suelos, Colombia (Development of the Drought Prediction System Associated with the ENSO Phenomenon, Using Artificial Intelligence. IREHISA - Research Group on Water and Soil Resources, Colombia)


WomanWASH: Innovando y Transformando la Comunidad desde Adentro. Asociación Ambiental ECOLONIAS, Colombia (WomanWASH: Innovating and Transforming the Community from the Inside. ECOLONIAS Environmental Association, Colombia)


Integración de Instrumentos para Mejorar la Gestión Integral de Recursos: una Mirada a Colombia. Universidad Nacional de Colombia, Colombia (Integration of Instruments to Improve Integrated Water Resource Management: A Look at Colombia. National University of Colombia, Colombia)


*Vivienda Sostenible Climáticamente y Psicología Ambiental Participativa en pro del Agua. URBAN GREEN S.AS, Colombia (Climatically Sustainable Housing and Participatory Environmental Psychology for Water. URBAN GREEN S.AS, Colombia)


Himno Colombiano Del Agua. Manuel Yesid Ochoa Ruiz, Colombia. (Colombian Anthem Of Water. Manuel Yesid Ochoa Ruiz, Colombia)


*Cosecha de Aguas Lluvias Y Reúso De Aguas Grises De La Ducha. EKO GROUP H2O and SAS, Colombia (Harvesting of Rainwater and Reuse of Gray Water from the Shower. EKO GROUP H2O and SAS, Colombia)
Costa Rica
Promoting Climate-informed and Strategic Coordination of Community-based Water Organizations to Ensure Current and Future Water Supply

.

Communal Water League, Costa Rica


An Integrated Community and Ecosystem-based Approach for Guaranteeing Future Water Supply in Rural Communities of Bijagua. Administrative Association for Aqueducts and Sewers of Bijagua (ASADA Bijagua), Costa Rica


Formando Facilitadores Programa Municipal: Educación Ambiental, Protegiendo Nuestras Fuentes de Agua en Escenario de Cambio Climático. Universidad Técnica Nacional (UTN) y Universidad Nacional (UNA), Costa Rica (Training Municipal Program Facilitators: Environmental Education, Protecting Our Water Sources in a Climate Change Scenario. National Technical University (UTN) and National University (UNA), Costa Rica)


ACUALAB, ACUALAB, Costa Rica
Czechia
Smart landscape 2050+: Solutions for Present and Future Generations.

Czech University of Life Sciences Prague (CZU Prague), Czechia
D
DR Congo
Josué ARUNA SEFU licencié en développement rural et master en gestion de l'eau et forêt. Congo Basin Conservation Society CBCS ONG Lead de la Societé Civile Environnementale au Sud-Kivu, DR Congo. (Josué Aruna Sefu Graduated in Rural Development and Master's Degree in Water and Forest Management. Congo Basin Conservation Society CBCS ONG Lead de la Societé Civile Environnementale au Sud-Kivu, DR Congo)


Chargé de l'organisation communautaire pour la gestion des bornes fontaines dans la cité d' Uvira, province du sud kivu. Action for Improvement of Food Child and Mother (AFICM), DR Congo. (DR Congo, Responsible for the Community Organization for the Management of Standpipes in the City of Uvira, Province of South Kivu. Action for Improvement of Food Child and Mother (AFICM), DR Congo)


A Water Resources Rich Basin Requiring Capacity Building. CB-HYDRONET (Congo Basin Network for Capacity Building in Water Resources), Angola, Burundi, Cameroon, Central African Republic, DR Congo, Republic of the Congo, Rwanda, Tanzania, Zambia


La jeunesse africaine en marche. Southern African youth network promoting water, food, energy and innovations, DR Congo. (African Youth on the March. Southern African Youth Network Promoting Water, Food, Energy and Innovations, DR Congo)


L'eau pour l'agriculture, l'eau pour l'énergie, l'eau pour le développement. SAYWIN DRC, DR Congo. (Water for Agriculture, Water for Energy, Water for Development. SAYWIN DRC, DR Congo)
E
Ecuador
Sistemas de Agua Resilientes en la Isla Santa Cruz- Galápagos. Empresa Pública Municipal de Agua Potable y Alcantarillado de Santa Cruz, Ecuador (Resilient Water Systems on the Santa Cruz-Galapagos Island. Municipal Company of Potable Water and Sewerage of Santa Cruz, Ecuador)


*Creación Fondo Comunitario del Agua a través del Financiamiento para Producción Agropecuaria. Hidrostrategias, Ecuador (Creation of the Community Water Fund through Financing for Agricultural Production. Hydrostrategies, Ecuador)


El Fondo de Páramos Tungurahua y Lucha Contra la Pobreza, Impulsado desde la Visión Indígena y Campesina de Tungurahua. Fondo de Páramos Tungurahua y Lucha contra la Pobreza -FMPLPT, Ecuador (The Fund of Páramos Tungurahua and the Fight Against Poverty, driven from the Indigenous and rural communities Vision of Tungurahua. Tungurahua Páramos Fund and the Fight against Poverty -FMPLPT, Ecuador)
Egypt
Bank Filtration for Water Treatment and Climate Resilience: Application, Training, and Awareness.

Suez Canal University, Egypt
El Salvador
Sistema de tratamiento de Aguas Residuales en Restaurante La Pampa Costa del Sol. Proyectos de Ingeniería Integral - Pro-Inter S.A, El Salvador (Wastewater treatment system in Restaurant La Pampa Costa del Sol. Integral Engineering Projects - Pro-Inter S.A, El Salvador)


Sumando Impactos por Los Cóbanos. Asociación Sumando Impactos, El Salvador (Adding Impacts for Los Cóbanos. Sumando Impactos Association, El Salvador)


Proyecto Cuna de la Paz: Iniciativa para la Sustentabilidad Hídrica. Fundación Salvadoreña de Desarrollo y Vivienda Mínima - FUNDASAL, El Salvador. (Cradle of Peace Project: Initiative for Water Sustainability. Salvadoran Foundation for Development and Minimum Housing - FUNDASAL, El Salvador)


Cosecha de Agua Lluvia con Participación de Mujeres. Fundación Nacional para el Desarrollo – FUNDE, El Salvador (Rainwater Harvest with the Participation of Women. National Foundation for Development - FUNDE, El Salvador)
Ethiopia
Climate Change Adaptation and Mitigation Strategies from Agriculture and Water Sectors Perspective. Union of Ethiopian Women Charitable Associations (UEWCA) and Concern Worldwide Ethiopia (CWW), Ethiopia


Tana Integrated Water Shade Management Pilot Project. Ministry of Water, Irrigation and Energy, Ethiopia


Bringing Good Agriculture Practices & Innovations to Ethiopia. MetaMeta Ethiopia, Ethiopia and Turkey
F
France
Moving From Sparse Interest to Purposeful Cooperation Around a Shared Bi-National Aquifer, UNESCO, El Salvador, Honduras


To Deliver a Professional, Innovative and Sustainable Drinking Water Service in Rural Sub-Saharan Africa, UDUMA, Mali


The Mediterranean Youth for Water Network (MedYWat), Center for Mediterranean Integration (CMI), Algeria, Egypt, France, Greece, Italy, Jordan, Lebanon, Libya, Morocco, Palestine, Spain, Tunisia, Turkey
G
Germany
Implementation of Simple Strategies to Improve Wellfield Management in Arid Regions: Wadi Al Arab Wellfield

.

Technical University of Munich (TUM), Jordan
Ghana
Community-Led WASH Solutions; iWASH Africa Story. iWASH Africa, Ghana
Grenada
Grenada Climate-Resilient Water Sector (G-CREWS) Project

.

National Water and Sewerage Authority (NAWASA), Grenada



NAWASA's Community Water Storage Project

. National Water and Sewerage Authority (NAWASA), Grenada
Guatemala
Contaminants in Water/Nananomembranes for Wastewater Treatment. Kavic Engineering -Energy & Water Technologies – KAVIC; University of San Carlos of Guatemala – USAC; Guatemalan Association of Limnology and Lakes Management - AGUALIMNO. Guatemala


From the Waste to the Solution. INDEQUI-CrustaTec, Guatemala


Verde + Agua. Fundación para la Conservación del Agua en la Región Metropolitana de Guatemala- FUNCAGUA, Guatemala (Green + Water. Foundation for the Conservation of Water in the Metropolitan Region of Guatemala- FUNCAGUA, Guatemala)


Saneamiento sin Subsidio: Elemento de Mejora de la Calidad del Agua para Consumo en Guatemala. Water For People Guatemala, Guatemala. (Sanitation without Subsidy: Element for Improving the Quality of Water for Consumption in Guatemala. Water For People Guatemala, Guatemala)


Gestión Integrada de Recursos Hídricos y Fortalecimiento Institucional en la Cuenca del Río Naranjo. Mancomunidad de Municipios de la Cuenca del Río Naranjo - MANCUERNA, Guatemala (Integrated Management of Water Resources and Institutional Strengthening in the Naranjo River Basin. Community of Municipalities of the Naranjo River Basin - MANCUERNA, Guatemala)


Gestión Sostenible de los Ríos del Sur de Guatemala. Instituto Privado de Investigación sobre Cambio Climático - ICC, Guatemala. (Sustainable Management of the Rivers of Southern Guatemala. Private Institute for Research on Climate Change - ICC, Guatemala.)


Gestión Integrada de Recursos Hídricos una Alternativa de Sostenibilidad y Mitigación del Cambio Climático. Water for People, Guatemala. (Integrated Management of Water Resources an Alternative of Sustainability and Mitigation of Climate Change. Water for People, Guatemala)
Guinea
Impact de la Savonnerie Alpha sur la Qualité des Eaux de Boissoin du quartier Sangoyah. ONG Femmes Leaders et Autonomes de Guinée – FELAG, Guinea (Impact of the Alpha soap factory on the Quality of Boissoin Waters in the Sangoyah district. NGO Women Leaders and Autonomous of Guinea - FELAG, Guinea)


Agrotourisme basé sur la gestion du systeme hydraulique autour de la Dame du Mont Loura. Association des Volotaires Guinéens pour l'Environnement, Guinea (Agritourism based on the management of the hydraulic system around the Lady of Mount Loura. Association of Guinean Volunteers for the Environment, Guinea)
H
Honduras
Gobernanza Hidrica y Desarrollo Economico Territorial en sub-cuencas bajas de rios Goascoran y Nacaome. Fundacion de Desarrollo Economico Departemental Del Valle-ADED Valle ADED Valle-, Honduras. (Water Governance and Territorial Economic Development in the Lower Sub-Basins of the Goascoran and Nacaome Rivers. Valley ADED Economic Development Foundation, Honduras)


Gestion integral del recurso hídrico en Puerto Cortes. Municipalidad de Puerto Cortes, Honduras. (Comprehensive Management of Water Resources in Puerto Cortes. Municipality of Puerto Cortes, Honduras)


Fortalecimiento de la resiliencia en las comunidades a través de programas holísticos de ASH, incluyendo protección de microcuencas. Water for People, Honduras. (Strengthening Resilience in Communities Through Holistic ASH Programs, Including Micro-Watershed Protection. Water for People, Honduras)
Hungary
Blue and Green. Sustainable, Integrated and Climate Change Adapted Water Management. Middle Tisza District Water Directorate (KÖTIVIZIG), Hungary


LIFE-MICACC Project: Small Municipalities Catalysing Transformative Change Through Nature-Based Water Retention for Climate Adaptation. WWF World Wide Fund for Nature Hungary Foundation and the Team of the LIFE MICACC Project [WWF HU / MICACC TEAM], Hungary

Jó Balaton (Jó [yo:] good in Hungarian) Concept, Which Unites Stakeholder Aims Into a Shared-Vision. Genaral Directorate of Water Management (OVF), Genaral Directorate of Water Management (OVF), Hungary
I
India
Geoengineering Irrigation Potential for Group of Marginal Farmers through tube wells. Action for Food Production, India


Accelerated Remediation of Polluted Waterbodies leveraging Nano-Biotechnologies. J S Water Energy Life Co Pvt Ltd. India


Building Resilience and Managing Water Resources in Semi-arid Regions. S M Sehgal Foundation, India


Dhaarva. DEVRAM International, India


Svyam Bane Gopal. Svyam Bane Gopal, India


*Floating Islands - Restoring & Beautifying Waterbodies. Sustainable Water Technologies Pvt. Ltd, India


Water Sustainability Through Revival of Traditional Knowledge. Rajputana Society of Natural History, India


The Rainwater Project - A Social Enterprise to Achieve Water Self-Reliance through Sustainable Water Management Practices. The Rainwater Project, India


Project Asbah- Every Drop, A Promise. Project Asbah, India


Sustainable Mass Water Pumping Technology. Ankha Kaizen Technologies, India.


Sustainable Sanitation Solution for the Developing and the Developed Societies. Banka BioLoo Limited, India


Ecological Resilience for Water. Ananas Design, India


Traditional Livelihoods and Water Resilience: A Million Recharge Wells for Bengaluru. Biome Environmental Trust, India


Water as a Connector to Community Resilience. UDYAMA, India


Save the Wuzu (Ablution) Water. Centre for Human Rights & Social Welfare, India


Enhancing Livelihood Resilience of Tribal community through Integrated Watershed Development and Management in Sabarkantha district of Gujarat. Nehru Foundation for Development, India.


Water Management Solution for Water-stressed areas in Maharashtra – Short, Medium & Long term Strategies. WAPCOS Limited, India


Access to drinking water for poor tribal community in remote area of Meghalaya, Action for Food Production (AFPRO), India


Enhancing Ground Water Recharge and Surface Water Conservation. Action for Food Production (AFPRO), India


Digital Societal Platform for Water. Trust for Research on Earth and Environment, India


Jalopchar: An Eco-Friendly Wastewater Treatment Technology for Safe Re-use in Agriculture. ICAR-Indian Agricutural Research Institute, India


*Participatory Watershed Development Project for Optimal Harvesting of Rainwater for the benefit of farmers, villagers and cattle in the absence of any perennial river thereby achieve mitigation of impact of climate change. Rural Social Welfare Educational and Employment Development Trust (RSWEED), India


*Transversal Approach for Managing Water Resources and Climate change Adaptation in Meghalaya. India Water Foundation, India


Rejuvenation of Riverine Ecosystem (River Rejuvenation Projects). International Association for Human Values (IAHV)(Sister Organisation of The Art of Living), India


Nuisance to 'New Sense': Redesigning the Traditional Irrigation Tank against Urban Challenges. Kaathiyanoor Tank Farmers association promoted by DHAN (Development of Humane Action) Foundation, India


Real-time Monitoring and Early Warning of Rainfall-induced Landslides. Amrita Center for Wireless Networks & Applications (AmritaWNA), Amrita Vishwa Vidyapeetham, India


The journey towards Water Consciousness: GuruJal, an initiative of District Administration, Gurugram, Government of Haryana. GuruJal Society, India


The Journey from Brown to Blue – a Story of Water Positivity from Beed, Maharashtra. The Climate Reality Project, India


Jivamritam: A Community Based Purified Drinking Water Solution. Amrita Vishwa Vidyapeetham, India


Lady Of Lakes- Madhulika Choudhary. Dhruvansh Organization, India


Doha Model (Small Pond Structures). Self-Reliant Initiatives through Joint Action (SRIJAN), India


Water for Sustainable Development: The Role of Live-in-Labs in Indian Villages. Amrita Vishwa Vidyapeetham, India
Indonesia
Water Efficiency as an Immediate Mitigation tool against Jakarta Sinking Process. PT Pran Indo Permata Abadi, Indonesia


Guarantee for Sustainability Water Supply in Indonesia, PT Penjaminan Infrastruktur Indonesia (Persero) / Indonesia Infrastructure Guarantee Fund (IIGF), Indonesia


Reducing Plastic waste in Komodo National Park Seascape with Decentralized Water and Ice Supply for Small Island and Coastal Communities. Komodo Water [KW], Indonesia


Gerakan Rejoso Kita: Preserving Rejoso Watershed through Ecosystem Service Scheme, Sustainable Agriculture, and Water Efficiency Practices. Danone AQUA, Indonesia


Water Partnership Model to Support Community Resilience towards Climate Change. Asia Pulp & Paper (APP) Sinar Mas, Indonesia


Water Management in Peatland Retirement Area Initiative to Improve Carbon Sequestration in Forest Concession Area. Asia Pulp & Paper - Sinar Mas, Indonesia


Multi Bintang River2River. PT Multi Bintang Indonesia Tbk, Indonesia.
Israel
Pioneering and Promoting Drip Irrigation for a More Sustainable World

. Netafim, Multiple countries


*The Yamuna River Tree of Life in Delhi. Ayala Water & Ecology, Ltd. – Ayala, India
Italy
Improving Knowledge and Governance on Water Management at Institutional/Local Level for Improving Sustainability. Council for Agricultural Research and Economics (CREA), Italy


Global Network of Water Museums. A "priority initiative" of UNESCO's Intergovernmental Hydrological Programme. Global Network of Water Museums (WAMU-NET), Multiple Countries
Ivory Coast
*Water Policy and Public Health in Africa: Developing Indigenous Geospatial Solutions

. African Water Association, Nigeria
J
Jamaica
The Upgrading of Jamaica's Hydromet Data Collection, Processing and Forecasting Systems: The Project Development Objective Was to Improve the Quality and Use of Climate Related Data and Information for Effective Planning and Action at Local and National Levels. Water Resources Authority (WRA), Jamaica
Jordan
Decentralized Wastewater Treatment and Reuse in Institutions: Mafraq Pilot in 3 Schools

.

Methods for Irrigation and Agriculture (MIRRA), Jordan
K
Kazakhstan
Сделаем климатически устойчивые технологии доступными для всех! Сеть экспертов устойчивого развития Центральной Азии (НПО), Армения, Казахстан, Кыргызстан, Россия, Таджикистан, Туркменистан, Узбекистан (Let's make climate resilient technologies available to everyone! Central Asia Sustainable Development Network of Experts (NGOs), Armenia, Kazakhstan, Kyrgyzstan, Russia, Tajikistan, Turkmenistan, Uzbekistan)


От управления водными ресурсами к управлению территориями на основе речных бассейнов и принципов ИУВР. Общественный фонд Национальное водное партнерство Казахстана, Казахста

(From Water Resources Management to Territorial Management based on River Basins and IWRM principles. Public Fund National Water Partnership of Kazakhstan, Kazakhstan)
Kenya
Restoration Of River Motoine/Ngong In Kibra Sub County. Mazingira Yetu organization, Kenya


Washmis platform development and services. Upande Limited, Kenya, Mozambique


Bwiri Water Harvesting Project, The DISC Initiatives. Kenya


Green Roads: Road Water Harvesting for Agricultural Production in Smallholder Dryland Farming Systems in Kenya. MetaMeta Limited. Ethiopia and Kenya


*Water technologists. Kitui Water Solutions Group (KWSG). Kenya


Protecting Local Wetlands and Rivers which are highly threatened through Education and Community Participation. Cranes Eco Care Foundation, Kenya


Upper Tana Nairobi Water Fund Trust - 4P (Public-Private- People-Partnership). Upper Tana- Nairobi Water Fund Trust (UTNWF-T), Kenya


Unlocking Opportunities in Sanitation: From Poo to Product (P2P). Nawasscoal CO LTD, Kenya


Improving Girls Education by Providing Reliable and Sustainable Access to Clean Water. Living Water Service Centre, Kenya


Community Led Integrated Watershed Management for Sustainable Livelihoods for Mankind and Ecosystem Support for Wildlife. Mara River Water Users Association, Kenya
Kyrgyzstan
Технология ускоренной промывки сильнозасоленных почв в Кыргызстане. Государственное агентство водных ресурсов при Правительстве Кыргызской Республики, Кыргызстан

(Technology of accelerated washing of highly saline soils in Kyrgyzstan. State Agency for Water Resources under the Government of the Kyrgyz Republic, Kyrgyzstan)
L
Lebanon
Water Quality Assessment and Monitoring Using Geographical Information Systems (GIS) in Syrian Refugee Camps, North Lebanon. University of Balamand, Lebanon
M
Malaysia
New Life for Water

.

Indah Water Konsortium (IWK), Malaysia
Mali
Engagement Communautaire pour une Utilisation Rationnelle de l'Eau - ECURE. Action pour la Solidarité, l'Urgence et le Développement International - Action SUD, Mali. (Community Commitment for the Rational Use of Water - ECURE. Action for Solidarity, Emergency and International Development - Action SUD, Mali)
Malta
Water – Be the Change: A National Water Conservation Campaign for the Maltese Islands. The Energy & Water Agency, Malta
Mauritania
Garantir l'Accès de Tous à l'Eau et l'Assainissement pour Assurer une Gestion Durable des Ressources

. ONG Aiser/ Citoyennete Et Droits Humains, Mauritanie (Guarantee Access for All to Water and Sanitation to Ensure Sustainable Management of Resources. NGO Aiser / Citizenship And Human Rights, Mauritania)
Mexico
Our 2025 Journey to Measurably Improve Water Availability and Quality for 9 High Stress Watersheds. AB InBev (Middle Americas Zone), Colombia, Dominican Republic, El Salvador, Mexico, Peru


Melanocrete(R), a Novel Material to Improve Substantially Water Characteristics. Human Photosynthesis(R) Study Centre, S.C., Mexico


Reforestation 1300Ha in Cumbres National Park, in alliance with Monterrey Water Fund. HEINEKEN México, Mexico


*Watersheds and Cities: Social participation to improve the health of ecosystems and water provision. Fondo Mexicano para la Conservación de la Naturaleza A.C. (FMCN), Mexico


Cultivando un México Mejor - a conservation agriculture Guanajuato barley farmers project in alliance with CIMMYT. HEINEKEN Mexico, Mexico


Restoring the Colorado river Watershed with NGO: Restauremos el Colorado, HEINEKEN México, Mexico


*Ha'Kanules guardianes del agua. Gestión Integral de Proyectos Sustentables BACAB A. C. México (Ha'Kanules guardians of the water. Integral Project Management Sustainable BACAB A. C., Mexico)


La Huella Hídrica en el Sector Agrícola como Estrategia para una Gestión en la Producción Agrícola. Grupo de Ecología, Ingeniería, Cultura y Sostenibilidad, GEINCUS, A.C, México (The Water Footprint in the Agricultural Sector as a Strategy for Management in Agricultural Production. Ecology, Engineering, Culture and Sustainability Group, GEINCUS, A.C, Mexico)
Moldova
Moldovan Network of Rural Volunteering Centers for Water. Terra-1530, Moldova



Facilitation of Water Management Planning based on the EU Water Related Directives in Local Agendas

. GWP Moldova with ECOS as a host institution, Moldova



Moldovan-Ukrainian Strategic Framework for Adaptation to Climate Change in the Dniester River Basin

. State Water Agency of Moldova "Apele Moldovei" and State Water Agency of Ukraine (AM/DAVR), Moldova and Ukraine


Сохранение источников бассейна реки Балцата. Общественная Ассоциация "Ecostrategii", Молдова. (Conservation of the sources of the Baltsata river basin. Public Association "Ecostrategii", Moldova)


Посадка лесонасаждений на деградированных почвах для сохранения земель и родников. Общественная Ассоциация "Ecostrategii", Молдова.

(Planting forests on degraded soils to preserve land and springs.

Public Association "Ecostrategii", Moldova)
Mongolia
Save Future by Drop

. Women's Leadership Program, "Save Future by Drop" Project Team. Mongolia.
Morocco
Building Water Integrity for Sustainable Development of Berrechid Groundwater Resources. Agence du Bassin Hydraulique du Bouregreg et de la Chaouia, Morocco


Water and Collaboration Beyond Borders. The Tensift Region Development Center (CDRT), Morocco, Palestine, Tunisia
Mozambique
Production of Vegetables for Supply to the Mocuba Market, Using Conservation Agriculture Strategy.

Ângelo Baptista Alface, Mozambique
N
Nepal
Peoples´( Water Users) Participation in Developing and Implementing Systems. Department of Irrigation, Nepal


Water Resources Development Strategy for the Kamala River Basin, Nepal. Jalsrot Vikas Sanstha / Global Water Partnership Nepal, Nepal


Breaking New Ground in Gilgit-Baltistan. International Centre for Integrated Mountain Development (ICIMOD), Pakistan


Prepared for the Flood: Resilience Building of Vulnerable Mountain Communities in Pakistan. International Centre for Integrated Mountain Development (ICIMOD), Pakistan
Netherlands
Water as Leverage for Resilient Cities Asia. Netherlands Enterprise and Development Agency (RVO), Bangladesh, India, Indonesia, Netherlands


Green River: Community-Led Ecosystems and Livelihood Regeneration in Gundar River Basin, Tamil Nadu, India. A Traditionally Monsoon Dependent Region, With Climate Change Making It Extremely Difficult. Embassy of the Earth, India


Desolenator: Growing the Space of Low-Cost Sustainable Desalination. Desolenator, India, Netherlands, United Arab Emirates


Integrated and Sustained Policy-Technical Engagement on Water and Climate. Deltares, Netherlands


Stakeholder Management Approach to Climate Resilient Water Management and Supply. VEI BV, Kenya


Nextblue Amplifies the Experiences/Stories of Local People in the Heart of the World's Delta Regions. Nextblue, Bangladesh, Vietnam
Nicaragua
Usuarios organiados para generar cambio en el manejo sostenible del agua en cuenca del río Dipilto. Comité de cuenca del Río Dipilto, Nicaragua. (Organized Users to Generate Change in the Sustainable Management of Water in the Dipilto River Basin. Dipilto River Basin Committee, Nicaragua)


Mejoramiento del sistema de abastecimiento de agua potable de la comunidad Las Azucenas, municipio de San Carlos, Nicaragua. ASODELCO, Nicaragua. (Improvement of the Drinking Water Supply System of the Las Azucenas Community, Municipality of San Carlos, Nicaragua. ASODELCO, Nicaragua)


Cómites de Agua Potable y Saneamiento Infantiles. Red de Comités de Agua Potable y Saneamiento de Matagalpa (Red CAPS), Nicaragua. (Drinking Water and Sanitation Committees for Children. Matagalpa Network of Drinking Water and Sanitation Committees (CAPS Network), Nicaragua)


Con GIRH y desarrollo de capacidad comunitaria hacia sistema de agua para Caracito. ASODELCO (Asociación para el Fomento del Desarrollo Local Sostenible), Nicaragua. (With IWRM and Community Capacity Development Towards the Caracito Water System. ASODELCO (Association for the Promotion of Sustainable Local Development), Nicaragua)
Nigeria
River Ethiope Watershed Reserach and Restoration Project. River Ethiope Trust Foundation, Nigeria


Addressing Water Poverty Through Human Rights Advocacy Approach. Hope Spring Water Charity Foundation, Nigeria


Water Borehole Project Provided for Uso Grammer School Uso in Owo Local Government of Ondo State. Sunshine Progressive Youth Alliance (SPYA), Nigeria


Button. Button Solution [Button], Nigeria


Eliminating Inequalities. Water With Development [WaterWide], Nigeria


Leveraging Public Private Partnerships to Provide Sustainable and Climate Resilient Water Systems in Challawa. Nigerian Bottling Company Limited (a member of Coca-Cola Hellenic Bottling Company), Nigeria


Sense in Nonsense - Ingenious and Indigenous Solution to Waste and Water Pollution. Aqua Planet, Nigeria


Total WASH for Undeserved Communities. Kom'Bak Industries, Nigeria


Claim Your Water Right. Town Crier Initiative Africa, Nigeria
P
Pakistan
Sindh Water Relief Project. Pakistan Peacekeeping Mission (A Group of Volunteers), Pakistan


Empowering Young Generation for Building Climate Change Resilience and A Sustainable Water Secured Future. Pakistan Youth Parliament for Water (PYPW), Pakistan


Water and Sanitation Extension Programme (WASEP). Aga Khan Agency for Habitat, Pakistan


*PANI Zindgee Hay, (Water is life ) PANI KO SAVE KAREN ZINDGEE KE LYE (Save the Water for Life). Women Development Association (WDA), Pakistan


Water Changing Lives. Sarawan Area Water Partnership, Pakistan
Palestine
Blue Filter

. Ministry of Economy, Palestine


Lajee Environment Unit. Lajee Center, Palestine
Panama
Resiliencia de los recursos hídricos frente al cambio climático: cuenca del río La Villa, Panamá

. Centro del Agua del Trópico Húmedo para América Latina y el Caribe – CATHALAC, Panama. (Resilience of Water Resources to Climate Change: La Villa River Basin, Panama. Wet Tropic Water Center for Latin America and the Caribbean – CATHALAC, Panama)
Peru
Impacto de las Amunas en la seguridad hídrica de Lima

.

The Nature Conservancy, Peru. (Impact of Amunas on Lima's Water Security. The Nature Conservancy, Peru)


Rehabilitación de Amunas, las serpientes de agua que recorren las tierras altas de los Andes. Fondo de Agua para Lima y Callao – AQUAFONDO, Peru. (Rehabilitation of Amunas, the Water Snakes that Traverse the Highlands of the Andes. Water Fund for Lima and Callao – AQUAFONDO, Peru)


Sunfruits: construyendo soluciones de gestion sostenible del agua en el Valle de Ica Peru. Sunfruits Export S.A., Peru. (Sunfruits: Building Sustainable Water Management Solutions in the Ica Valley Peru. Sunfruits Export S.A., Peru)
Philippines
Climate Smart Palawan: Creating Climate Resilience in Calamianes Group of Islands (Busuanga-Coron-Culion). Environmental and Climate Change Research Institute, Philippines


The Masungi Georeserve story: Restoring Forgotten Watersheds Through Youth-Led Movements. Masungi Georeserve Foundation Inc. (MGFI), Philippines
R
Romania
"Get Active for the Danube River"- Danube Art Master School Competition, Nationally. Ecological Counselling Centre Galati ( ECCG) together with Global Water Partnership for Romania) GWP CEE carried out the initiative at the network level and Danube River Basin; ICPDR was the initiator from the very beginning, Romania
S
Senegal
Gestion Participative à l'irrigation (Maintenance des infrastructures et Gestion de l'eau au niveau des Périmètres Irrigués). Societe Nationale D'amenagement et D'exploitation des Terres du Delta du Fleuve Senegal et des Vallees du Fleuve Senegal et de la Faleme - SAED, Sénégal (Participatory Irrigation Management (Infrastructure Maintenance and Water Management at Irrigated Perimeters). National Society for the Development and Use of Lands in the Senegal River Delta and the Senegal River and Falémé Valleys - SAED, Senegal)
Slovakia
Value is Water: Action plan to solve impacts of drought and water scarcity.

Ministry of Environment of Slovak Republic, Water Policy Division, Slovakia
Slovenia
Nature Conservation is a Way of Life.

Institute for Ichthyological and Ecological research - REVIVO, Slovenia


Fostering Nature-Based Solutions for Communities. Limnos Company for Applied Ecology, Albania, North Macedonia, Montenegro, Slovenia
South Africa
Clean Water for a Cleaner Environment that will be in a position to Sustain the both the Environment and the Masses. FEWCOOPSA - Food-Energy-Water South Africa Tertiary Co-Operative, South Africa


WaterKiosk – Reygersdal. BE AfriBusiness (Pty) Ltd Local Partner of WaterKiosk SADC, Botswana, Ghana, Mozambique, Namibia, South Africa, Zambia, Zimbabwe


Development of Groundwater Quality Baselines and Target for SDG 6.3.2 Reporting using specific Hydrogeological regions. Department of Water and Sanitation, South Africa


Swallowing toilet-A Water-saving Toilet that use less than a liter to flush. Bashomi Trading & Projects (BTP), South Africa


The Story of Water in Lusaka. Future Resilience of African CiTies and Lands - FRACTAL, Botswana, Malawi, Mozambique, Namibia, South Africa, Zambia, Zimbabwe


The WHC Leak-Less Valve Journey. Water, Hygiene, Convenience (WHC), South Africa


South African Water Sensitive Design Community of Practice Programme. Future Water Institute, University of Cape Town, South Africa


Greensource - Sports for Water. Greensource Capital NPC, South Africa


AgriCloud: A Weather-based Agricultural Advisory System. Agricultural Research Council, South Africa


Changing Course Before the Flood: Lower Shire River Basin Flood Risk Management. Aurecon South Africa/Zutari, Malawi


Engineering Support for Enhanced Ecological Infrastructure critical to Sustainable Adaptation Solutions for Water in Africa. Zutari Water Resources Group, Kenya, Lesotho, Malawi and South Africa
South Sudan
Role of Community Initiative for Sustainable Peace Organization in Building Climate resilience in South Sudan. Community Initiative for Sustainable Peace Organization (CISPO), South Sudan
Spain
Restoration of Four Degraded wetlands in Doñana Park (Guadalquivir watershed) to Minimize the Breweries Water Footprint. HEINEKEN, Spain


Constructed Wetlands as a Nature Based Solution for Sanitation in Cusco. Cátedra UNESCO de Sostenibilidad (UNESCO-SOST), Peru


Centro Nacional De Tecnología De Regadíos (CENTER), Una Iniciativa Global Destinada al Ahorro de Agua. Ministerio de Agricultura, Pesca y Alimentación, España (National Center for Irrigation Technology (CENTER), a Global Initiative to Save Water. Ministry of Agriculture, Fisheries and Food, Spain)
Sri Lanka
Promoting River Sand Alternatives for Construction to Safeguard River Health and Ecosystems. Construction Industry Development Authority, Sri Lanka


WetWorking (Networking for wetland conservation) to Combat Climate Change Impacts. Sri Lanka Water Partnership, Sri Lanka


Puritas Sath Diyawara - Water for Life; Hayleys Group's Initiative for Healing CKD. Puritas Limited, Sri Lanka


Introducing a Low-cost Eco-friendly Sewage Treatment System to Local Authorities, Urban Council Balangoda. Urban Council Balangoda, Sri Lanka (UCB), India, Sri Lanka


Rainwater as a Drinking Water Source for Drought and Flood Prone Areas of Sri Lanka. Lanka Rainwater Harvesting Forum, Sri Lanka


Supporting Young Water Professionals by Building Capacity and Creating Opportunity in Uva Province. Young Water Professionals Uva Province, Sri Lanka
Sudan
Empower Sudanese Rural Communities with Conflicting Interests to Manage their Water Resources. ZOA Sudan on behalf of Aqua4Sudan Partnership, Sudan


Sudanese Youth Driven by Passion and Knowledge to alter Water Supply and Sanitation situations in Sudan. Sudan Youth Parliament for Water (SYPW), Sudan


Action Participation Tool (Jerri can Exercise). Islamic Relief Worldwide, Sudan
Switzerland
Planting Rain for Collective Gain (2018-2021). The International Rainwater Harvesting Alliance (IRHA), Nepal and Senegal


Purpose-Driven Partnerships: Xylem & Manchester City FC Partner to Change the Global Dialogue on Water. Xylem Inc., Brazil, China, Colombia, France, India, Indonesia, Japan, Mexico, Nigeria, Russia, South Africa, Thailand, Turkey, United Kingdom, United States, Vietnam


Empowering Wastewater Suppliers with the Wastewater data. Prana WasteWater, Switzerland
T
Tajikistan
Water Sector Reform of Tajikistan in the Context Climate Change by Switching to the IWRM

. National

Water

Partnership

of

Tajikistan

,

Tajikistan


Использование моих 5 изобретений для улучшения мелиоративного состояния земель и экономия водных ресурсов в сельском хозяйстве. Общественная организация "Водии Вахш" в Хатлонской области города Бохтар, Tajikistan. (Using My 5 Inventions to Improve Land Reclamation and Save Water Resources in Agriculture. Public Organization "Vodii Vakhsh" in the Khatlon Region of the City of Bokhtar, Tajikistan)


Опыт реформирования водного сектора Таджикистана для повышения его устойчивости к климатическим изменениям и внедрение ИУВР. Национальное водное партнерство Таджикистана, Tajikistan. (Experience of Reforming the Water Sector in Tajikistan to Increase Its Resilience to Climate Change and the Introduction of IWRM. National Water Partnership of Tajikistan, Tajikistan)


Водосберегающие технологии полива как адаптационные меры и способы повышения устойчивости к климатическим изменениям в Таджикистане. Национальное водное партнерство Таджикистана, Tajikistan. (Water-Saving Irrigation Technologies as Adaptation Measures and Ways to Increase Resilience to Climate Change in Tajikistan. National Water Partnership of Tajikistan, Tajikistan)


Альтернативный путь решения проблем отрицательного воздействия климатических изменений в сельском хозяйстве Таджикистана. Таджикский аграрный университет им.Ш.Шотемур, Tajikistan. (Tajikistan, An Alternative Way to Address the Negative Impact of Climate Change in Agriculture in Tajikistan. Sh. Shotemur Tajik Agrarian University, Tajikistan)
Tanzania
Ruth - A Water ChangeMaker in Tanzania Who Creates Numerous Job Opportunities to Women and Youth. Gongali Model Co.Ltd, Tanzania


Uhakika wa Maji! Citizen-Action, Accountability Monitoring and Advocacy for Water and Climate Security in Africa. Shahidi wa Maji (SwM), Tanzania


Re-Engineering and Re-Firing Tanzania Water Partnership: From Obscurity to Progress and Posterity. Global Water Partnership Tanzania, Tanzania
Trinidad and Tobago
Integrated Soil and Water Management as Climate Change Resilience Strategies on Smallholder Family-Farms in Trinidad. Ro-Crops Agrotec, Trinidad and Tobago


Regional Strategic Action Plan for Climate Resilience of the Water Sector in the Caribbean Region. The Caribbean Water and Wastewater Association (CWWA), Trinidad and Tobago


The NIHERST Environmental Solutions for Sustainable Communities Programme for Rainwater Harvesting Systems in Rural Communities. The National Institute of Higher Education, Research, Science and Technology (NIHERST), Trinidad and Tobago
Tunisia
Gestion Locale de l'Eau dans les Ecoles Primaires en Milieu Rural. Centre de Recherches et des Technologies des Eaux, CERTE, Tunisia. (Local Water Management in Primary Schools in Rural Areas. Water Research and Technology Center, Tunisia)


La facilitation de la participation des citoyens dans le choix du programme d'adduction a l'eau potable. Commune Souassi, Tunisia. (Facilitating citizen participation in the choice of the drinking water supply program. Municipality Souassi, Tunisia)


Ma responsabilité face aux changements climatiques. Réseau Enfants de la Terre (RET), Tunisia. (My responsibility in the face of climate change. Children of the Earth Network (RET), Tunisia)

Save the drop ! Fesguietna !(فسقيتنا ). Association Jlij pour l'environnement marin AJEM, Tunisia. (Tunisia, Save the Drop ! Fesguietna ! (فسقيتنا ). Jlij Association for the Marine Environment AJEM, Tunisia)
U
Uganda
Addressing Climate Resilience through Water and Sanitation Interventions in Sembabule District. Union of Community Development Volunteers (UCDV), Uganda


Implementing WASH projects through collaborations to creating mobile based technologies. Rotary Club of Kampala, Uganda


Build rural Women capacities to increase their access to Water through their Improved Governance. Katosi Women Development Trust, Uganda
Ukraine
A Journey from "water secure world" concept to "more (or less) water secure world" concept.

Ukrainian Center of Environmental and Water Projects (UCEWP), Ukraine


Fresh Clean Water Everywhere. Zander Agro, Azerbaijan, Germany, Guinea, India, Latvia, Saudi Arabia, Turkey, Ukraine


Волновая опреснительная станция конструкции Овсянкина, работающая на возобновляемой энергии морских волн и течений. ООО Научно производственная фирма "Крок-1" Украина (Wave desalination station designed by Ovsyankin, operating on renewable energy of sea waves and currents. LLC Scientific production company "Krok-1", Ukraine)


Внедрение системы мониторинга водных объектов коммунальным предприятием как инструмента водной политики города Киева. Коммунальное предприятие исполнительного органа Киевского городского совета (Киевской городской государственной администрации) по охране, содержанию и эксплуатации земель водного фонда города Киева (КП "Плесо"), Украина.

(Implementation of a water body monitoring system by a utility company as an instrument of water policy in the city of Kiev. Communal enterprise of the executive body of the Kiev City Council (Kiev City State Administration) for the protection, maintenance and operation of lands of the water fund of the city of Kiev (KP "Pleso"), Ukraine)
United Kingdom
Aqua Gratis - the Development of a micro domestic short retention greywater reuse system. Cascade Water Products Ltd, United Kingdom


Creating energy from reused water. NVH Global Ltd, United Kingdom


Triangle-city Cooperation Building Climate Resilience in the Parana Basin. University of Leeds, Argentina, Brazil, Paraguay, United Kingdom


WASH Basins - A practical approach to integrated water resources management for sustainable WASH services. Arup, India


Clean, solar-powered water supply unlocks health, gender equality and economic prosperity in vulnerable Nigerian communities. WaterAid, Nigeria


Previsico provides real-time, street-level surface water flood forecasting technology to save lives and livelihoods globally. Previsico, China, Indonesia, Kenya, Netherlands, United Kingdom, United States


All things resilience – Path to flood resilience for small to medium businesses in UK. Upper Calder Valley Renaissance (UCVR), United Kingdom
United States of America
Winning the Fight to Legalize Rainwater Harvesting and Recognizing it as Independent and Potable Source. Go Green Auto Care, USA


United States-Mexico Permanent Forum of Binational Waters. Texas A&M University, Mexico and United States


Hope for Igusi Clinic: Removing Barriers of Access to Clean Water, Nyamandlovu, Zimbabwe. JB Dondolo, Inc. Zimbabwe


Big Data Analytics and Transboundary Water Collaboration for Southern Africa. Winrock International, Botswana, South Africa


Water for the Future: Supporting California Farmers to Replenish Groundwater for Drought, Flood and Climate Resilience. Sustainable Conservation, United States


Building Resilience Through the Power of Women. USAID Gap Inc. Women + Water Alliance Team, India


*Sustainable Green Buildings with HVAC condensation recovery Water sheds Biological control Viruses Bacteria , fungi. Free and clear H2O Innovations in Water Inc., United States


Valuing Water Finance Task Force. Ceres, Australia, Netherlands, South Africa, Sweden, United Kingdom, United States


Achieving Healthy African Great Lakes through a Highly Collaborative Freshwater Scientific Network. African Center for Aquatic Research and Education [ACARE], Burundi, DR Congo, Ethiopia, Kenya, Malawi, Mozambique, Rwanda, Tanzania, Uganda, Zambia


Making energy-neutral wastewater treatment a reality. Aquacycl LLC, United States


Climate Action and Support Transparency Training (CASTT) - UNFCCC Adaptation Academy. Alliance for Global Water Adaptation (AGWA), Netherlands, Thailand, United States


GlobalWaterWorks: http://www.gwwconnect.com/, GlobalWaterWorks, Multiple Countries


The Ripple Effects of Service-Learning Programs are Solving Global Water Access Problems, H2O for Life, United States


Transforming the Equestrian Industry into a Waterless, Sustainable Future. ArenaMend, United States
Uzbekistan
Creation Conditions for Innovations in the Zone of the Aral Sea Crisis. Agency for projects implementation of the International Fund for the Aral Sea Saving (Agency of IFAS), Kazakhstan, Uzbekistan


Определение оптимальных вариантов размещения сельскохозяйственных культур с учетом наличия водных ресурсов и включению земель вышедших из оборота. Каракалпакский филиал научно-исследовательского института ирригации и водных проблем (ККФ НИИИВП), Узбекистана.

(Determination of the optimal options for the placement of agricultural crops, taking into account the availability of water resources and the inclusion of lands out of circulation. Karakalpak branch of the research institute of irrigation and water problems (KKF NIIIVP), Uzbekistan)

UNESCO Chair on Water Diplomacy, Water Resources Management and Environmental Protection at Tashkent Institute of Irrigation and Agricultural Mechanization Engineers. Tashkent Institute of Irrigation and Agricultural Mechanization Engineers (TIIAME), Uzbekistan

Международный день реки Амударья. Экологическое движение Узбекистана, Узбекистана. (International Day of the Amu Darya River. Ecological Movement of Uzbekistan, Uzbekistan)


Проведение мероприятий по эффективному использованию водных ресурсов в условиях изменения климата. Общественное объединение по устойчивому использованию водных ресурсов Узбекистана "Сувчи" [(ОО) "Сувчи]", Узбекистана. (Carrying out activities for the efficient use of water resources in the context of climate change. Public Association for Sustainable Use of Water Resources of Uzbekistan "Suvchi" [(PA) "Suvchi]", Uzbekistan)


Технология низконапорного капельного орошения. "Общественное объединение Сувчи по устойчивому использованию водных ресурсов Узбекистана", ОО "Сувчи", Узбекистана. (Low-pressure drip irrigation technology. "Public Association Suvchi for the Sustainable Use of Water Resources in Uzbekistan", PA "Suvchi", Uzbekistan)


Повышение плодородия почв и меры водосбережения в засушливых условиях Каракалпакстана как мера адаптации к изменению климата. Каракалпакская филиал ОО «СУВЧИ», Узбекистана. (Improving soil fertility and water conservation measures in arid conditions of Karakalpakstan as a measure of adaptation to climate change. Karakalpak branch of OO "SUVCHI", Uzbekistan)


Эффективное использование воды в сельском хозяйстве в условиях глобального изменения климата. Негосударственная некоммерческая организация "Защита бассейна реки Зеравшан", Узбекистана. (Efficient use of water in agriculture in the context of global climate change. Non-governmental non-profit organization "Protection of the Zeravshan River Basin", Uzbekistan)


Совместные инициативы ассоциации «За экологически чистую Фергану», ННО «Орзу», ННО «Шахимарданобод сув», ННО «Чимён сув халол» под названием «Вода –это жизнь», «Чистая вода – залог здоровья» «Вода – дар божий», «Вода – это жизнь». Ассоциация «За экологически чистую Фергану». ННО «Шахимарданобод сув», ННО «Орзу», ННО «Чимён сув халол», Узбекистана. (Joint initiatives of the Association "For Ecologically Clean Fergana", NGO "Orzu", NGO "Shakhimardanobod Suv", NGO "Chimyon Suv Halol" under the name "Water is life", "Clean water is a guarantee of health" "Water is a gift from God", "Water is life". Association "For Ecologically Clean Fergana". NGO "Shakhimardanobod Suv", NGO "Orzu", NGO "Chimyon Suv Halol", Uzbekistan)


Целевая подготовка водных кадров для экологически уязвимых регионов Узбекистана с острыми климатическими изменениями. Национальный Центh UZWATER при кафедре "Водоснабжение, канализация и охрана водных ресурсов" Самаркандского государственного архитектурно-строительного института, Узбекистана.

(Targeted training of water personnel for ecologically vulnerable regions of Uzbekistan with acute climatic changes. National Center UZWATER at the Department of "Water supply, sewerage and protection of water resources" of the Samarkand State Institute of Architecture and Civil Engineering, Uzbekistan

)


математическая модель позволяющая определить оптимальные характеристики (минимальные по стоимости) трубопроводов при строительстве и реконструкции сетей водоснабжения . Ташкентский институт инженеров ирригации и механизации сельского хозяйства, Узбекистана. (A mathematical model that allows you to determine the optimal characteristics (minimum cost) of pipelines during the construction and reconstruction of water supply networks. Tashkent Institute of Irrigation and Agricultural Mechanization Engineers, Uzbekistan)


Капельное Орошение Сельскохозяйственных Культур С Использованием Возобновляемых Источников Энергии В Районах Без Поверхностных Вод И Энергии. "Общественное объединение Сувчи по устойчивому использованию водных ресурсов Узбекистана", Узбекистана.

(Drip Irrigation of Agricultural Crops Using Renewable Energy Sources in Areas Without Surface Water and Energy. "Public Association Suvchi for Sustainable Use of Water Resources in Uzbekistan", Uzbekistan)
V
Venezuela
Proyecto Agua Clara (Captacion de agua de lluvia para Uso domestico). Iniciativa Individual. Juan Carlos Diaz Gallardo, Venezuela. (Agua Clara Project (Rainwater Harvesting for Domestic Use). Individual Initiative. Juan Carlos Diaz Gallardo, Venezuela)
Y
Yemen
ج1 خزانات حصاد الامطار على مستوى الاسره ضرورة وخيار اول لمواجة التغيرات المناخية. اهالي منطققة جبل نعمان. Yemen. (Part 1: Rain Harvesting Tanks at the Household Level is a Necessity and a First Option for Facing Climate Change. The People of the Numan Region, Yemen)


توحيد أنشطة الرصد المناخي. الهيئة العامة للطيران المدني والأرصاد - قطاع الأرصاد. Yemen. (Unify Climate Monitoring Activities. General Authority for Civil Aviation and Meteorology - Meteorology Sector, Yemen)
Z
Zambia
Strengthening Climate Resilience in the Kafue sub-Basin. Zambia Pilot Programme for Climate Resilience, Ministry of National Development Planning, Zambia
Zimbabwe
Story of a Southern African Water and Climate lawyer. Ministry of Environment, Climate, Tourism and Hospitality Industry, Zimbabwe


WasteMoney. WasteMoney (Pvt) Ltd, Zimbabwe


Ground Water Reliance in a Water Stressed country of Zimbabwe: Our New Normal. Mayin Waters Pvt Ltd, Zimbabwe
Initiatives marked with an asterisk (*) are still awaiting verification by their verification contacts provided in their submissions