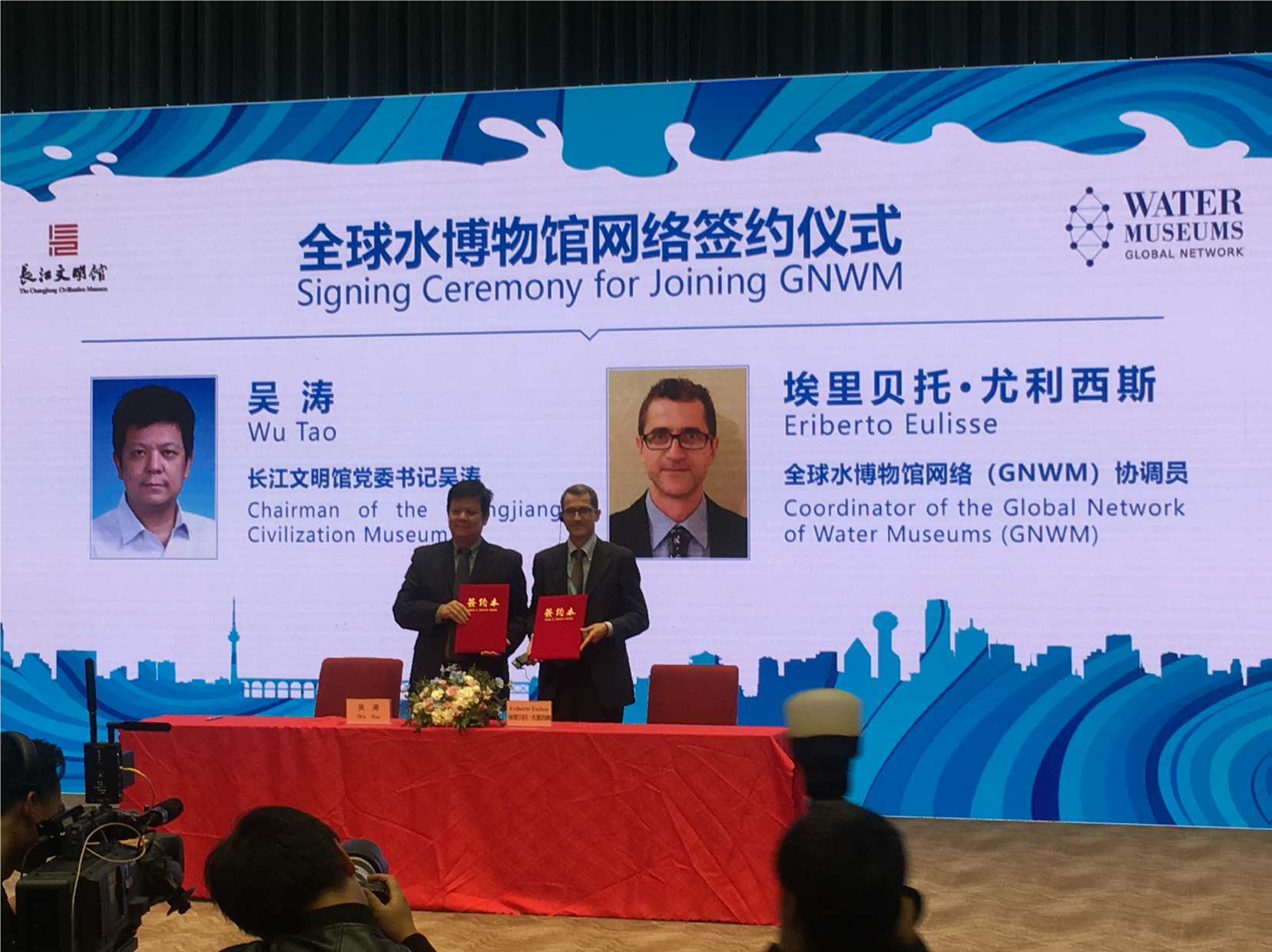 Signature of the cooperation agreement with the Changjiang Museum (Blue River Civilizations Museum) made in 2018 at the 2nd Great Rivers Forum, Wuhan, China
Global Network of Water Museums: A "flagship initiative" of UNESCO's Intergovernmental Hydrological Programme
Please briefly describe your Water ChangeMaker journey
In a context of growing water crisis exacerbated by climate vagaries worldwide, water education plays a key role to promote more sustainable water uses and mitigate climate impacts. In the last years, several international programs have been created to improve climate resilience by strengthening water education. However, water museums until 2017– despite their fundamental role in educating large audiences worldwide on the role of water in Earth's climate system – have been rarely considered and involved in these programs. Our journey started to overcome this barrier. An unconventional coalition of water museums brought this issue to the attention of large international organizations to get due recognition. Indeed water museums display a unique repository of humankind's connections with water and its natural, cultural, tangible, and intangible heritage. They exhibit artifacts, traditional knowledge and techniques to preserve the world's outstanding variety of water-related assets that have been passed down through generations. In a tremendous variety of environments, ingenious solutions were found to adapt to climate vagaries and manage water efficiently and sustainably. Although past knowledge is crucial to inform strategies aimed at mitigating today's climate change and water-related impacts, there is a serious risk to obliterate this unique 'watery heritage'.
Please describe the change that your initiative created and how was it achieved
The fertile ground to produce a lasting change was prepared by Civiltà dell'Acqua ("Water Civilizations"). This Italian NGO organized in 2017 with 29 water museums from the whole world, supported by the Regional Bureau for Science and Culture in Europe (UNESCO Venice Office). A first workshop aimed at building a new coalition and strengthening water awareness education worldwide. On this occasion, these museums launched the Venice Manifesto to announce the creation of an unconventional group: the Global Network of Water Museums (WAMU-NET). In 2018, founding members gathered again for the 2nd International Conference of WAMU-NET to outline a strategy aimed at creating a permanent institutional link with UNESCO-IHP (Intergovernmental Hydrological Programme). Thanks to this innovative cooperation among water museums and key-players of UNESCO's "water family", and through the crucial support of the Netherlands UNESCO-IHP Commission, in June 2018 the Resolution n.XXIII-5 entitled "Global Network of Water Museums and UNESCO-IHP in support of water sustainability education and water awareness efforts", was approved unanimously by the 36 member states with the right to vote in the Intergovernmental Council of UNESCO-IHP. Thus, WAMU-NET became formally an IHP "flagship initiative". Its mission is to raise awareness on our precious water heritage and coordinate educational activities of water museums worldwide. Today WAMU-NET is a registered non-profit NGO based in Venice, Italy. It includes 56 formal museum members worldwide which are visited by more than 20 million visitors/year. All of them are promoting the role of water in the Earth's climate system by focusing on SDG' implementation.
How did your initiative help build resilience to climate change?
Most water museums which are formal members of WAMU-NET are deeply engaged to provide basic education on climate change resilience and promote new perceptions and behaviors to facilitate human adaptation to changing environments. From Mexico to Canada, from Turkey to India to China… many of these museums (see the complete list on our website) have permanent or temporary exhibitions to highlight the impacts of climate vagaries on local freshwater ecosystems, with consequent floods, shortage of water availability, irrigation problems, etc. Educational activities and visual displays promoting new models and best practices are aimed to foster new attitudes and behaviors to face these new challenges. The 1st Youth Contest "The Water We Want / From Heritage to Future", launched by WAMU-NET to show different educational approaches implemented by water museums to tackle the global water crisis and promote climate change resilience, is also a digital exhibition aimed at world-wide acknowledgment: http://thewaterwewant.watermuseums.net/index.html
What water-related decisions did your initiative influence or improve?
The UNESCO-IHP Resolution n.XXIII-5 (a Resolution specifically dedicated to WAMU-NET), is the outcome of a complex process of lobbying and negotiation to influence high-level decision-making. The unanimous endorsement made by the Intergovernmental Council of IHP is the evidence. Thanks to this Resolution, today WAMU-NET is an actor that influences, in turn, decision-making at national and international levels. Its active advocacy for new partnerships, educational programs, and exhibitions related to water and climate-related risks are an example of this. Also, by linking water museums to corresponding National IHP Committees / UNESCO Commissions, WAMU-NET has not only the role to foster the creation of new water museums, but also to patronize the making of sub-networks of museums at the continental level. High-level decision making should promote breakthrough links between past and present water knowledge. The international workshop organized in 2019 by the Indian Ministry of Water Resources for the creation of the "National Water Museum of India" (following the examples of China, Morocco, etc…) and also the sub-networks of water museums recently created under the umbrella of WAMU-NET in China and LACs (Latin American Countries), are concrete examples of this potential to influence new collaboration among policy, science, and local communities.
What were some of the challenges faced and how were they overcome?
WAMU-NET journey is an attempt to bring together with one common voice a variety of museums which, alternatively, would operate in isolation with each other. This result was achieved by breaking a number of institutional barriers, so that common water awareness educational approaches could be shared globally. Formal recognition of IHP was truly challenging being the outcome of a long discussion among the three Divisions of UNESCO (Science, Culture, and Education). As the inherent nature of WAMU-NET is truly trans-sectoral and trans-disciplinary, it was not easy for UNESCO to include WAMU-NET's visions within the framework of one of its Divisions. WAMU-NET members are all deeply engaged to reconnect humanity with all forms of material and non-material heritage of water, including its social, cultural, artistic, and spiritual dimensions. Initially, within IHP there was resistance towards including a museum-related "cultural" activity with its "scientific" perspective. Indeed, truly trans-boundary perspectives are sought and fostered by WAMU-NET to create both innovative approaches and exhibitions related to "a new water culture". Finally, however, a lasting change was produced, which makes our journey so special. The fact that at last all countries voted unanimously this Resolution is proof of this.
In your view: Will the change that was created by your initiative continue?
A major change achieved by WAMU-NET is indeed everlasting: namely, the endorsement of the Intergovernmental Council of UNESCO's Hydrological Programme made through the positive lobby activated by a coalition of water museums. Today, after the approval of Resolution n.XXIII-5, the role of museums as key educational players in the debate on water awareness cannot be ignored anymore. Nonetheless, it must be acknowledged that - not receiving any fund from UNESCO, and because of limited revenues - WAMU-NET's survival as an independent NGO is at risk. Its staff and financial perspectives are limited, so also its actions and initiatives didn't really take off. This financial situation is a threat to implementing projects autonomously. UNESCO-IHP's expectations that WAMU-NET should play a key role in linking museums to respective IHP National Committees can't be taken for granted. Also, the "hosting" of this initiative at different institutional premises can be a risk.
What did you learn during the initiative or after? And is it possible that others could learn from you?
Throughout WAMU-NET's journey, all our members are constantly learning to deal with a considerable variety of institutions, formal contexts, and approaches from quite different cultures. Members are always learning from testing new ways and methods of cooperation, sharing experience and best practices, by paying attention to bridge cultural differences through the shared perspective of promoting water awareness – the common goal which unites all of us. Moreover, in dealing formally with UNESCO-IHP a considerable effort was made to settle specific internal procedures in line with high-level standards which are shared with all WAMU-NET partners. Constant efforts are needed to create unconventional links among different museums and, in particular, between large-scale museums created at state level to "represent" hydraulic cultures and water management practices on a national scale (like China, Morocco, etc) and small museums, often created by communities to support local and indigenous water cultures (Bangladesh, Burkina Faso, etc).
In light of your submission, please describe or explain the extent and breadth of different economic, ecological and socio-cultural values recognized and taken into consideration within your journey.
WAMU-NET aims at encouraging (water) museums to represent different water cultures and reconcile/integrate any kind of water values inclusively, influencing future change by bridging past and present "liquid heritage" within UN SDGs' implementation context. In this effort, as stated by UNESCO-IHP Resolution n.XXIII-5(2018), WAMU-NET and IHP must join forces to support "water sustainability education". WAMU-NET's mission is to promote the transmission to future generations of both natural and cultural water heritage and the values associated with this, and disseminate the uniqueness of local (often under-valued) "water worlds" (ranging from traditional irrigation techniques to historical know-how for social water use…). In doing this, WAMU-NET fosters new holistic approaches for keeping these water cultures alive. WAMU-NET has brought new attention to several (water) museums/institutions which previously had limited visibility. WAMU-NET embraces both "major" museums (such as the National Water[ways] Museums in China, Morocco, Qatar, UK…) and "minor" ones with a generally smaller public profile (including museums of private/public water companies / land reclamation boards / dams operators in countries such as Spain, Germany, Romania, Netherlands…; and "community museums" which often have lacked a sufficient voice in wider institutional discourse in countries including Burkina Faso, Turkey, India, Bangladesh…). https://www.watermuseums.net WAMU-NET's youth contest and award "The Water We Want" was launched to promote new transnational cooperation and intercultural dialogue on water values among museums: https://vimeo.com/453328289 http://thewaterwewant.watermuseums.net/ This has all built a new and diverse international community of emerging "changemakers" worldwide, which today benefits from respected standing in the eyes of UNESCO-IHP's National Delegations.