In 2016 let's upscale!
Far from being abandoned, the ambition raised in 2015 is now coming to life in many countries: diversity of cultures, of continents, of geographical contexts, of economic realities, of languages.
Shifting from theory to practice these actions that you will discover concretely contribute in the countries to improved water resources management in the face of climate change involving youth, through advocacy but also through employment.
Feel invited to take a world tour and to discover what most matters for youth: poverty reduction and employment, food security, education, access to water… many challenges that hundreds millions of youth face every day.
En 2016 on change d'échelle!
Loin d'avoir fait long feu, l'ambition de 2015 prend aujourd'hui forme dans plusieurs de pays : diversité de cultures, de continents, de contextes géographiques, de réalités économiques, de langues.
En passant ainsi de la théorie à la pratique ces actions à découvrir ci-dessous contribuent concrètement dans les pays concernés à une meilleure gestion des ressources en eau face au changement climatique avec la participation de la jeunesse, sous forme de plaidoyer mais aussi d'emploi.
Offrez-vous un tour du monde et découvrez les sujets qui comptent le plus pour la jeunesse : réduction de la pauvreté et emploi, sécurité alimentaire, éducation, accès à l'eau… des défis quotidiens pour des centaines de millions de jeunes.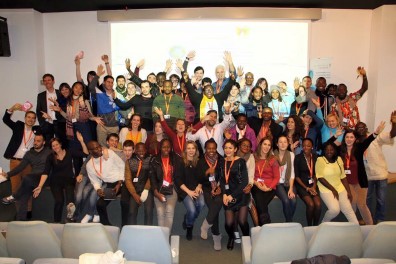 Photo from the Facebook page of the Youth for Water and Climate