Rapid urban growth is forecasted globally, in addition to climate variability and change and the increased water demand due to lifestyle changes. Urban water security will be further threatened. In coastal cities, challenges are more eminent also due to the salinisation of aquifers. In Greece, with a current urban population of 77%, and the largest coastline line in the Mediterranean, optimising the urban water cycle through integrated approaches and stakeholder engagement is critical for local sustainability and water security.
GWP-Med, already since 2008 is working to advance the use of Non Conventional Water Resources (NCWR) across the Mediterranean and in Greece. NCWR can be applied as a sustainable solution for local water security and climate change adaptation in urban and peri-urban areas. Following the work of the NCWR programme in 31 Greek islands, on June 26th GWP-Med formed its first partnership with the second largest urban center in the country, the city of Thessaloniki.
With the metropolitan population exceeding 1.1 million and a prediction to grow, also considering the influx of migrants and refugees, Thessaloniki has recently launched its resilience strategy, with urban water management high on their agenda. The MOU signed by the GWP-Med Executive Secretary Mr. Vangelis Constantianos and the Vice Mayor of Thessaloniki Mr. Thanassis Pappas, will provide the opportunity to showcase demo applications of non conventional water resources and green-blue infrastructure in the city, promoting the context of urban resilience.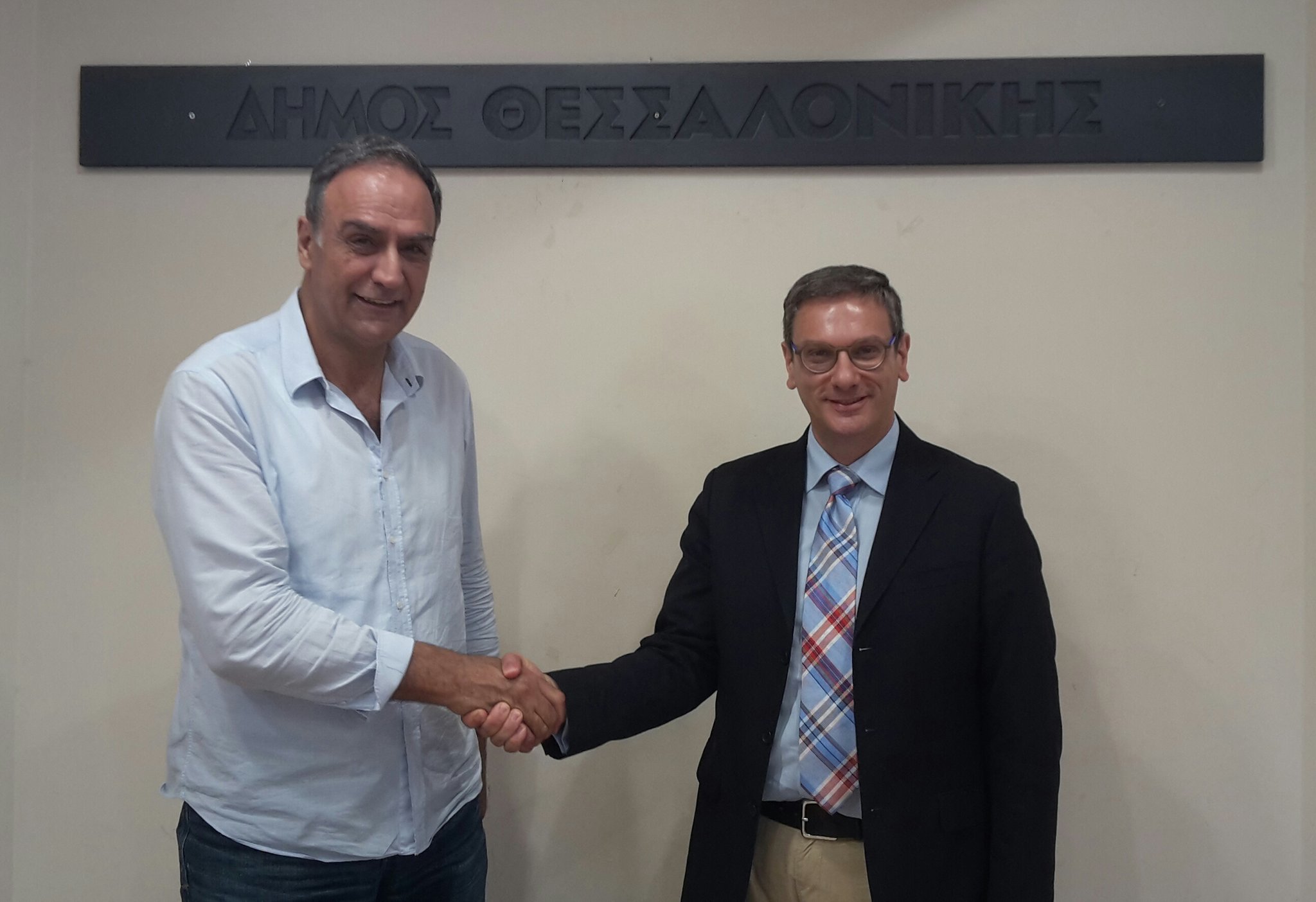 The collaboration between the two parties will be inaugurated with a pilot project, which concerns the construction of a sustainable green wall. The green wall will be displayed on the building facade of the Municipal Department of Urban Environmental Management. The green wall will be watered with rainwater harvested through a system to be installed on the roof of the building, thus showcasing how urban green can be augmented through rainwater harvesting.
The green wall at the Municipal Department of Urban Environmental Management is aiming to demonstrate that such interventions can impact local communities, and if successfully replicated, can and will improve the urban lifestyle by increasing its resilience and capacity to adapt to climate change. Such demonstration works are always supported by educational and awareness raising activities to inform and engage citizens, as their participation is imperative for successful water management.
The commitment of both GWP-Med and the Municipality of Thessaloniki to introducing environmentally friendly solutions such as green-blue infrastructure applications is a sign of will for further collaboration on diverse sustainable urban water management projects to follow.