The dialogue was held in the Gaturanda zone, Bugabira Commune, Kirundo Province, and the result was over 10,000 trees planted around the Lake Cohoha shores.
Over 1,000 citizens were informed about the project in Burundi's local language, Kirundi, and the key message was conveyed in a song:"WACDEP, extend farther; in the Whole Country For Posterity." Singers expressed their commitment towards protecting Lake Cohoha, which is generally referred to as 'Mother Cohoha' - the Provider of Life (water) and freshness during dry seasons.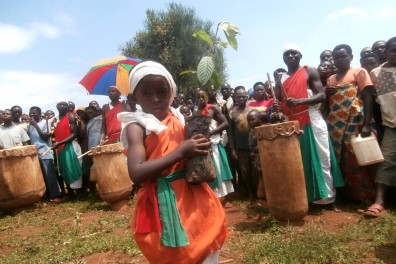 (Photo: Drumming in praise of WACDEP)
Led by Engineer Nduwayo Jean Claude, Burundi's Minister for Water, Environment, Land Management and Urbanism, the National Dialogue also clarified key policy messages to citizens. These included decisions, positions, laws and codes on water resources management, as well as forest resources protection.
The National Dialogue included officials from the Ministry of Agriculture and Livestock, and a focal person from the African Minister's Council on Water (AMCOW) and provincial and local authorities.
Towards Water Security
Guided by the key message: "Protection of Lake Cohoha: Our Most Concern," the National Dialogue was an outcome of several high level discussions, consultative meetings and public awareness activities championed by GWP Eastern Africa through its WACDEP programme.
Implemented by GWP, WACDEP is a joint programme with AMCOW. In Eastern Africa it is implemented in the River Akagera Basin (on a regional level), in Rwanda and Burundi (on a national level), and in Bugesera (on a community level).
Minister Nduwayo, who was impressed by the progress, said that the "WACDEP activities will help the Burundi government to reach its goal: 18% of Burundi covered by forests in 2025 to enable climate change resilience in Burundi." By the end of 2013, the national forestry coverage was 13%.
Due to human activities such as farming and grazing, at least 30 meters of Lake Cohoha's shores have been lost so far. The Burundi code on protection of water resources states that 50 meters from the lake should be a buffer zone, unfarmed or affected by any human activities.
WACDEP is involved in reversing human encroachment of the lake shores through awareness raising activities, such as tree planting, buffer zone demarcation and protection, institutional and policy strengthening and capacity-building.
"The buffer zone is the government's area, and no one has the right to carry out any kind of activities that may destroy the lake and its ecosystems in that space," Minister Nduwayo said.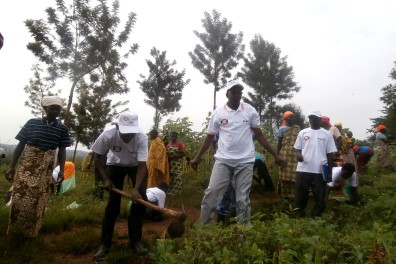 (Photo: The Minister planting trees)
All the above activities are aimed at promoting water as a key part of sustainable development and climate resilient communities in Burundi. At community level, WACDEP is implemented around the Rwanda-Burundi transboundary lake Cohoha in Eastern Africa.
Catalyzing Policy Change
During a consultative meeting in September 2013, GWP Eastern Africa expressed to the Ministry of Water, Environment, Land Management and Urbanism and the Ministry of Energy and Mines and Ministry of Agriculture and Livestock, that "enforcement of policy and legal instrument is key for success of WACDEP in Burundi."
According to Emmanuel Ndorimana, Director General for Water Management and Sanitation, Ministry of Water, Environment, Land Management and Urbanism, "discussion focused on effective implementation of WACDEP influenced enforcement of code protection of environment, specifically 50 meters in code for protection of water resources."
Ndorimana underlined that policy discussions and dialogues that were held in different strategic forums helped to shape institutional arrangements and left them better enhanced, harmonized and set to achieve their missions.
Mainstreaming WACDEP in the National Development Process
To mainstream WACDEP in Burundi's development processes, two committees were set up: the National Policy Advisory Committee and the National Technical Steering Committee.
Led by the Engineer Epimaque Murengerarantwari, Permanent Secretary for the Ministry of Water, Environment, Land Management and Urbanism, the National Policy Advisory Committee has played advocacy and decision-making roles.
Several focal persons have been appointed to ensure smooth implementation of the program at local levels. As a head of the National Policy Advisory Committee, Murengerantwali contends: "A measure of the Government's commitment to WACDEP is reflected in the appointment of focal persons to advocate, influence and follow up the smooth implementation of the programme at national and local levels."
Integrating Water into Sectoral Plans
Ministries such as the Ministry of Water, Environment, Land Management and Urbanism, the Ministry of Energy and Mines, the Ministry of Agriculture and Livestock and the Ministry of Finance realized the importance of integrating water security and climate change adaption into their sectoral plans and budgets.
"The four ministries are key to the success and sustainability of WACDEP in Burundi," said Safari Patrick, GWP Eastern Africa's Regional Coordinator, during the Inter-Ministerial consultative meeting, held in Bujumbura, Burundi.
In retrospective, with the support from the African Development Bank (AfdB), in 2009 GWP Eastern Africa supported the Government of Burundi with setting up the Integrated Water Resources (IWRM) General Directorate.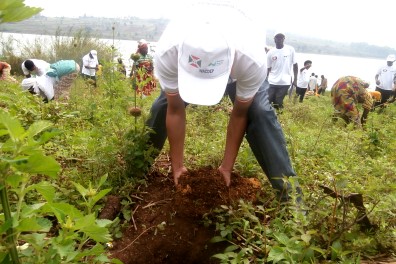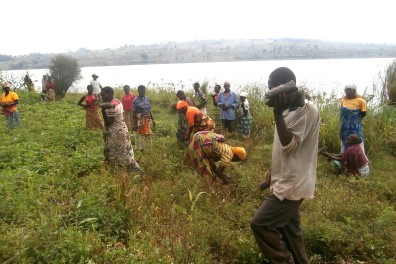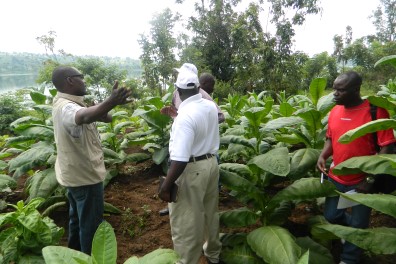 All photos by GWP Eastern Africa.