[ Version française en bas ]
- - - - - - - -
The three-day Conference, hailed as timely and much needed by the participants, took stock of the outcomes of the two co-organising projects -as well as of SWIM-H2020 SM's ongoing work- and of how they have tangibly contributed towards overcoming challenges relating to Water Governance & Financing as well as Water Integrity in the region. Recommendations for further lines of work and next steps were also discussed and agreed upon during the 3rd day of the Conference.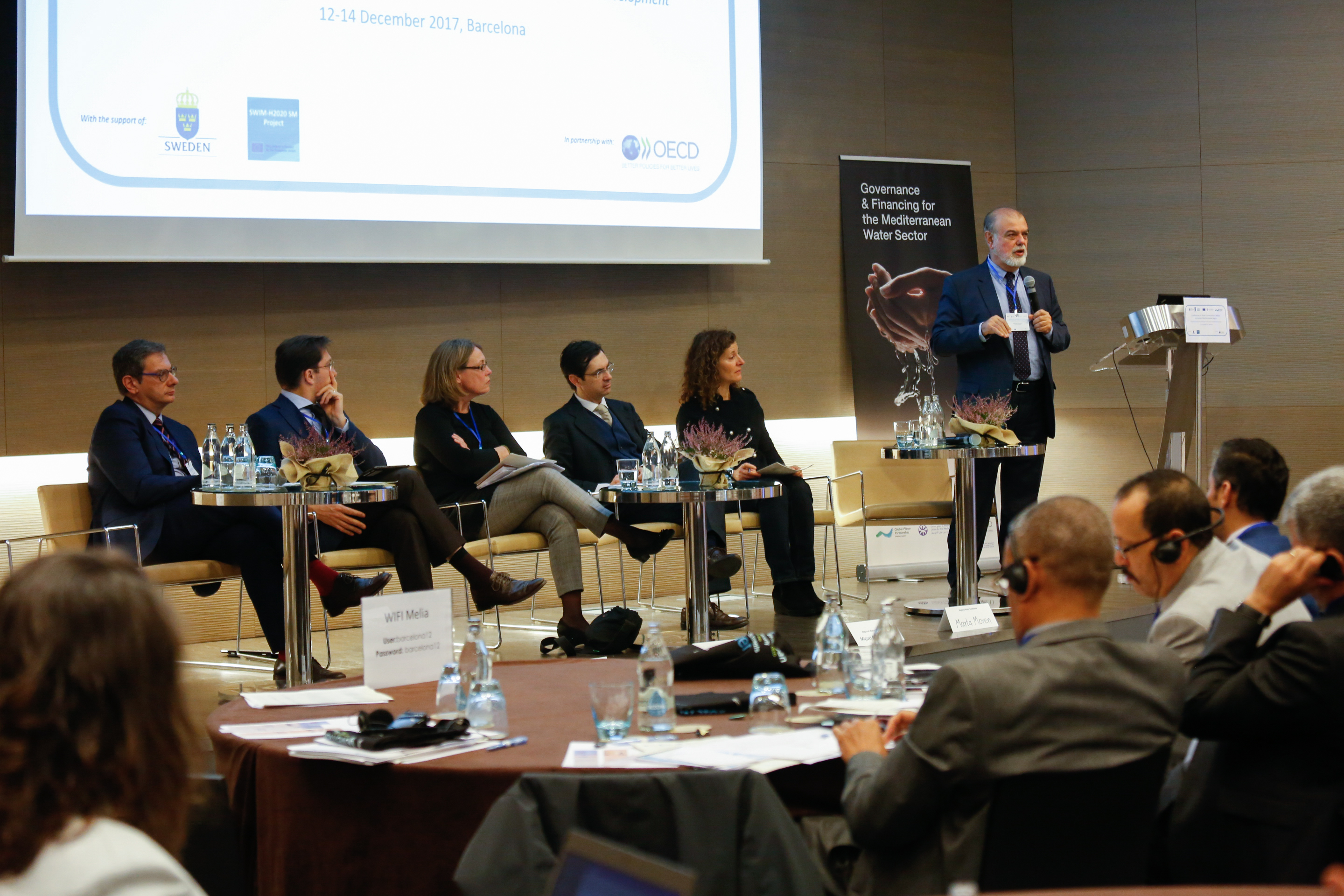 The Conference opened with representatives from the UfM Secretariat (Miguel García-Herraiz, Deputy Secretary General, Water and Environment Division), Sida (Esse Nilsson, Senior Programme Manager) and the European Commission (Marta Moren-Abat, Policy Officer, DG Environment) welcoming the results of the projects and their contribution to the region's stability and prosperity. Representatives of the institutions leading the projects (Michael Scoullos, Team Leader, SWIM-H2020 SM; James Leten, Programme Manager, SIWI; Vangelis Constantianos, Executive Secretary, GWP-Med) then provided brief welcoming remarks on the key challenges facing the region with regard to the issues addressed by the Conference and the work of the respective projects.
The first day of the Conference was devoted to finance-related dimensions of Water Governance. In the first session, representatives from Lebanon, Tunisia and Palestine reflected on how the national dialogue processes under the 'Governance & Financing' project have contributed to sectoral developments and stakeholder commitments in their countries. Representatives from Morocco and Albania (countries not directly involved in the project) provided inputs on the current status of Water Governance in their countries, challenges they face and the relevance and potential replication of the project's methodology in their specific national contexts.
The second session focused on how PPPs in the water sector could be enhanced and how the regulatory framework could contribute in that direction. Representatives of ministries, regulatory agencies and utilities from Egypt, Lebanon, Morocco and Tunisia shared their experience and perspectives.
Cross-cutting issues that often remain in the shadow of the mainstream discussions on water governance were tackled during the third session. Experts and representatives of regional civil society organisations provided their insights on issues like the gender dimension of water governance, the access of deprived groups and communities to water services, the opportunities for renewable energy in the water sector and the benefits from a nexus approach, the role and potential of Corporate Social Responsibility (CSR) and the importance of Non-Conventional Water Resources (NCWR).
The first day of the Conference concluded with a session on how to boost water investments in the region, which contained two consecutive panel discussions: one among private sector, international financing institution and government representatives and one among representatives of Commercial Banks and Association of Banks from MENA countries.
The second day of the Conference was devoted to integrity-related dimensions of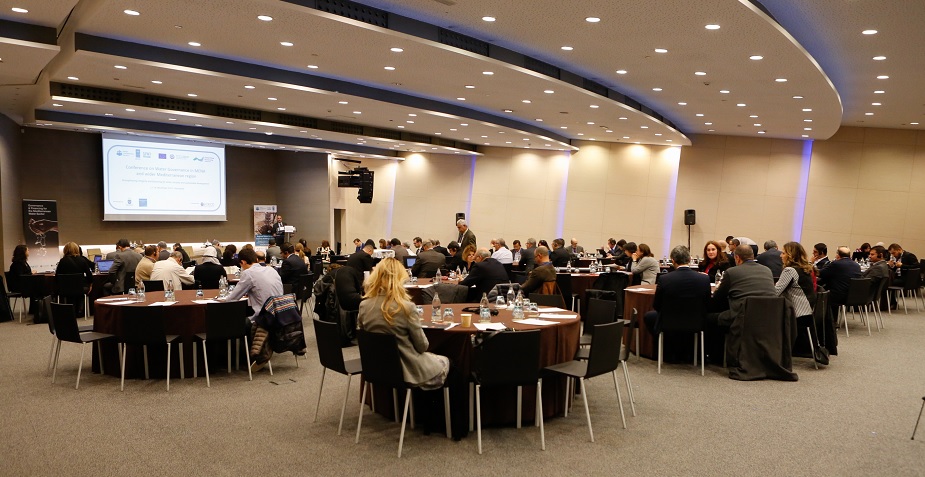 Water Governance. The first session set the scene with presentations from representatives of international organisations on the interlinkages between the 2030 Agenda and water governance, accountability and integrity management at the utility level, and collective action as a cornerstone for enhancing integrity.
The second session focused on examples to advance transparency and accountability in water governance. Presentations on the issue included the role of the Regulatory Agencies, the case of Jordan, the role of civil society and the importance of stakeholder engagement.
After the lunch break, and during the third session of the day, 25 mentees from Lebanon, Tunisia, Palestine, Morocco and Jordan that were trained under the Water Integrity Capacity building programme (2014-2017), presented the Water Integrity Action Plans they have developed.
The fourth and last session of the day began with a keynote speech on how human communities solve governance problems. It was followed by a facilitated panel discussion on how integrity can be a collective action solution towards good governance, with the participation of representatives from authorities and institutions from Lebanon, Tunisia, Jordan, Egypt and Morocco.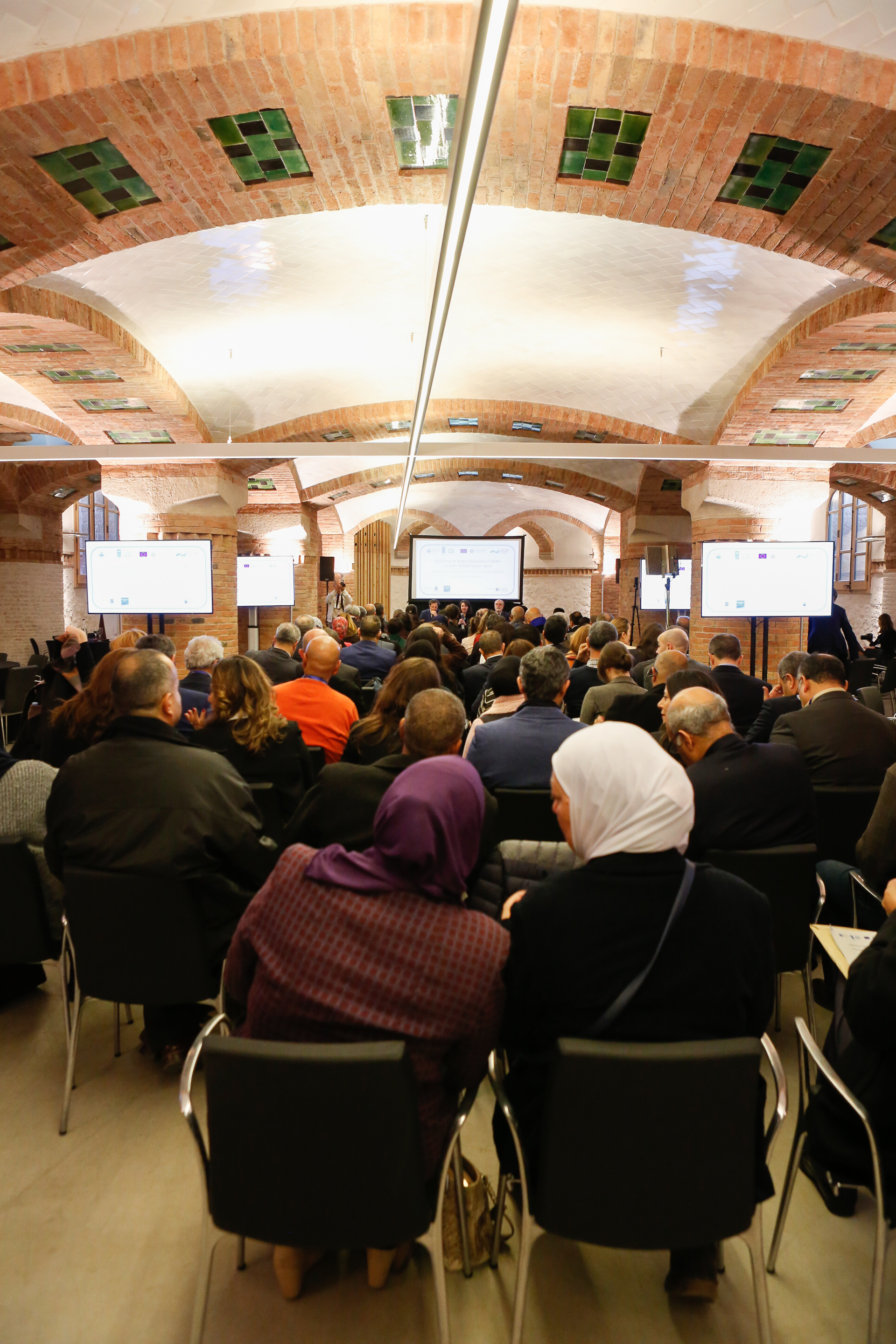 For its third and last day, the Conference was moved from the Meliá Barcelona Sarrià Hotel to the premises of the Sant Pau Recinte Modernista Barcelona, a declared UNESCO World Heritage site.
The day started with a brief overview of the proceedings from Days 1 & 2 of the Conference.
It was followed by a participatory and highly interactive Working Group Session aiming to directly benefit from the expertise and knowledge of the attendees and explore strategic orientations on the way forward regarding the sustainable water financing and water integrity agendas in the MENA region. Participants were split into 5 groups, each to elaborate on recommendations to be addressed respectively to the following stakeholder categories:
• Decision makers
• Regulators & Water Utilities
• Civil society & Academia
• Private sector & banks
• International Financing Institutions & donors
Each group was then split into 2 sub-groups, in order to provide the participants with the opportunity to elaborate recommendations through both the perspective of sustainable financing and the perspective of integrity.
The working group session concluded in plenary, with the facilitators of all sub-groups providing a brief 3-minute overview of what was discussed during the working sessions including the 3 key recommendations.
The penultimate session of the Conference included a panel discussion among senior representatives of regional institutions who provided their insights on options and priorities on how to best capitalise on the work and findings of the projects and commenting on the recommendations of the working groups.
The closing session started with the presentation of the draft Statement of the Conference to the plenary. The draft text:
outlines the principal water-related challenges for the Region;
underlines that governance lies at the heart of the water predicament and is key to overcoming the related challenges and achieving water security;
urges the continuation of a multi-layered line of work on the governance & financing nexus concerning i) the provision of technical support for deepening and/or replicating the used methodology in more countries in the region, ii) the pilot testing of the recommendations on the enabling environment for private sector participation, and iii) the set up and facilitation of a structured regional platform for exchanges and joint learning;
proposes building collective action on water integrity through: i) clarifying roles and responsibilities of water actors, ii) strengthening and professionalising public institutions and service providers in delivering impartially on their mandates, iii) building information sharing and opening the decision making processes to all possible actors in society, as well as developing engagement and coordination mechanisms with all different stakeholders, iv) learning from the experiences accrued, and v) monitoring progress and benchmarking through agreed standards;
supports the identification of smaller scale water projects in collaboration with banks interested in piloting a 'learning by doing' approach;
stresses that advancing water governance requires vision, leadership, consistency, dedication of human and financial resources, time and commitment of institutions and stakeholders to the principles of transparency, accountability and participation, creating at the same time a fertile ground for water investments;
strongly encourages that necessary steps are taken, and assistance is provided for the continuation of the processes presented in the Conference through follow up projects and other coordinated undertakings.
The Conference concluded with a celebratory panel exchange, moderated by the UfM Secretariat, in which high-level representatives from the governments of Jordan, Tunisia, Morocco and Libya shared perspectives on lingering challenges and the way forward regarding the governance, integrity and sustainable financing of the water sector in the MENA and wider Mediterranean region.
The Conference has provided a new stimulus for going forward with a clear request for the UfM to be even more engaged and operational in its support to the countries and the encouragement of targeted lines of work, like the Conference's co-organising projects, to continue supporting the governance of the water sector in the region.
The draft Conference Statement, including 2-3 bullet points as recommendations from each of the working sessions held during the last day, was shared electronically with all participants in early January for finalisation and validation. The final Statement was then presented to the SWIM-H2020 SM 2nd Steering Committee Meeting (31 January 2018, Dead Sea, Jordan) and the UfM 8th Water Expert Group meeting (1-2 February 2018, Amman).
More information about the Conference and a detailed account of its proceedings can be found in the Conference Report, which, together with all related material, can be found in the right-hand column.
- - - - - - - - - -
Célébration de la clôture des deux projets régionaux de l'eau de l'UpM: Focus sur le financement durable et l'intégrité pour la sécurité en eau dans la région MENA / Méditerranée
Plus de 140 décideurs et représentants de gouvernements, de la société civile, des organisations internationales, des bailleurs de fonds, des institutions financières et du secteur privé et bancaire se sont réunis pendant trois jours pour échanger leurs expériences et discuter des défis et des prochaines étapes durant la « Conférence sur la Gouvernance de l'Eau dans la région MENA et dans la Méditerranée plus élargie » qui s'est tenue à Barcelone les 12 et 14 décembre. La Conférence régionale a été organisée sous les auspices de l'Union pour la Méditerranée (UpM) par deux projets labellisés par l'UPM et soutenus par l'Agence Suédoise de Coopération Internationale au Développement (Sida), à savoir le projet Gouvernance et Financement du secteur de l'eau en Méditerranée mis en œuvre par le GWP -Med et le Programme régional de renforcement des capacités sur l'intégrité de l'eau dans la région MENA, dirigé par la Facilité pour la Gouvernance de l'Eau du PNUD au SIWI. La conférence a été organisée en étroite et stratégique synergie avec le projet régional financé par l'UE Mécanisme de Soutien au Programme de Gestion Intégrée et Durable de l'Eau et de l'initiative Horizon 2020 (SWIM-H2020 SM).
La conférence de trois jours, jugée comme opportune et très nécessaire par les participants, a fait le bilan des résultats des deux projets co-organisateurs - ainsi que des travaux en cours de SWIM-H2020 SM - et de leur contribution tangible à relever les défis relatifs à la gouvernance et au financement de l'eau ainsi que l'intégrité de l'eau dans la région. Des recommandations pour d'autres lignes de travail et les prochaines étapes ont également été discutées et approuvées au cours de la 3ème journée de la Conférence.
L'ouverture de la Conférence a été assuréepar des représentants du Secrétariat de l'UpM (Miguel García-Herraiz, Secrétaire Général Adjoint, Division de l'Eau et de l'Environnement), Sida (Esse Nilsson, Responsable Senior de programme) et la Commission Européenne (Marta Moren-Abat, Responsable des Politiques, DG Environnement) qui ont salué les résultats des projets et leur contribution à la stabilité et à la prospérité de la région. Les représentants des institutions responsables des projets (Michael Scoullos, Chef d'Equipe, SWIM-H2020 SM, James Leten, Chargé de Programme, SIWI, Vangelis Constantianos, Secrétaire Exécutif, GWP-Med) ont également prononcé de brèves remarques sur les principaux défis auxquels la région est confrontée en ce qui concerne les questions traitées par la Conférence et le travail des projets respectifs.
Le premier jour de la conférence a été consacré aux dimensions financières de la gouvernance de l'eau. Lors de la première session, les représentants du Liban, de la Tunisie et de la Palestine ont réfléchi à la manière dont les processus de dialogue nationaux dans le cadre du projet « Gouvernance & Financement » ont contribué aux développements sectoriels et aux engagements des parties prenantes dans leurs pays. Des représentants du Maroc et de l'Albanie (pays non directement impliqués dans le projet) ont fourni des contributions sur l'état actuel de la gouvernance de l'eau dans leurs pays, les défis auxquels ils sont confrontés et la pertinence et la réplication potentielle de la méthodologie du projet dans leurs contextes nationaux spécifiques.
La deuxième session s'est focalisée sur la façon dont les PPPs dans le secteur de l'eau pourraient être améliorés et comment le cadre réglementaire pourrait contribuer dans cette direction. Les représentants des ministères, des organismes de réglementation et des services publics de l'Égypte, du Liban, du Maroc et de la Tunisie ont partagé leur expérience et leurs perspectives.
Les questions transversales qui restent souvent à l'ombre des discussions générales sur la gouvernance de l'eau ont été abordées lors de la troisième session. Les experts et les représentants des organisations régionales de la société civile ont donné leur avis sur des questions telles que la dimension genre de la gouvernance de l'eau, l'accès des groupes et des communautés défavorisés aux services d'eau, les opportunités pour les énergies renouvelables dans le secteur de l'eau, le rôle et le potentiel de la responsabilité sociale des entreprises (RSE) et l'importance des ressources en eau non conventionnelles (NCWR).
Le premier jour de la Conférence s'est terminé par une session sur les moyens de stimuler les investissements dans le secteur de l'eau dans la région, qui comprenait deux panels de discussion consécutifs : une entre le secteur privé, les institutions financières internationales et les représentants gouvernementaux et une autre entre des représentants des banques commerciales et des associations des banques des pays de la région MENA.
Le deuxième jour de la Conférence a été consacré aux dimensions liées à l'intégrité de la gouvernance de l'eau. La première séance a été marquée par des présentations de représentants d'organisations internationales sur les liens entre l'Agenda 2030 et la gouvernance de l'eau, la redevabilité et la gestion de l'intégrité au niveau des services publics et l'action collective comme pierre angulaire du renforcement de l'intégrité.
La deuxième session a mis l'accent sur des exemples pour promouvoir la transparence et la redevabilité dans la gouvernance de l'eau. Les présentations sur la question incluaient le rôle des agences de régulation, le cas de la Jordanie, le rôle de la société civile et l'importance de l'engagement des parties prenantes.
Après la pause déjeuner et pendant la troisième session, 25 mentorés du Liban, de la Tunisie, de la Palestine, du Maroc et de la Jordanie qui ont été formés dans le cadre du programme de renforcement des capacités sur l'intégrité dans le secteur de l'eau (2014-2017) ont présenté les plans d'action pour l'intégrité de l'eau qu'ils ont développés.
La quatrième et dernière session de la journée a débuté par une présentation sur la façon dont les communautés humaines résolvent les problèmes de gouvernance. La présentation a été suivie d'un panel de discussion facilité sur la façon dont l'intégrité peut être une solution d'action collective vers la bonne gouvernance, avec la participation de représentants des autorités et des institutions du Liban, de la Tunisie, de la Jordanie, de l'Égypte et du Maroc.
Pour son troisième et dernier jour, la conférence a été déplacée de l'hôtel Meliá Barcelona Sarrià aux locaux de Sant Pau Recinte Modernista Barcelona, un site classé au patrimoine mondial de l'UNESCO.
La journée a débuté par un bref aperçu des travaux des de la première et de la deuxième journées de la Conférence.
Le bref aperçu a été suivi d'une session de groupe de travail participative et hautement interactive visant à bénéficier directement de l'expertise et des connaissances des participants et à explorer les orientations stratégiques pour le financement durable du secteur de l'eau et les agendas relatifs à l'intégrité de l'eau dans la région MENA. Les participants ont été répartis en 5 groupes, pour élaborer chacun des recommandations à adresser respectivement aux catégories de parties prenantes suivantes :
Les décideurs
Régulateurs et services d'eau
Société civile et universités
Secteur privé et banques
Institutions internationales de financement et donateurs
Par la suite, chaque groupe a été divisé en deux sous-groupes afin de donner aux participants la possibilité d'élaborer des recommandations à la fois dans la perspective d'un financement durable et dans la perspective de l'intégrité.
La séance du groupe de travail s'est terminée en plénière, avec les facilitateurs de tous les sous-groupes qui ont donné un bref aperçu de trois minutes de ce qui a été discuté pendant les séances de travail, y compris les trois recommandations clés.
L'avant-dernière session de la Conférence comprenait un panel de discussion réunissant de hauts représentants d'institutions régionales qui ont donné leur point de vue sur les options et les priorités sur la meilleure manière de capitaliser les travaux et les conclusions des projets et ont commentér les recommandations des groupes de travail.
La séance de clôture a débuté avec la présentation du projet de déclaration de la Conférence à la plénière. Le projet de texte :
décrit les principaux défis liés à l'eau dans la Région;
souligne que la gouvernance est au cœur de la crise de l'eau et qu'elle est essentielle pour surmonter les défis qui y sont liés et pour parvenir à la sécurité en eau;
demande la poursuite d'une ligne de travail à plusieurs niveaux sur la gouvernance et le financement concernant i) la fourniture d'un soutien technique pour approfondir et / ou reproduire la méthodologie utilisée dans plus de pays de la région, ii) l'expérimentation des recommandations et iii) la mise en place et la facilitation d'une plate-forme régionale structurée pour les échanges et l'apprentissage en commun;
propose de construire une action collective sur l'intégrité de l'eau à travers: i) la clarification des rôles et des responsabilités des acteurs de l'eau, ii) le renforcement et la professionnalisation des institutions publiques et des prestataires de services dans l'exécution impartiale de leurs mandats; iii) renforcer le partage de l'information et ouvrir les processus de prise de décision à tous les acteurs possibles dans la société, ainsi que le développement de mécanismes d'engagement et de coordination avec toutes les parties prenantes, iv) l'apprentissage des expériences acquises, et v) le suivi des progrès et l'étalonnage par le biais des normes convenues;
soutient l'identification de projets d'eau à plus petite échelle en collaboration avec des banques qui s'intéressent à piloter une approche d'apprentissage par l'action;
souligne que la promotion de la gouvernance de l'eau exige vision, leadership, cohérence, dévouement des ressources humaines et financières, temps et engagement de la part des institutions et des parties prenantes aux principes de transparence, de responsabilisation et de participation, créant ainsi un terrain fertile pour les investissements dans l'eau;
encourage vivement que les mesures nécessaires soient prises et qu'une assistance soit fournie pour la poursuite des processus présentés à la Conférence au moyen de projets de suivi et d'autres initiatives coordonnées.
La conférence s'est terminée par un panel d'échange modéré par le Secrétariat de l'UpM, au cours duquel des représentants de haut niveau des Gouvernements jordanien, tunisien, marocain et libyen ont partagé leurs perspectives sur les défis persistants et la voie à suivre pour la gouvernance, l'intégrité et le financement durable du secteur de l'eau dans la région MENA et dans la région méditerranéenne.
La Conférence a fourni une nouvelle impulsion pour aller de l'avant avec une demande claire pour que l'UpM soit encore plus engagée et opérationnelle dans son soutien aux pays et l'encouragement de lignes de travail ciblées, comme les projets co-organisateurs de la Conférence, pour continuer à soutenir la gouvernance du secteur de l'eau dans la région.
Le projet de déclaration, comprenant 2-3 points à titre de recommandations de chacune des séances de travail tenues au cours de la dernière journée, a été partagé par voie électronique avec tous les participants début janvier pour être finalisé et validé. La déclaration finale a ensuite été présentée à la deuxième réunion du comité de pilotage SWIM-H2020 SM (31 janvier 2018, Mer Morte, Jordanie) et à la huitième réunion du groupe d'experts sur l'eau de l'UpM (1-2 février 2018, Amman).
Vous trouverez plus d'informations sur la Conférence et un compte rendu détaillé de ses travaux dans le Rapport de la Conférence, qui, avec tous les documents connexes, se trouve dans la colonne de droite..