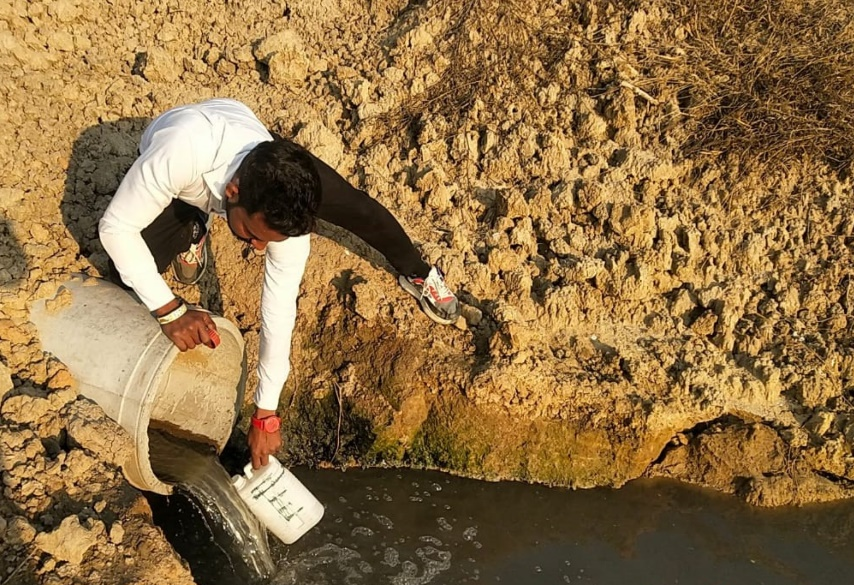 The journey towards water consciousness: GuruJal, an initiative of district administration, Gurugram, Government of Haryana, India
Please briefly describe your Water ChangeMaker journey
GuruJal was created as a public-private partnership initiative under the umbrella of the District Administration of Gurugram to address the water management issues that the district faces in the form of floods and water scarcity every year. With the exploitation of groundwater standing currently at 308% and groundwater table levels falling by 2-5 meters every year, Gurugram stands at a critical stage where the water security of the district is at stake. Currently, however, with over 20 different government bodies at both Central and State/Province level working on water-related issues, with the distributed mandates and responsibilities leads to poor conversion of on-ground implementation of projects. Moreover, the worst is that even the gravity of the concern wasn't being mapped due to a lack of accurate data points. To tackle all of the above issues of water governance, management, and implementation, GuruJal was formulated with the aim of tackling water conservation issues with a participatory and design thinking approach along with the values of improving collaboration, commitment, and consciousness to meet the objectives. A few of the major and immediate measures underway are the scientific profiling and rejuvenation of 250 wastewater ponds through decentralized water treatment technologies.
Please describe the change that your initiative created and how was it achieved
GuruJal is an initiative, with the unique amalgamation of Government, Corporates, Industries, Research, Civil Society and Community based organizations and groups. After making a detailed study of the existing government capacities and abilities, a dedicated program management unit (PMU) was curated within the government set up that enabled the co-ordination and speed-fast the decision-making process for enforcement and implementation of projects that helped in water conservation across the district. GuruJal focusses on addressing the gap areas and providing design and policy consultation for the implementation of existing programs and schemes. Every problem statement's solution has largely following components of the solution, i.e. Project Profiling; Research and Development; Project Management (Project Lifecycle); Review and Monitoring tools and KPIs; Communication/Community Engagement; Inviting Collaborations and Partnerships; Active Reporting; Policy adaptations with specialized disciplines dedicated to specific water issues like Pond Rejuvenation to increase natural percolation rates and promoting the use of recycled water, Recharge and Water Conservation structure, Biodiversity Management to promote plantation, Creating and promoting the use of water-efficient retrofitting and drafting the SOPs with rules and regulation, supporting vendors. And these are achieved with the following objectives for the organization: - Supporting Compliance (of government's pre-defined programs); Ensuring strict compliance (of pre-existing rules and regulations); Creating Awareness (on the mandates and the role of individuals and communities); Bringing Design Solutions (to promote the usage in the market); Policy Support (to ensure long-term sustainability and local institutional ownership)
How did your initiative help build resilience to climate change?
While GuruJal focuses on water management, with its efforts diversified in project creation and execution under various disciplines, two of the most affluential disciplines actively building climate resilience is 'Biodiversity Management' and 'Water Proofing'. Whereas 'Support A Pond' discipline, traditionally helps in "Risk Management" like flooding and water scarcity along with maintaining the green-blue ratio and improving the micro-climate and ecology of the surroundings. Biodiversity Management has currently set a target of restoring 1239 hectares of the native plantation of the degraded areas that will increase the current forest cover of the district from 9.24% to 10.24%. It is estimated to produce enough oxygen for 5400 people a year. Under 'Water Proofing' we promote and assist the construction of recharge structures. A survey revealed that only if all RWH structures within just the government schools can become functional, a potential of 304 ML/year could be saved through this practice.
What water-related decisions did your initiative influence or improve?
GuruJal, an initiative under the ambit of being based out of the District Administration, has the privilege of accessing information from and reaching out to all sections of society and catering to the water issues in both urban and rural contexts. Yet the PMU does not solely rely on tedious Government processes for its resources and is advised by an active team of domain experts for its scope and priority definition. Making first such governance units out of 727 districts in India is a major achievement. The emphasis is to adopt the holistic perspective and provide sustainable solutions, the following interventions have made water one of the priority agendas in the district: - Scientific profiling of 120 ponds for rejuvenation (element testing, GIS mapping, administrative and financial processes, and community mobilization) - Rejuvenation of 33 water bodies underway (using nature-based technologies for decentralized water treatment and management) - Facilitated 400+ public outreach and 160+ focussed workshops with various stakeholders like builders, schools, colleges, RWAs, corporates, panchayats, etc. - Providing water conservation retrofitting solutions to more than 800 households - Restoration of 1239 hectares of the degraded areas by native plantation - Resource Mapping of 20+ departments to get accurate data points and navigate manpower and material resources to achieve the objectives.
What were some of the challenges faced and how were they overcome?
The challenges faced by the team are as diverse as the problem on the ground. Listing down a few of the learning avenues for the team: 1. Sustainability of the Projects: Planning the project design and execution in a way that the operations and maintenance cost of the projects is minimal and adds value to the native communities 2. Inviting local collaborations and partnerships: creating local leaders and champions who can take ownership of the projects after building and making it operational for the community 3. Getting Administrative approvals: approvals are diversified amongst various departments, for eg. Land permissions will be given by the revenue/industrial departments, digging borewell for the construction of RWHs will be given by groundwater cell, water testing by Pollution Control Department and Soil Testing by Agriculture Department and construction by another wing making it very tedious. Departments work in silos and don't often come on the common table to align and support each other's pursuits. Few other challenges are: 4. Fundraising 5. Maintaining High Accountability and Transparency 6. Political and Bureaucratic alignment 7. Justifying the costs of maintaining ecology vs economy Constant re-inventing and research for improved, efficient and cost-effective technologies.
In your view: Will the change that was created by your initiative continue?
The initiatives will be sustainable through the years as every project has a holistic approach to water management, carefully planned and executed after onboarding various stakeholders. The idea is to restore the essence of the past, with the capacity to cater to future needs, yet keeping the project's community relevance intact. For example, while dealing with small decentralized wastewater treatment setups the team stays in constant touch with the local community to design and implement customized solutions. The solutions are usually a combination of local wisdom and advanced technologies, with an attempt to use local materials rather than relying on expensive machinery/equipment. Coupling these nature-based treatment plants with landscaping on the perimeter creates community spaces near the ponds, and helps in increasing the community's ownership and involvement. Proper communication and community mobilization plan is drafted and executed parallel to the technological interventions to ensure the long-term sustainability of the projects.
What did you learn during the initiative or after? And is it possible that others could learn from you?
GuruJal is an amalgamation of various disciplines working together to implement water management objectives into practice. Collaborations with external experts act as constant knowledge guides and partners. Internal staffing also has diverse specialized backgrounds, that enable the implementation of interventions on the ground. Mapping of enforcement and compliance KPIs defined methodologies and SOPs are just some of the monitoring and evaluation tools that are not only for the creation of better data points but also facilitate validation through cross verification, by different authorities involved. National standards, benchmarks, guidelines are tools that are used to standardize the technical procedures carried out. This is what drives the unique water governance style of GuruJal and makes it replicable and scalable in various contexts. Constant improvements to the entire process add infinitesimal learnings that are implemented constantly incorporated back into the feedback model of implementation that GuruJal has applied for most of its disciplines.