The SC consists of nine (9) members. In addition to the 9 members of the SC, the GWP-C Network Officer from the Global Water Partnership (GWP) Organisation in Stockholm, Sweden and the GWP-C Host Institution representative serve as ex-officio members on the Committee.
Every year 3 positions on the SC will be open for a new partner to be elected. In order to qualify to be on the SC, your organisation must be a partner of GWP-C.
Some of the responsibilities of the SC include:
Overseeing the implementation of the policies and principles governing GWP-C.

Helping to mobilise resources for the GWP-C work programme.

Overseeing and reviewing the implementation of the approved work programme and budget of GWP-C and making appropriate recommendations to the General Assembly.

Assisting the General Assembly and Secretariat on all substantive matters including co-operation with affiliates and network partners.
Doing all things necessary to promote the objectives and functions of GWP-C.
Steering Committee Members
The current members of the GWP-C Steering Committee are:
Judy Daniel (GWP-C Chair) - Environmental Advisors Inc. (EAI)
Emile Duberry - Montserrat Utilities Limited (MUL)
Dr. Fredericka Deare - Women, Gender and Water Network (WGWN)
Cyprian Gibson - Water and Sewerage Corporation (WSC) of The Bahamas
Ignatius Jean - Caribbean Water and Sewerage Association (CAWASA)
Bruce Lauckner - Caribbean Agricultural Research and Development Institute (CARDI)
Haidy Malone-Lepelblad - N.V.B. Stichting Nationale Vrouwen Beweging (National Women's Movement of Suriname)
Angela Munroe - National Water Commission (NWC) of Jamaica
Kevon Rhiney - Department of Geography and Geology (DOGG) of The University of the West Indies (UWI) Mona Campus
Professor Clement Imbert - Engineering Institute, Faculty of Engineering, The University of the West Indies, St. Augustine Campus [Ex Officio Member]
Gabriela Grau - Global Water Partnership (GWP) Network Officer for GWP-C [Ex Officio Member]
About Our Steering Committee Members
Judy Daniel: Chair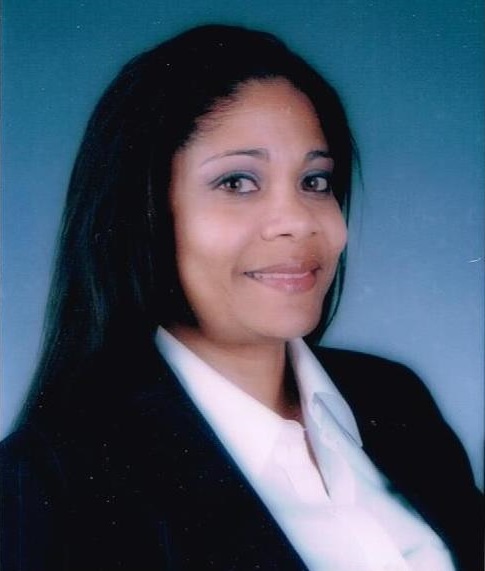 Judy Daniel is an Attorney-at-Law and Environmental Manager with over twenty-five years of experience in the areas of policy and institutional development; natural resources and environmental planning and management; environmental law negotiations; legislative drafting; civil litigation; environmental impact assessments training; and regional and international legal matters.
Ms. Daniel obtained her Bachelor of Laws (LL.B) degree from The University of the West Indies (UWI) and her Legal Education Certificate from the Hugh Wooding Law School in Trinidad. She later attended Tufts University in the United States of America where she graduated with a postgraduate degree in Environmental Law and Management, Policy and Institutions.
She is known professionally for her unique combination of strong legal and technical skills and the ability to produce workable solutions. She has a strong working knowledge of the legal and institutional frameworks, politics, society, key actors and civic groups in the Caribbean and a proven ability to work effectively in cross-cultural situations with multidisciplinary teams of experts.
Ms. Daniel is currently the President of the Environmental Advisors Inc.; one of the first Caribbean consulting firms that concentrates on sustainable development law and environmental management. Embodied in her far-reaching expertise, she has held long-term positions of Environmental Advisor to the City of Macon, Georgia; International Legal and Policy Consultant to the World Bank/International Maritime Organisation WCISW Project; and Senior Legal and Policy Advisor to the Ministries of Planning and Development and the Environment in Trinidad. She has also conducted civil litigation up to Court of Appeal level for Trinidad and Tobago.
Furthermore, she has undertaken an unprecedented amount of projects as team leader throughout the Caribbean region. Specifically, she has provided consulting services to draft national policies, sustainable development statutes and regulations for a variety of sectors including, disaster preparedness, water resources, development planning, environmental management, energy, health, and waste management.
In the negotiating arena Ms. Daniel led the Caribbean legal and policy team for the United Nations (UN) Conference on Sustainable Development, the UN Conventions on Biodiversity and Climate Change and the Global Conference on the Sustainable Development of Small Island Developing States.
Ms. Daniel also operates as a Specialist Tutor in Environmental Law at the Hugh Wooding Law School on an on-going basis where she developed a curriculum focusing on corporate social responsibility and promoting the corporate sector's contribution to improving environmental performance.
In her vast work experience, she is also credited to various legal and environmental writings. In addition to being a Steering Committee member of the Global Water Partnership-Caribbean (GWP-C), Ms. Daniel also holds membership in the Legal Writing Institute and the Public Law Centre.
During the Global Water Partnership (GWP) Regional Meeting held on August 28th, 2013 in Stockholm, Sweden, Ms. Daniel was elected amongst the 13 Regional Chairs of the GWP network to hold the permanent observer position of Chair of Regional Chairs. This means that she will be responsible for representing the Regional Chairs in the GWP Steering Committee, as well as represent regions in various fora where necessary. Ms. Daniel served in this position for two (2) years until 2015. In January 2016, Ms. Daniel was elected as Chair of the GWP-C for a second consecutive term of two (2) years.
Bruce Lauckner

Bruce Lauckner (now semi-retired) is the former Head of Strategic Alliances at the Caribbean Agricultural Research and Development Institute (CARDI), headquartered in Trinidad and Tobago. He has worked with the Institute for more than 30 years and prior to being Head of Strategic Alliances served as Executive Director, Manager of Research and Development and still serves as a Biometrician at the organisation.
Mr. Lauckner, a national of the United Kingdom and Trinidad and Tobago, has a wealth of experience in the field of statistics having also worked for more than 10 years in the United Kingdom (U.K.) as a Scientific Officer at the Rothamsted Experimental Station, one of the oldest Agricultural Research Institutions in the world, located in England.
Apart from working in the U.K. and Trinidad and Tobago, Mr. Lauckner has had the opportunity to work in and visit many countries for research and other professional activity. He has conducted consultancy and advisory work for 25 different institutions, companies and governments in the Caribbean.
In his vast working experience in the field of statistics, he has also served as a lecturer at both the postgraduate and undergraduate levels at the University of the West Indies, St. Augustine Campus and has contributed to numerous journals, book chapters, conference proceedings, among other publications.
Mr. Lauckner has served as a member in various capacities on many professional societies, some of which include:
The Royal Statistical Society
The International Biometrics Society
Tropical Agriculture Association (U.K.)
The Caribbean Food Crops Society
The West Indies Agricultural Economics Society
The Trinidad and Tobago Agricultural Census Steering Committee
The International group on "Assessing the impact of information products and services on development" (This is a group of Dgroups a joint initiatibe of Bellanet)
The Unification of Indicator Quality for the Assessment of Impact of Multidisciplinary Systems (UNIQUAIMS)
LEAP IMPACT (Aims to improve the institutional performance of monitoring and evaluation practice related to information services, information products and information projects)
In addition to his active participation in various professional groups, he is currently the Chairman of the Caribbean Invasive Species Working Group.
Mr. Lauckner holds a BSc degree in Mathematics (with Honours) from the University of Leeds in the United Kingdom and successfully became a member of the Institute of Statisticians in 1971. In 1984, he was also appointed a Fellow of the Institute of Statisticians.
Ignatius Jean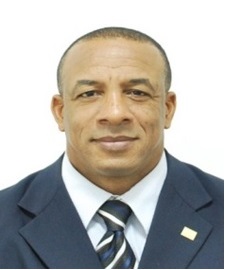 Ignatius Jean, a national of Saint Lucia is the Executive Director of the Caribbean Water and Sewerage Association Inc. (CAWASA) since May, 2015.
He has broad experience in international development and technical cooperation, agriculture and food policy, and agricultural risk and insurance. He has had the political experience of serving as an elected Member of Parliament, Minister for Agriculture, Forestry and Fisheries and Minister for Physical Planning, Environment and Housing in Saint Lucia. During his tenure as Minister for Agriculture, he was Chairman of the Caribbean Agricultural Research and Development Institute (CARDI) Board of Governors.
He served as the Country Representative for the Inter-American Institute for Cooperation on Agriculture (IICA) in Guyana and Jamaica. He currently serves as a director on several statutory boards, including the Board of Directors of the Eastern Caribbean Telecommunications Authority (ECTEL), Chairman of the Development Control Authority (DCA) in Saint Lucia, and Chairman of the Board of Directors of CARDI.
Mr. Jean holds a Masters Degree in Agricultural Management and a Post Graduate Diploma in Agricultural Economics from the University of Reading, England; Diploma in Agriculture from the Guyana School of Agriculture. He has pursued several other courses and specialised training including: Certificate in Business Administration (UWI School of Continuing Studies), Certificate in Risk Management (Insurance Institute of America), Certificate in Development Diplomacy (Diplo Foundation, Malta), Certificate in Applied Project Management (Project Management Global Institute/Boston University Corporate Education Centre), Executive Management and Leadership (Central American Business School – INCAE), and Utility Regulation and Strategy, Public Utility Research Centre (PURC), University of Florida, Gainsville, Florida.
Dr. Kevon Rhiney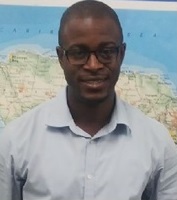 Dr. Kevon Rhiney lectures in the Department of Geography and Geology at The University of the West Indies, Mona Campus in Jamaica. Dr. Rhiney is also the current President of the Jamaican Geographical Society, an appointed member of the Jamaica Civil Society Consulting Group (ConSOC) for the Inter-American Development Bank (IDB) and was a recent recipient of a Commonwealth Postdoctoral Fellowship award based at the Oxford University in the United Kingdom.
Being a human geographer, he has a broad interest in exploring the oftentimes dynamic and complex interrelationships that take place between people and the environment – with a strong emphasis on the insular Caribbean. Specific research interests include issues surrounding food and water (in)security, development planning and the socio-ecological dimensions of global economic and environment change.
Angela Munroe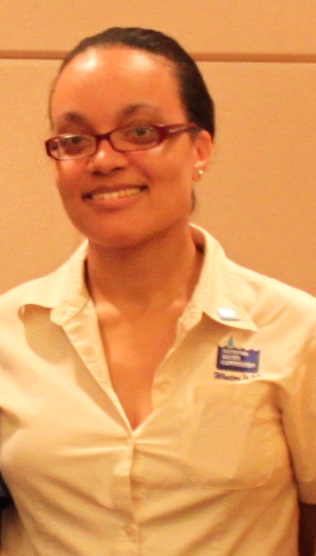 Angela Munroe is a Hydrogeologist at the National Water Commission (NWC) of Jamaica. Ms. Munroe has acquired a vast amount of experience in her field, having been employed at the NWC since 2004.
At the NWC she has been highly credited for designing the organisation's Groundwater Resources Database, which consolidated all the Commission's well data and allowed for easier access to information analysis.
Throughout her professional development, Ms. Munroe has also been exposed to training in the areas of Climate Change Adaptation and Water Resources; Watershed Planning and Management; Applied Modeling of Groundwater Flow and Contaminant Transport in Saturated and Unsaturated Porus Media; Risk Assessment for Environmental Decision Making; among other areas.
Apart from being a Steering Committee Member of the Global Water Partnership-Caribbean (GWP-C) Steering Committee, she has also served as a member of various professional committees and societies, some of which include:
The National Organising Committee for the 5th Caribbean Environmental Forum and Exhibition (CEF).
The 2009 National Integrated Water Resources Management (IWRM) Symposium held in Jamaica where she served as the Logistical Chair of the event.
The Caribbean Water and Wastewater Association (CWWA) 17th Annual Conference Planning Committee.
Operating Committee for Co-Management between the National Water Commission and the Forestry Department for the reforestation of 120 hectares of property owned by the NWC for watershed protection.
Ms. Munroe holds a BSc degree (First Class Honours) in Geology and a MSc degree in Water Resources Management from The University of the West Indies (UWI), Mona Campus in Jamaica. She also holds a Postgraduate Diploma in Hydrogeology from the Hebrew University of Jerusalem.
Haidy Malone-Lepelblad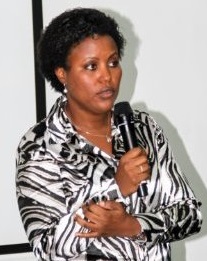 Haidy Malone-Lepelblad is a national of Suriname and an experienced forester with a Forestry Degree from the Universidade Federal Rural of Rio de Janeiro, Brazil. She is fluent in Portuguese, English, Dutch and the Surinamese local language Sranang. Since 1999 she has been involved in Forest Management and Conservation in Suriname and Guyana. Her field of expertise is in sustainable community development and capacity building and she is also an expert in Project Management. Mrs. Malone-Lepelblad is a volunteer at GWP-C's partner, N.V.B. Stichting Nationale Vrouwen Beweging (National Women's Movement of Suriname).