Established in 2004, GWP-C is 1 of 13 Regional Water Partnerships of the Global Water Partnership (GWP) Organisation, which was founded in 1996 by the World Bank, the United Nations Development Programme (UNDP) and the Swedish International Development Cooperation Agency (SIDA) to foster Integrated Water Resources Management (IWRM). The GWP Network is currently made up of over 2900 partners from more than 180 countries all working to promote IWRM.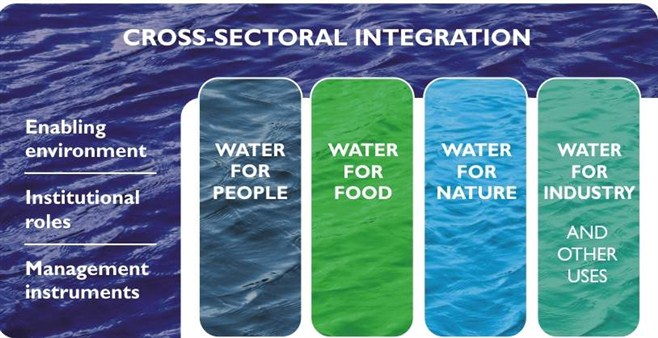 Integrated Water Resources Management (IWRM) is a process which promotes the coordinated development and management of water, land and related resources in order to maximise economic and social welfare in an equitable manner without compromising the sustainability of vital ecosystems and the environment. IWRM therefore takes into consideration that different uses of water are dependent on each other.
Partnership
Partners are the basis on which the GWP-C network is constructed and operates. GWP-C therefore works with its partners to promote and strengthen interaction and coordination at all levels and across different sectors to sustain IWRM in the Caribbean.
To do this, GWP-C works through its Partners which include government ministries; public and private water management or water services agencies; private sector companies; water user associations; non-governmental organisations (NGOs); community based organisations (CBOs); research and educational institutions; training organisations; youth organisations; consultancy organisations; funding organisations; among other entities.
GWP-C has more than 80 partners from the following countries: Anguilla, Antigua, Aruba, The Bahamas, Barbados, British Virgin Islands, Cuba, The Commonwealth of Dominica, Dominican Republic, Grenada, Guyana, Haiti, Jamaica, Martinique, Montserrat, Puerto Rico, St. Kitts and Nevis, St. Lucia, St. Vincent and the Grenadines, Suriname, Trinidad and Tobago, The United States Virgin Islands, The United States of America and Canada.
Any entity, except individuals with an interest in water sustainability can become a partner of the GWP-C. Download GWP-C Partnership Application here.
Key Objectives
To promote IWRM as the approach to water resources management in the Caribbean region and to obtain national commitment towards IWRM implementation.
To improve water governance in the Caribbean through the promotion, enhancement and effective implementation of legislation, polices and programmes on IWRM.
To promote public participation in the management of water resources through capacity building and information sharing at the community, national and regional levels.
To establish proactive alliances in water resources management that are representative, gender sensitive and participatory at the community, country and regional levels.
Key Activities
Advocates for the implementation of Integrated Water Resources Management (IWRM).
Convenes multi-stakeholder platforms to facilitate dialogue and effect change in legislation, policies and laws related to IWRM.
Provides intellectual leadership, technical expertise, capacity building and knowledge sharing on IWRM.
Helps Caribbean countries develop IWRM plans and policies.
Establishes cohesive alliances to support better water management.
To learn more about the GWP-C and how to become a partner visit www.gwp-caribbean.org.