The Honorable S.S. Nkomo, Minister of Water Resources and Development, Zimbabwe, and AMCOW Vice President, and GWP Chair Dr Letitia A Obeng, unveiled the Water, Climate and Development Programme for Africa (WACDEP) at the 2011 World Water Week on August 23, 2011.

In response to climate change commitments in the Sharm el Sheikh Declaration, AMCOW, in collaboration with GWP, developed WACDEP to integrate water security and climate resilience in development planning processes, build climate resilience, and support countries to adapt to a new climate regime through increased investments in water security.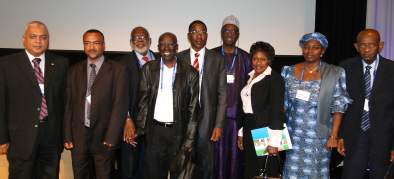 The launch was attended by Ministers of water from Nigeria, Zimbabwe, Egypt, Uganda, Sudan, Sierra Leone, Ethiopia, South Africa, and Gabon.

Others present included the Chair of the AMCOW Technical Advisory Committee, Mr. Trevor Balzer, and AMCOW Executive Secretary Mr. Bai Mass Taal. Mr. Robert Burtscher of the Austria Development Agency, one of the WACDEP donors, delivered remarks as did Ms. Poppy Whitfield of the UK Department for International Development (DFID), and Dr. Akissa Bahri, Coordinator of the Africa Water Facility.
Mr Robert Burtscher at the Austrian Development Agency, one of the WACDEP donors, said:"Austria is committed to support Integrated Water Resources Management, especially in Africa which has been hard hit by climate change. The programme launched today sets an example of results-based programming, it is made in the region in response to an AMCOW request, it is rooted on the ground through the GWP Network, and it aims at tangible outcomes ranging from influencing national development plans to bankable investment projects. This is why the Austrian Development Agency is providing €1.5 million over 3 years. We are proud to be the first contributor. The results-based character of the WACDEP has attracted the attention of DFID and the Netherlands. We would be pleased to see their contribution as well."

GWP Chair Dr. Letitia Obeng emphasised that GWP was pleased to invite the AMCOW Ministers to launch the programme. "During the 3rd Africa Water Week in Addis Ababa, in November 2009, AMCOW Ministers asked GWP to operationalize the WACDEP. We take our responsibilities seriously and are pleased to inform you that we have now operationalized the programme and request you to officially launch the programme," said Dr. Letitia Obeng.

Earlier, GWP Executive Secretary Dr. Ania Grobicki mentioned that the WACDEP will benefit up to 23 African countries. "Eight countries, four transboundary river basins and one shared aquifer have been identified for in-depth work: Burkina Faso, Burundi, Cameroon, Ghana, Mozambique, Rwanda, Tunisia and Zimbabwe; Limpopo Basin, Kagera Basin, Lake Chad Basin and Volta Basin, and the North-Western Sahara Aquifer System. The transboundary basin approach will enable at least 23 African countries to benefit from the results and outcomes of the initiative," said Dr. Grobicki.
Read more on the WACDEP website: www.gwp.org/wacdep
Photo: The Honorable SS Nkomo Minister of Water Resources and Development, Zimbabwe and AMCOW Vice President, and GWP Chair Dr Letitia A Obeng, by Peter Tvärberg. More pictures.