Burkina Faso is experiencing water insecurity. The effects of climate change will have a significant impact on water security and will weight negatively on most sectors. Water security in the country remains delicate and response capacities to climate risks are weak and limited.
This is well focused in the study on water security and climate resilience in Burkina Faso sponsored by the Country Water Partnership (CWP/BF). This study was at the core of the reflection during the launching workshop of the Water, Climate and Development Programme (WACDEP) of Global Water Partnership (GWP) in the country, on December 14, 2012 in Ouagadougou. Chaired by Mr. Sabné KOUANDA, Technical Advisor at the Ministry in charge of Agriculture and Hydraulic, the workshop which brought together stakeholders from water, agriculture and environment sectors, also saw the installation of the members of the monitoring and orientation Committee of WACDEP in Burkina Faso by the representative of the Ministry of Environment and Sustainable Development, Mr.Paul SAVADOGO, General Director of Sanitation and Livelihood.
To address urgent challenges identified by the report, Mr. KOUANDA, in his speech, argued that "the program is a great opportunity for Burkina Faso in the sense that it will enable the mainstreaming of water security and climate resilience in development planning and decision-making processes". Indeed, the implementation of WACDEP in the country is an opportunity to move towards secure water for people through options aiming at adapting current technical and socio-economic systems to climate change conditions with the goal to ensure water security and build climate-resilient communities.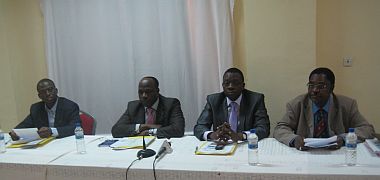 For a total of about 400 million FCFA already mobilized for Burkina Faso, the implementation of WACDEP (2012-2016) will focus on (i) support for the integration of water security and climate resilience in development planning and decision-making processes, (ii) supporting the development of tools and investment options and financing 'no regrets', (iii) the selection and funding pilot demonstration project, (iv) (iv) awareness and training of stakeholders on assessment, monitoring, resource protection with an emphasis on good water management, and (v) strengthening the Partnership Network National Water in Burkina Faso.
WACDEP is a recommendation from the declaration of the African Union Summit of Heads of State and Government on water and sanitation held in July 2008 (Sharm el Sheikh, Egypt). In response to these commitments, the African Ministers Council on Water (AMCOW) in collaboration with GWP developed the Water, Climate and Development Programme for Africa. The Programme aims to integrate water security and climate resilience in development planning processes, build climate resilience and support countries to adapt to a new climate regime through increased investments in water security. Eight countries, four transboundary river basins and one shared aquifer among them two countries (Burkina Faso, Ghana) and the Volta Basin in West Africa have been identified for the implementation of the Programme.