Advancing water governance in Honduras
GWP supported the processes of formulating a Regional Water Strategy and Action Plans for the Nacaome, Choluteca, and Sampile river basins in the Gulf of Fonseca, Honduras. The strategy aims to contribute to human well-being and sustainable development, through inclusive participation and an integrated approach. The process was financed by the Swiss Agency for Development and Cooperation.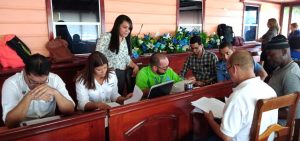 As part of the process, GWP assisted in running virtual workshops – with participation from public and private actors, regional councils, basin councils, and representatives from anti-drought committees. The strategy and action plans were finalised in March 2021.

Meanwhile, a regulation relating to the General Water Law of Hondurus has been put in place in Honduras – moving the country towards implementation of the Law which was approved in 2009. GWP Central America provided technical and financial support during the consultation process, which included 11 regional workshops and a validation workshop. The new regulation was published by the government in October.
Guidelines for transboundary waters in Central America
In collaboration with the Central American Commission for Environment and Development and other partners, GWP Central America carried out the 3rd Regional Workshop on Transboundary Waters in June 2021. It was attended by more than 50 representatives from the Ministries of Environment and Foreign Affairs, and transboundary organisations, as well as other relevant stakeholders from countries of the Central American Integration System and Mexico.

Held online, the main outcome of the workshop was that participants could comment on the draft guidelines for the management of transboundary waters in Central America which were included as a result of the IWRM chapter of the ERAM 2020-2025.
IWRM and gender papers published
GWP Central America issued a report evaluating IWRM implementation (SDG 6.5.1): Informe sobre la GIRH en Centroamérica.

GWP Central and GWP South America published a diagnosis on the level of inclusion of gender in the regulatory, political, and planning framework for water management and climate change in selected Latin American countries: Género en el marco político y de planificación sobre cambio climático y agua en Centro y Sudamérica.