GCF funds approved for Central African Republic
The Green Climate Fund 2021 Readiness Country Proposal for the Central African Republic was approved by GCF in 2021. A grant of US$443,130 was awarded to the government to advance the country's programme by supporting the National Designated Authority (NDA) and country stakeholders in programme development for climate finance. The readiness proposal process, led by the NDA, received much support from GWP Central Africa in particular.

The grant will help the Central African Republic to improve access to climate finance by addressing pre-identified gaps and underlying barriers that hinder the country's ability to mobilise funds for its climate resilience programmes. This is the third time the country has obtained a Readiness Grant from GCF, with the previous funds obtained in 2016 and 2017.
Improving access to weather information in Cameroon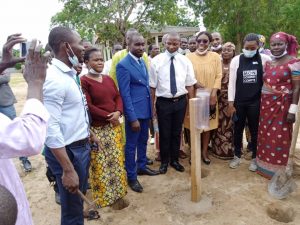 In the past it was difficult for farmers in rural areas of Cameroon to access important weather information from the National Department of Meteorology. Without accurate forecasts, their agricultural activities were sometimes negatively impacted by weather events.
In 2021, to improve farmers' access to information and reduce their vulnerability to climate change, GWP Cameroon mobilised funds from the World Meteorological Organization and collaborated with the Department of Meteorology to train thirty farmers in the Far North Region. These farmers learnt how to monitor weather and adjust their agricultural activities according to forecasts. This included installing rain gauges in 10 villages, with locals trained on how to use them and how to send data to the Department.

The results of this project were presented at the gender and social inclusion session at the water pavilion at COP26.
Cameroon joins Helsinki Water Convention
In December 2021, Cameroon became the sixth African country to adhere to the 1992 Helsinki Convention on the Protection and Use of Transboundary Watercourses and International Lakes. The 1992 Helsinki Water Convention is a unique international legal instrument that aims to ensure the sustainable use of transboundary water resources by facilitating cooperation between countries.
By acceding to the Convention, Cameroon has agreed to increase cooperation between states in the Lake Chad, Niger, and Congo river basins, as well as coastal rivers, to promote sustainable development and peace.

GWP Central Africa has been supporting the Government of Cameroon by strengthening the capacity of national experts on transboundary cooperation, helping to raise awareness, and participating actively in the adherence process in partnership with UNECE.