This is the second regional ministerial conference since the adoption of the Sendai Framework for Disaster Risk Reduction 2015-2030.
The Conference will reflect on three years into the implementation of the Sendai Framework, review progress made against the commitments at the AMCDRR 2016, and reaffirm political commitment on disaster risk reduction and strengthen coherent implementation of 2030 Agenda for Sustainable Development.
Full details of AMCDRR can be found on the conference website.
GWP at AMCDRR 2018
GWP is co-organising a special parallel event on climate change and disaster risk reduction session on water and disaster risk reduction in Asia in connection to AMCDRR. Below and attached are the details of this event.
04 July 2018
Moscow Room, Shangri-La Hotel
Ulaanbaatar, Mongolia
Introduction:
Water-related disasters account for more than 90% of the people affected by disasters since 1990, disproportionately affecting vulnerable populations including women and children. Global flood damages are estimated at US$120 billion per year from urban property damages alone and major droughts, on average, reduce per capita GDP growth by half a percentage point, putting development gains at risk. Asia is vulnerable to water-related disaster as it faces severe impacts of climate change across the full range of hydrological variability - droughts to floods.
While water-related risks are growing, the negative economic impacts need not grow at the same pace. DRR investments are investments in water security. They help safeguard socio-economic growth in the face of increasing vulnerabilities to water-related risks.
The High-Level Panel on Water highlights in its outcome document that a different approach based on prevention and preparedness and additional financing for water-related DRR and effective use of available funds is needed.
The High-level Experts and Leaders Panel on Water and Disasters (HELP) produced a set of "Principles on Investment and Financing for Water-related Disaster Risk Reduction", and launched a flagship document on good practices and lessons of drought and flood management. Featured in these documents as concrete action on the ground are international HelpDesks[1], implemented jointly by GWP and the World Meteorological Organization (WMO) together with over 60 international organizations that are part of these joint programmes on drought and flood management. Building on these efforts and GWP's work to strengthen climate resilience throughout Asia[2], GWP is supporting the Government of Mongolia in its leadership as part of the Asia Ministerial Conference on Disaster Risk Reduction (AMCDRR) to inspire countries across Asia to meet the most pressing targets of the Sendai Framework for Disaster Risk Reduction.
Objective and Format:
The objective of this government-led parallel event is to inspire a high-level political commitment to meet the most pressing targets of the Sendai Framework for Disaster Risk Reduction. The event will focus on approaches and practical action as well as mobilizing finance to address water-related risks through integrated approaches that foster sustainable development in order to inspire action in the DRR community. It brings together international experiences and approaches in the Asian context with the thought leaders from organizations that have the capacity and reach to support countries in their quest to address water-related disasters for a more sustainable development.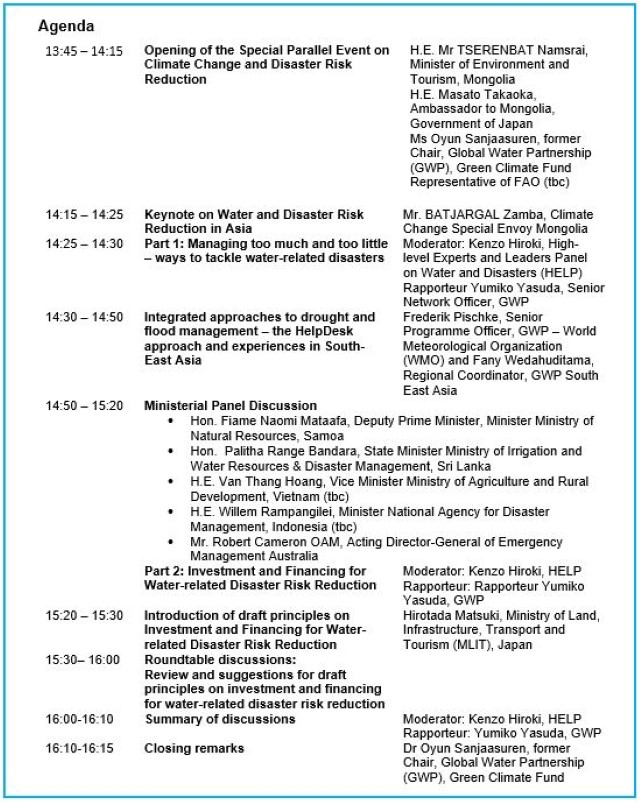 The event is led by the Ministry of Environment and Tourism of Mongolia, with support by the Global Water Partnership (GWP) and it is co-hosted by the Government of Japan and High-Level Experts and Leaders Panel on Water and Disaster (HELP)
[1] Integrated Drought Management Programme (IDMP) www.droughtmanagement.info and Associated Programme on Flood Management (APFM) www.floodmanagement.info
[1] Water, Climate and Development Programme (WACDEP) http://www.gwp.org/en/we-act/themesprogrammes/Climate-Resilience/Global-Water-and-Climate-Programme/