---
All World Water Week sessions are free of charge to join: Register HERE.
- - -
23 August, 14:00-15:00 CEST: Managing Floods and Droughts: The Governance Challenges
The Worldbank will present a report on flood and drought governance. The session is co-convened by the joint GWP/WMO Integrated Drought Management Programme (IDMP).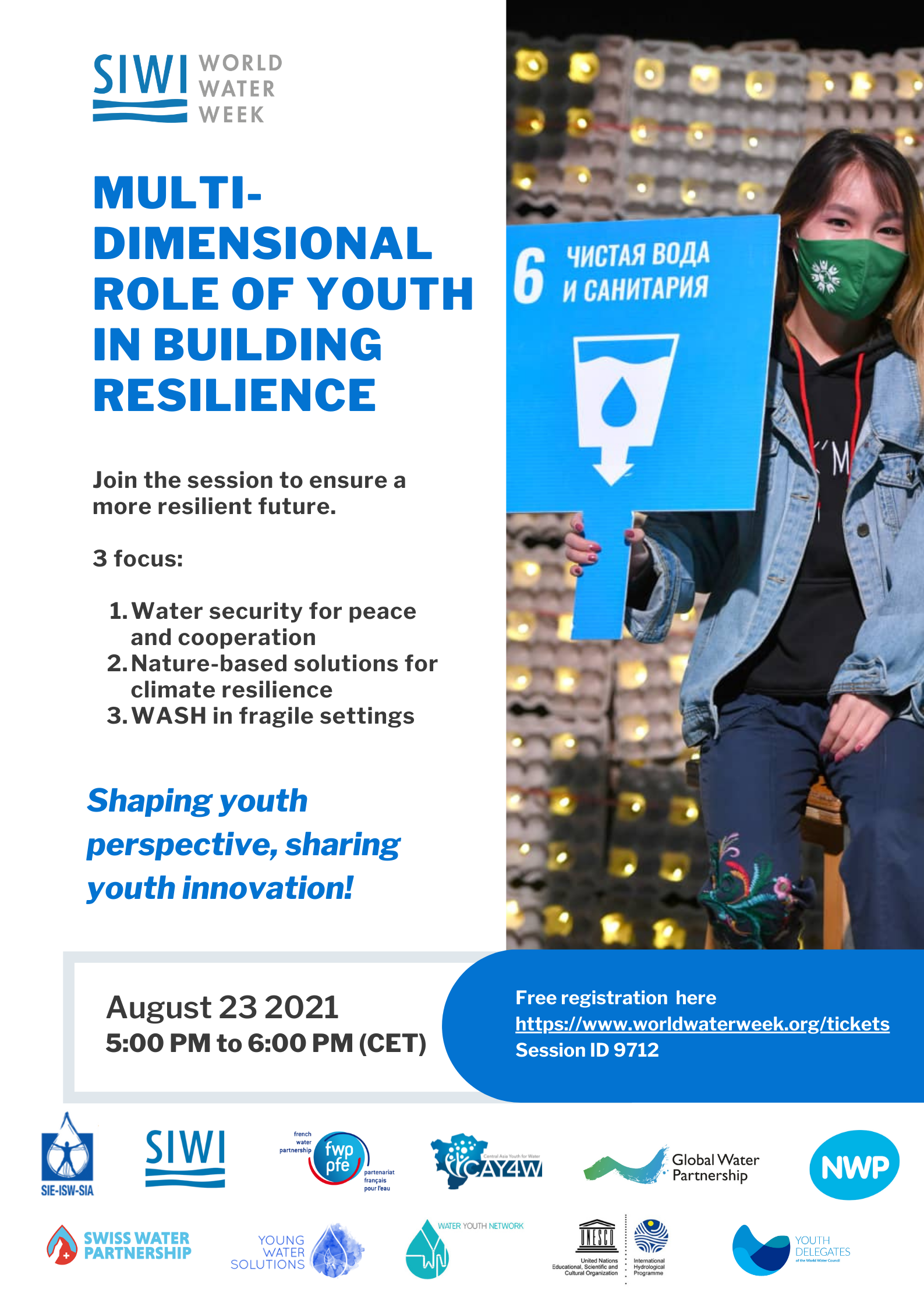 23 August, 17:00-18:00 CEST: Multi-dimensional role of youth towards building resilience
Climate change, COVID-19 and other systemic shocks compromise progress on the Sustainable Development Goals (SDGs). Empowering and integrating youth engagement, which can traverse geographical barriers with ever improving communication tools and technology, is more important than ever. This session offers an intergenerational experts dialogue to expose pathways for youth contribution in building resilience.
24 August, 08:00-09:00 CEST: Post COVID-19 river basin disaster resilience, sustainability & sound water-cycle
Responding to tragic water disasters intensified by climate change under shocks and stresses by COVID-19, all stakeholders in river basins should take concerted and multilayered actions by sharing the lessons learned from this. This session will identify strategies for realising quality growth and showcase innovative actions addressing flood prevention, exposure reduction, disaster resilience and a sound water cycle.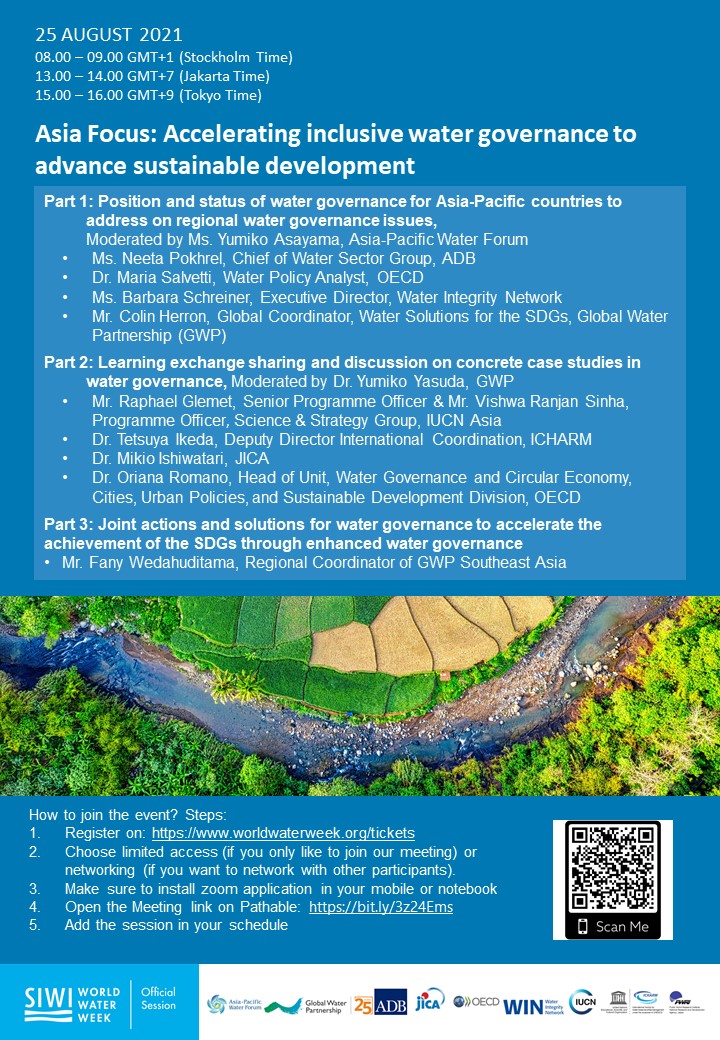 25 August, 08:00-09:00 CEST: Asia Focus: Accelerating inclusive water governance to advance sustainable development
Water crisis is often a crisis of governance, therefore addressing effective water governance should be one the highest priorities in Asia-Pacific. Key actors in Asia-Pacific will share innovative approaches in examining and improving water governance to boost sustainable and inclusive development and will kick-start commitments towards concrete collaborative action.
26 August, 10:00-11.25 CEST : Riding the wave: Financing source-to-sea action
This event examines the limitations of existing finance that often is aligned to specific sectors or geographic borders and explores financial instruments and strategies that catalyze source-to-sea action.
26 August, 10:00-11:00: Managing Floods and Droughts: The Technical Challenges
Integrating the management of flood and drought risk is more effective and efficient than a silo approach. This session discusses new approaches to seize these synergies from a practical perspective.
26 August, 13:00-14:00 CEST: Mobilising Change: 10 years of climate resilient water investments
The session will showcase success country stories on climate resilience water investments from more than two decades of on-the-ground work by GWP and its partners around the world, influencing change in water governance systems. Successful approaches on integrated water management that are sustainable and inclusive will be shared including ongoing concrete gender transformative work across Africa on enhancing access to climate finance, water and gender transformation.
27 August, 13:00-14:00 CEST: Storing Water: a new integrated approach for resilient development
Water storage is key to development. Over the last 50 years population has doubled, climate change has affected the timing and amounts of water flows, and freshwater storage has declined by around 15,000 billion m3, increasing the demand-supply gap. The world urgently needs a new paradigm for resilient water storage.