The project was implemented in Argentina, Kazakhstan and Kenya, and has generated a lot of information about what works well. We are therefore holding two live events that will start in these countries' learnings, and then open up into wide-ranging discussions on effective strategies for planning and making progress towards SDG target 6.6.
Accelerating Action Towards Target SDG 6.6: Protecting and Restoring Freshwater Ecosystems will take place in two sessions with a shared agenda. Both will include interviews with representatives from the pilot countries, advice from an expanded circle of other key actors, and open discussions on how to effectively plan for freshwater ecosystem restoration and protection.
The two sessions offer different times, language options & country focus:
The first session will be on Tuesday, 29 November, 9:00–10:15 (GMT+1), in English and Russian. It will feature interviews with country representatives from Kazakhstan and Kenya, followed by an expert panel discussing how to advance on the protection and restoration of freshwater ecosystems.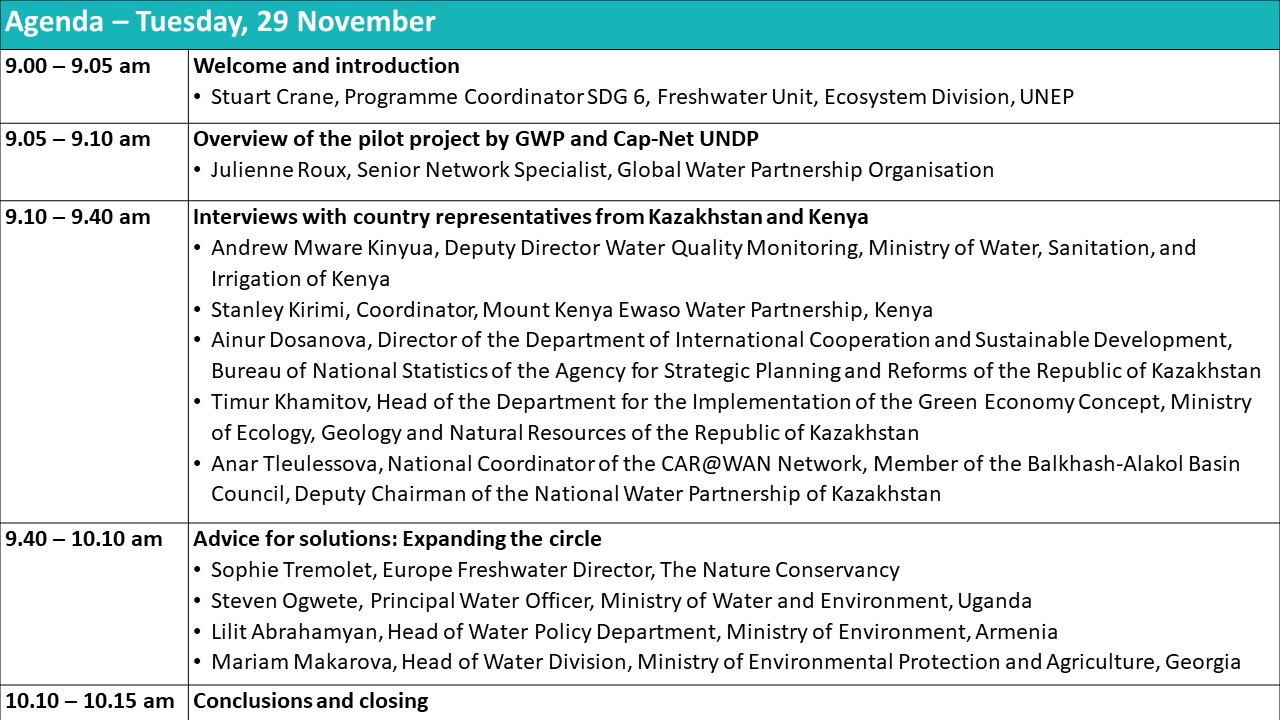 The second session will be on Tuesday, 6 December, 14:00–15:15 (GMT+1), in English and Spanish. Here, country representatives from Argentina will be at the mic and experts will provide further inputs on solutions for restoring and protecting freshwater ecosystems.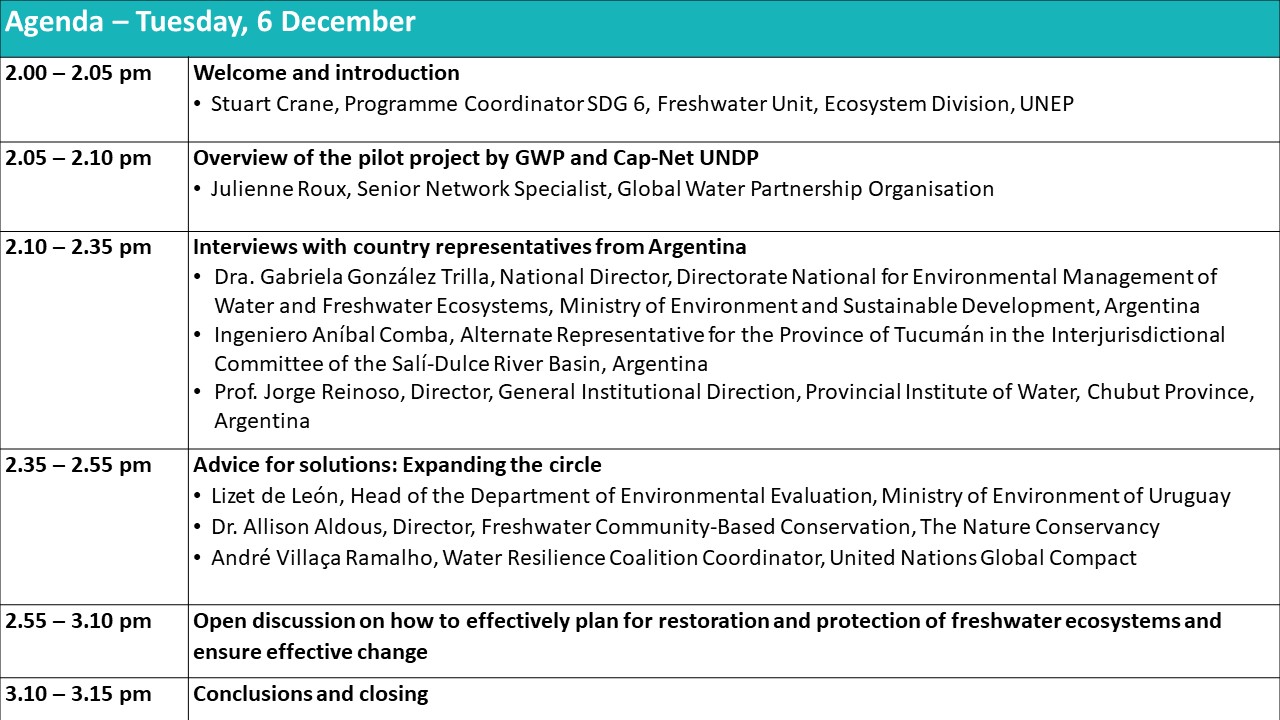 Time to act on freshwater
Freshwater lakes, rivers, wetlands, and groundwater supply essential ecosystem services such as food, water, and energy, and their protection is pivotal to achieving the SDGs – including, most directly, target 6.6. But serious human pressures are closing in on many of these ecosystems: pollution, over-extraction, flow alteration, and not least the effects of climate change.
With this dangerous cocktail, decision makers need to use all data at their disposal, including ever-more-detailed earth observation data, to keep freshwater healthy. They also need to involve the whole breadth of stakeholders and institutions whose activities touch on these ecosystems in order to better understand challenges and identify solutions.
Across the three countries, Argentina, Kazakhstan and Kenya, the pilot project trained 250 professionals with a brand new manual, especially raising awareness of the environmental data available to inform protection and restoration. This included an introduction to the SDG 6.6.1 Freshwater Ecosystems Explorer platform, which provides up-to-date, high-resolution geospatial data showing freshwater ecosystems change over time. The pilot placed emphasis on the multi-stakeholder engagement needed to plan effectively for all, and ultimately saw the preparation of four action plans for priority ecosystems.
How can data better inform action? ? How can capacity development galvanise actors? And how do we move from understanding what's at stake to implementing the actions the planet needs – and financing them?
Join us on 29 November or 6 December as we discuss what we can do next to accelerate action for freshwater ecosystems.