Before embarking on the work to design a new website, we conducted surveys with partners and stakeholders to see what they want. It emerged that visitors to the GWP website often know exactly what they are looking for. To make it easier to meet this need, we developed new and improved search functions of the four key elements that the surveys showed our visitors want:
Knowledge: GWP continuously publishes a wide range of publications on water resources management, and now there is a one-stop place where you can search for all GWP publications – the 'GWP Knowledge Search' page. From now on, web visitors who are looking for any publication, from any region, can quickly search per criteria: by doing a free search, per region, topic, type of publication, or language.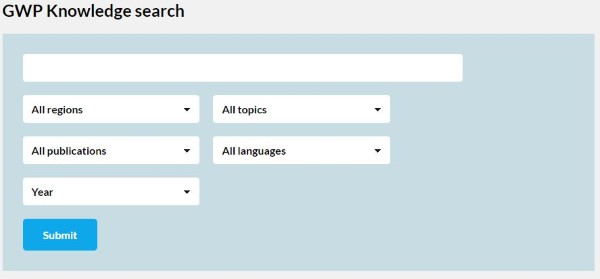 News: The same kind of search function will apply to all our news, where the visitor will have access to GWP's vast archive of news items in one place – through the 'News search' page. Visitors can search by region, topic, date, or by free search.

Events: The new website will also have a search function for up-coming events, which works the same way as the 'News search'. On the 'Event search' page visitors can find water-related events – global or regional – that are coming up. Some of the events are organised or co-organised by GWP, but many are externally organised events that we simply think may be relevant to GWP Partners or anybody interested in water issues.

Partners: Last, but not least, we are developing a 'Partner Search' page – which will be a completely new platform where GWP Partners can identify, and find contact details for other Partners in the worldwide GWP network. This feature is still in development, and it will take a little bit longer before we can launch it – but not long. We hope to have this function working on the website by the end of March. More information about this as soon as the 'Partner Search' page is finalised.
The new website will be launched on 22 March.
We hope you will like it – Welcome!