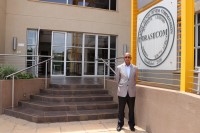 The development of an Orange-Senque River Basin Water Investment Strategy and Plan is the main programme the Commission works with in cooperation with GWP Southern Africa, funded by the African Development Bank and GWP.
"In terms of the processes, we prepared a basin level Integrated Water Resources Management (IWRM) plan, which was approved by our states through the forum of the parties, which is a meeting of the ministers responsible for water in the four countries. After the completion of the IWRM Plan – which seeks to consolidate the all the plans and programmes that have been prioritised by states, looking at them now at a basin level as a collective of the four nations – we realized that perhaps we need an additional lens to look into the plan and proposed interventions in the plan. The additional couple of lenses have to do with looking more in-depth in terms of cost-benefit and economic analysis and also looking at the planned measures and look at how do they really address climate resilience. We have a very big challenge in the Orange-Senqu of water scarcity due to excessive development of the river system as it is. According to scientists, we are already looking at a future where there could be higher temperatures, resulting in higher evaporation and a possibility of less precipitation", says Mr. Thamae.
An important impact of the project, especially if you compare the Orange-Senqu with other parts of the continent and the world, is the emphasis and the necessity of a deepened cooperation and coordination between the state officials, ORASECOM, GWP Southern Africa and the African Development Bank, like the Lesotho-Botswana water transfer project, which will involve Lesotho, South Africa and Botswana.
Infrastructure Development is Key
"Going forward in the GWP collaboration, some of the key elements have to do with priorities. Infrastructure development in Southern Africa remains a key aspect that needs to be focused on. Because a number of our states still have very acute shortages of storage facilities for water and that makes the communities a lot more vulnerable, including the economies, to the fluctuation of the resource and climate change. We believe there is still a lot of scope in addressing that element and we have to seek ways to pursue innovating around infrastructure preparation and financing around infrastructure."
"The other element that remains a challenge which I believe we can seek to tackle, has to do with waste water management. Because when you look at systems like the Orange-Senqu system, there is a lot of urban development within the river system, but unfortunately there is very limited investment in water treatment. You find that a number of municipalities and big cities still have lower than necessary capabilities to treat waste water, which impacts on the quality of water in the river system and is not desirable for the communities that live downstream" says Mr. Thamae.