This is an online marketplace for connecting youth-led projects with potential donors and technical partners in order to harness youth's innovation capital and scale up their contributions to the Sustainable Development Goals (SDGs) and climate agendas.
The projects are reviewed according to a set of criteria under the supervision of a quality assurance committee. Once approved, they receive a #YWC label and get uploaded on the Projects marketplace. The #YWC label is a way to guarantee the quality of the projects presented on this platform. In this way donors and partners are assured to engage with high-standards projects (technically robust, results-oriented, economically viable in the long term, etc.), and young project leaders learn how to meet those standards with the help of guidelines (templates, checklists etc.) and experience sharing tools like FAQs, and mentorship.
Once registered on the digital platform, either by submitting a project or by becoming a supporter, (could be bilateral funding, basket funding or even a crowdfunding campaign), parties will be free to browse and express interest in projects and donors/partners. When the interest is reciprocated, there is a match, and the parties will be placed in contact.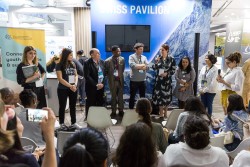 To illustrate the concept at the launch, a project speed-dating between youth and supporters game was held: "Love at first sight". #YWC partners also kicked off the digital platform, and youth were there to present their projects.
(click on the image for a larger version)
Training & Connections Fundamental
The advice, training and connection with supporters offered to young people is a fundamental part of #YWC, said Vilma Chanta from El Salvador, focal point in her country of GWP Central America, and a researcher in territorial development with El Salvador's National Development Foundation.
"Young people are an important part of change in the world, they are committed, that is why it is important to train youth leaders, to help them perhaps to formulate a theory of change that every project must have, that helps to identify where to focus their efforts," Chanta told IPS News Agency.
Young people will be decisive in the face of water and climate challenges, "they have energy and are more sensitive to the issues" and will be able to do more if they are connected internationally, said Pierre-Marie Grondin, Director of the Water Solidarity Programme, a network of French organisations that finance projects in the developing South, especially Africa.
"#YWC is a good idea, it disseminates new ideas, promoting dialogue and coordination," he told IPS, speaking as a donor.
Transforming the Youth Perception
"This platform will change the way senior leaders at water organisations see young water leaders," said Sarah Dousse, Executive Director of the International Secretariat (ISW) - one of the Partners behind #YWC.
GWP Chair Oyun Sanjaasuren commented the launch in a statement:
"With this innovative business model, donors and partners can be confident that they are engaging with high-standard projects. Young leaders will learn how to meet those standards with the help of guidelines, experience sharing tools, and mentorship by a quality assurance committee."
Visit the digital platform here: www.youthwaterclimate.org
Feedback on the platform is welcome!
Contacts: ywcplatform@gmail.com or the YWC Secretariat (International Secretariat for Water: Hannane Sellali hsellali@sie-isw.org Global Water Partnership: Julienne Roux julienne.roux@gwp.org or Monika Ericson monika.ericson@gwp.org, AgroParisTech: Sophie RICHARD sophie.richard@agroparistech.fr.
More on YWC:
The Youth for Water and Climate platform is rooted in the work done by youth from 20 countries in the lead up to COP 21 in 2015, who prepared a White Paper to address Water and Climate Challenges and on engagement since then with youth and youth organisations.