Kareem's tremendous drive and passion has led to the initiation and leadership of over 42 projects, including knowledge production, capacity building, appropriate innovation, and participatory implementation. Additionally, he has founded and led four enterprises in the fields of water, agriculture, sustainable architecture, and waste recycling.
His involvement with the World Youth Parliament for Water (WYPW) began in 2016, as their mission aligns with his passions and life goals. Throughout the years he has supported the management team, provided professional advice in terms of capacity building, youth-led advocacy and project implementation, as well as represented the parliament in many different conferences across the globe.
Initiation of BENAA
As a solution to the alarming WASH situation in the Middle East and North Africa (MENA) region and the lack of efficient scalable sustainable solutions, Kareem developed a business model that thrives on the power of youth. This led to the creation of his organisation, the BENAA Foundation in Egypt.
BENAA – in Arabic – stands for "Building up", in which they aim to build the youth's capacities and to develop participatory sustainable sanitation projects in Egypt and the MENA region. BENAA completes the loop of change making in the field of WASH; by producing knowledge on sustainable sanitation and water management, strengthening youth capacities and implementing knowledge-based youth-led sanitation projects on the ground. These three main pillars shape the Social Innovation Pyramid invented by BENAA (click image to see it enlarged):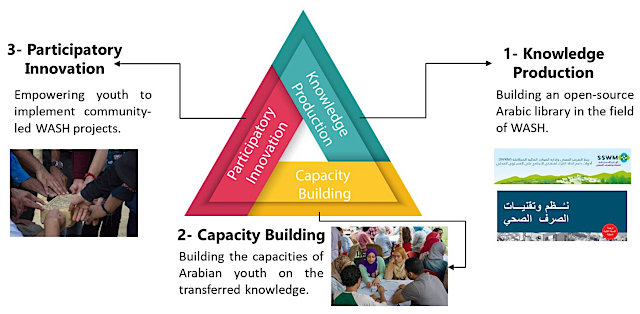 Impact on the ground
Since the formation of the organisation in 2015, they have already managed to do a lot. Some of the achievements are listed below:
Mobilised 3,000 Egyptian youth;
Initiated 42 successful social projects;
Created a community of 1000+ active volunteers;
Initiated 5 massive awareness campaigns;
Their produced knowledge has reached 200,000 Arab users on the internet, and has been downloaded more than 20,000 times;
Enhanced the living conditions of 10,000 people in five Egyptian villages.
Provided safe drinking water for 100,000 inhabitants in different areas in Egypt.
BENAA was recognised for its amazing work and was awarded the Lush Spring Prize London 2017; the GESR Prize Cairo 2017; and the Ministry of Environment's prize, Cairo 2016.
The organisation has also participated in many global events such as the World Water Forum in Brazil 2018, the Young Mediterranean Water Heroes Forum 2018, Stockholm World Water Week, 10th UNESCO Youth Forum, and many more.
Scaling the message worldwide
Kareem has represented the organisation's work and showcased its successes worldwide, transferring the experiences and technologies of BENAA to various countries such as the UK, Brazil, Sweden, Russia, Paris, Jordan, Morocco, Tunisia, Lebanon, Germany and Switzerland.
To further gain support for BENAA's work Kareem has presented to several Ministers in the region to gain support and foster their innovation activities, such as the Egyptian Youth Minister and Minister of Water, the Senegalese Minister of Water and the African Minsters of Water.
BENAA'S goals for the youth
To strengthen personal and business capacities of the youth in order to build up sustainable water and sanitation projects is a must.
To incubate youth's innovative ideas in their early stages is game changing for developing nations.
To build local youth-led enabling environment, which could foster the social innovation activities, and will lead to more effective policy making.
To overcome, the many obstacles and challenges that occur along the way as they will never end, accordingly, you have to stand up after every failure, try again, and again, until you succeed.
Kareem's story is testimony that inspiration and a lot of hard work and dedication is the recipe for success. It is the goal that showcasing these youth stories in water, it will inspire other young water leaders and even decision makers, find similarities in the challenges highlighted and create opportunities to connect and learn from each other to improve water management in countries.
More about Kareem
Kareem obtained his Bachelor of Agricultural and Biological Engineering at Ain Shams University (Egypt), M.Sc. of Environmental Engineering at the American University in Cairo, and Project Management Program in the field of sustainable development at Cewas (Switzerland). He has also worked as a researcher in the field of environmental engineering at King Saud University (Saudi Arabia), the University of Duisburg-Essen (Germany), The American University in Cairo, and Eawag - the Swiss Federal Institute of Aquatic Science and Technology (Switzerland). Kareem is also a lecturer and researcher at Zewail University for Science and Technology.
This story is part of a collaboration between WYPW and GWP to make sure the voices of youth are heard. Do you have a good youth water story to share? Please get in touch with us on gwp@gwp.org.