To attempt to answer that question, the Valuing Water Initiative (VWI), Deltares and GWP have initiated regional dialogues on valuing water for Latin America and the Caribbean, and Sub-Saharan Africa. The objective of these dialogues is to identify how the multiples values of water can be recognised and reconciled to improve water management decisions, as input to deliberations at the UN 2023 Water Conference.
These dialogues have been organised to serve as platforms for stakeholders within those two regions to share relevant experiences which exemplify the five Valuing Water Principles, as well as to reflect upon what systemic changes are needed for water to be more highly valued in decisions impacting water. Finally the platform will provide users with the chance to identify possible regional initiatives that could facilitate the much-needed systemic changes identified. Such regional initiatives could be presented as commitments to the Water Action Agenda at the UN Water Conference, to be held in March 2023, the first of its kind since 1977.
"The VWI's ultimate aim through this process is to boost progress towards SDG 6, by fostering better decisions impacting water. Indeed, that was the intention of the UN High-Level Panel on Water that defined the Valuing Water Principles," said Joe Ray, Senior Advisor to the VWI, which is housed within the Netherlands Enterprise Agency (RVO).
Regional dialogues
As part of these dialogues, a first set of webinars was held for Latin America on December 7th and for the Caribbean on December 14th. In each of the webinars, five inspiring actions from different parts of the region were shared with the audience, operating at different levels, supported by diverse stakeholders and in response to contrasting water-related challenges. However, what the actions all have in common is that they have been established with a systemic view of how to tackle water challenges, integrating multiple values, and could potentially be replicated in other parts of the region.
For example, one case highlighted in the Latin American webinar was the Quito Water Fund, a governance and funding mechanism that began in 2000 with just 20,000 USD and which has since grown to operate a 30 million USD trust fund, mainly through contributions from water users on their monthly bills. Talking about the Water Fund, Pablo Lloret of Fundación Futuro Latinoamericano explained that it exemplifies all five Valuing Water Principles, but perhaps its biggest achievement has been creating trust between all stakeholders, to enable a shared long-term vision.
In the case of Africa, the first webinar was held on January 24th, framed by a keynote speech from Abdoulaye Sene, Chair of GWP Western Africa and Secretary General of the 9th World Water Forum, who clearly outlined Africa's many water challenges and some of the political solutions that have been adopted to solve them. The webinar then allowed diverse experiences to be shared from Kafué, Zambia; Nairobi, Kenya; Northern Cameroon; and Lake Chad. "These experiences all highlight the importance of going beyond a single project approach and looking at water in the context of other development challenges, with a long-term, sustainable vision. They are very much in line with the indivisible spirit of the SDGs and the all-of-society effort needed to achieve them," said Colin Herron, Senior Water Resources Management Specialist, Water Solutions for the SDGs at GWP.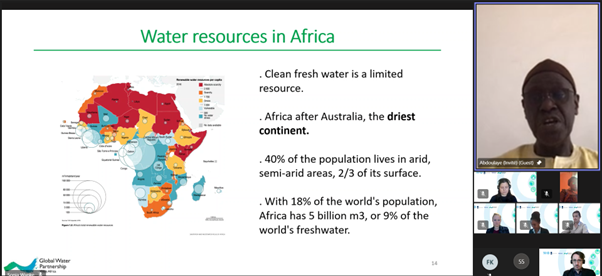 Next step
In both cases, the next step in the process will be an in-person meeting of stakeholders that have the interest and potential to contribute to regional agendas that address the multiple values of water. In the case of Latin America and the Caribbean, a working meeting was held on January 31st as well as a formal session is being held on February 3rd, in Santiago, Chile, during the ECLAC Water Dialogues. In the case of Africa, a similar working session will be held on February 14th in Cape Town, South Africa, the day before the Global Conference on Transformative Futures for Water Security.
"Through these processes, we will be listening to regional stakeholders to comprehend their understanding of the Valuing Water Principles and how relevant these Principles can be for those stakeholders' particular needs. What a country in Africa needs to invest and innovate (Principle 5) may be very different from the support a water-related NGO might require in order to protect the sources (Principle 3), for example. We invite all interested stakeholders to contact us to be part of this process," said Reinaldo Peñailillo, Water Resources and Delta Management from Deltares. "We hope to take that input to New York, in the shape of strong commitments that can mark a watershed moment for the stakeholders involved," he added.