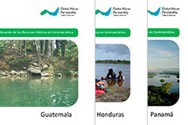 These reports will be summarized and will be included in the fifth edition of the "Status of Water Resources in Central America", which is a GWP Central America publication meant to contribute to decision-making and the definition of actions to be taken for sustainable water resource management.
The first edition of this document was published in 2001 and compiled data about the water in Belize, Guatemala, Honduras, El Salvador, Nicaragua, Costa Rica and Panama. In 2011, an update of the document with recent data for each country was published, also included the progress and achievements of the region, especially regarding issues of policy and legal framework, as well as to the evaluation and water resource planning.
GWP Nicaragua and Costa Rican partners will be working on their revision in the first semester of 2016, and the regional document is expected to be published by the end of 2016.