Fourty-six MSc and PhD students from 18 countries (Armenia, Bulgaria, Germany, Hungary, Italy, France, Latvia, Lithuania, Poland, Macedonia, Moldova, Montenegro, Romania, Serbia, Slovakia, Slovenia, Ukraine, Trinidad and Tobago) participated in the Summer School. Their specialities ranged from natural sciences, geography, engineering, to landscape ecology and international relations.
The topics
The curriculum aimed at presenting the most current global and regional water issues, as well as possible ways to address them and innovative approaches. Professors, speakers and practitioners from different countries and organizations like UNESCO WWAP, ECRR, University of Ljubljana, Josh's Water Jobs and GWP were invited as guest lecturers to present different perspectives and approaches.
Among the main topics were: Integrated Water Resources Management (IWRM), international water governance, the SDGs, green infrastructures, innovative solutions, ecosystems, nature-based solutions, river restoration and river basin management, integrated urban water management and others.
Case studies were presented and discussed, as well as other practical exercises and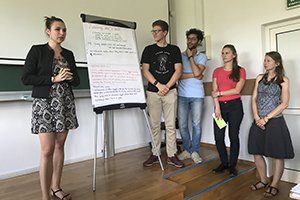 group work sessions, which aimed to bring a better understanding to the multi-disciplinary aspects of water governance such as transboundary water issues, participatory approaches, and conflict resolution techniques. In different interactive sessions, the participants had the chance to step in the shoes of different stakeholders, to identify concrete problems, create innovative solutions, or even make the first steps towards creating a project.
The summer school had a special focus on climate change, which included some of the most globally discussed climate topics at the moment. The participants had the chance to learn more about how the planning and decision-making at national and regional level is influenced by the latest analyses and processes at global level.
A dialogue between youth and decision-makers
An integral part of the Summer School was the Dialogue for Water and Climate Change Policies between youth and decision-makers called Youth Voices → Policy Choices. This initiative, funded by the European Union's Erasmus+ program, provided an interactive platform for a dialogue between the young water advocates and the decision-makers. The participants had the chance to present their messages, concerned and identified solutions to the decision-makers, who gave them a feedback and advised them on future steps.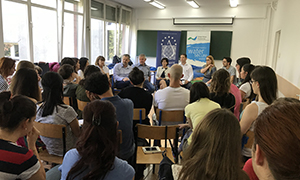 The decision-makers were represented by Ms. Liliana Rastocka (Slovak Ministry of Environment), Mr. Mitja Bricelj (State Secretary of Slovenian Ministry of the Environment and Spatial Planning), Mr. Adam Kovacs (ICPDR), Ms. Venera Vlad (EBRD), Mr. Viktor Orozsi (EU Strategy for the Danube Region Priority Area 5), and Ms. Lucka Kajfez Bogataj (Intergovernmental Panel on Climate Change).
Taking into consideration the feedback of the decision-makers, the youth will finalize their vision for a change and will present it at the 24th Session of the Conference of the Parties to the United Nations Framework Convention on Climate Change (UNFCCC COP24), which will be held on 3-14 December 2018 in Katowice, Poland.
The dialogue Youth Voices → Policy Choices has been made possible thanks to a collaboration between Solidarity Water Europe, the Global Water Partnership Central and Eastern Europe (GWP CEE), and Youth Water Community Central and Eastern Europe (YWC CEE).