It has a total area of over 2 million km2. Most of this vast land area is located in two major catchment basins – rivers that drain into the Baltic Sea and those that drain into the Black Sea.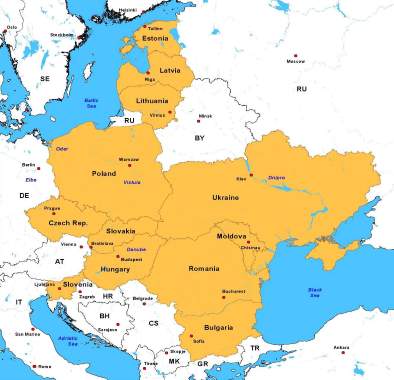 Rivers in Estonia, Latvia, Lithuania, Poland and, to some extent, Ukraine discharge their flows into the Baltic Sea.
Bulgaria, Hungary, the Czech Republic, Moldova, Romania, Slovakia, Slovenia and parts of the Ukraine are located entirely in the Danube, Dniester and Dnieper River basins, which flow into the Black Sea.
The Danube River Basin is by far the largest in Europe, draining nearly half the continent. The river itself courses through nine countries covering 2,850 kms on its way to the Black Sea.