This intergenerational dialogue was structured in such a way to be able to present three regional perspectives - from Central and Eastern Europe, Central Africa and Central Asia, as well as a global view on youth engagement in decision making in the water sector. Youth leaders were paired with senior water experts from the respective regions, with whom they debated on specific questions. The interactive nature of the session allowed the audience to participate, interact with the speakers and among themselves.
The objectives of the session were to explore the benefits and lessons learnt from youth engagement in decision making from various regions, and to try to identify concrete ways on how to improve youth engagement in water governance processes, including entry points of youth engagement in these processes. The participants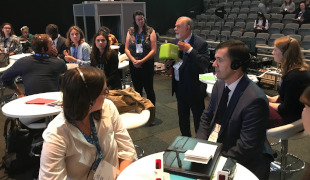 presented different regional approaches for efficient intergenerational dialogues that aimed at promoting youth inclusion and reforming decision making in the water sector. Although coming from various regions, they all agreed that young people bring a sense of urgency, energy and innovation to the table and they are not only a benefit to the discussions but are a must.
Identified challenges for more efficient youth engagement
Bringing youth to the decision-making table is not as simple as it may sound because for young people to make meaningful contributions there are a number of obstacles that they must overcome. The need for recognition from society and governments, as well as the volunteering nature of youth engagement, which is not sustainable in a long-term were pointed out by Ziga Scuvcot from Youth Water Community Central and Eastern Europe.
Hermella Wondimu Woldehana of Drop Of Water in Ethiopia highlighted the lack of a conducive environment for young people to participate, and the lack of a functional youth engagement policy or youth engagement in the development of policies and strategies. The participants also added the need for capacity building and the need for proper succession planning to allow young people to move up the ladder.
Looking ahead
"What is needed is a supporting guidance system that can be used so that youth are not neglected. Recognition can influence and motivate youth to stay in the sector with the right communication channels." said Hycinth Banseka from GWP Central Africa.
The session closed with Fatimatou Sall from the Association des Jeunes Professionels en Eau et en Assainissement du Sénégal, highlighting the avenues to encourage youth involvement in decision making such as mentorship and it is benefits for both parties, youth leadership and professional development opportunities through internships, leadership positions on committees to develop their capacities and increased support for the use of innovations and research products developed by young people in the governance of the water sector.
In closing it was very clear that young people want to be engaged at a higher level and this energy must be cultivated and supported by senior experts and decision-makers, but we must also identify the specific target and entry points for young people and hold governments and other decision makers accountable on how youth are meaningfully engaged. As Lindsey Aldaco-Manner, President of the World Youth Parliament for Water indicated, "if you set the stage high for us, we will show up and we will deliver!". Policy and decision-making processes in the water sector urgently need to make space for meaningful youth engagement through the inclusion of youth voices, facilitation of youth-led actions and mainstreaming of youth led solutions, which are all essential for achieving sustainability of water resources.