Prof. Tjaša Griessler Bulc has been working as Sustainable Sanitation Task Force leader at GWP CEE since 2014. She is active in projects development and implementation as a coordinator, task leader, partner member (including GWP CEE projects START-Sandanube and JRC-Synthesis centres on innovative wastewater treatment), Horizon 2020 OPTAIN, COST, and in following up tenders and calls of different programs supporting Integrated Water Resources Management (IWRM) (SDG 6.5.1.), focusing on Nature-Based Solutions (NBS).
She lectured at two summer schools organized by GWP CEE in 2017 and 2018 and co-organized a summer school in Piran, Slovenia, together with GWP CEE and Zürich University of Applied Sciences in 2019 titled "Implementing nature-based solutions for creating a resourceful circular city" for 34 students from 14 countries
Prof. Griessler Bulc is a specialist for water management and NBS. She works as a lecturer, researcher, project manager, and as a consultant. In her career she has presented her work through many publications and at numerous national and international conferences and meetings. Since 1990 she has participated in planning of more than 60 applications of NBS, e.g., constructed wetlands for wastewater treatment and reuse as well as for other green infrastructure (waste stabilisation ponds, multi-functional flood reservoirs, buffer zones, vegetated ditches, river revitalisation, landfill remediations, eco-remediations, algae-based technologies). In Madrid in 2001, she was awarded with prestigious Lillehammer Award for innovative development of NBS in the framework of the biggest industrial development programme Eureka.
In 2002, she and her colleagues were nominated for the European Award of the Year for landfill remediation based on NBS. She obtained 3 patents for her innovations for water treatment in Slovenia and Croatia. In 2008 she and her colleagues at Limnos Ltd. were awarded for innovative wastewater reuse solutions with the Energy Globe Award in the European parliament by high EU representatives.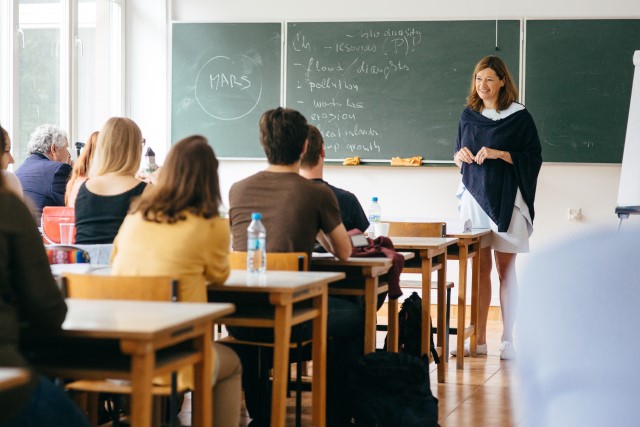 For 10 years she has been co-owning Limnos, a Company for Applied Ecology.
Since 2009 she has been working at the University of Ljubljana at Faculty of Health Sciences and Faculty of Civil and Geodetic Engineering where she researches in the frame of international and national research projects and programs and lectures water relating topics (more than 60 successfully concluded). From 2010-13 she was the Vice-Dean for the Research at Faculty of Health Sciences, and from 2014-18 she was the Head of the Institute for Transfer and Application of Knowledge at the same Faculty.
Former Regional Chair, Tomasz Okruszko, said on behalf of the Regional Council: 'We are confident that Prof. Tjaša Griessler Bulc will provide strategic guidance for the Regional and Country Water Partnerships and has very good skills and capabilities to lead our region for the implementation of 2030 Sustainable Development Agenda, the Paris Agreements as well as the new strategy of our organisation.'
GWP CEE Regional Council members and GWP CEE Secretariat would like to express their gratitude to the previous Chair, Prof. Tomasz Okruszko, who was deeply committed to GWP vision, and supported GWP CEE secreatariat and it's CWPs as GWP CEE Chair since January 2017.