The International Danube Art Master is selected from the winners of the national 'Danube Art Master' competitions in 13 Danube Basin countries - Austria, Bosnia and Herzegovina, Bulgaria, Croatia, Czech Republic, Germany, Hungary, Republic of Moldova, Romania, Serbia, Slovakia, Slovenia and Ukraine. Thousands of children from these 13 countries entered the competition.
The winning artwork, entitled "Danube People" was created from mud. The winning artists were Lora Petak and Vinko Kovačić, of Primary School J. Kozarca in Semeljci. The ICPDR congratulates the winners as well as their teacher Ana Petrović and the national organizer Green Osijek.
The artwork was inspired by an artwork created by one of the artists last year, which was similar, but made out of sand.
The second place goes to Austria for the artwork "The Course of the Danube River" by Class 3b, NMS Marc Aurel in Tulln.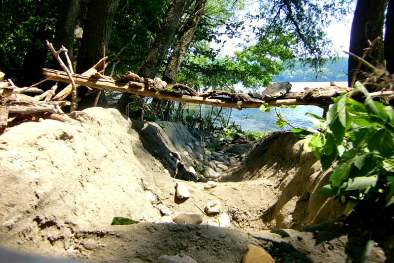 "Heart for Danube" by Lucka Pelantová, Lilian Teskal, Daniel Vadóczky, Katka Csicsaiová, Diana Manyuczová, Martina Takáčová and Adriana Čičaiová from Primary School Rozmarínová in Komárno, Slovakia won the third place.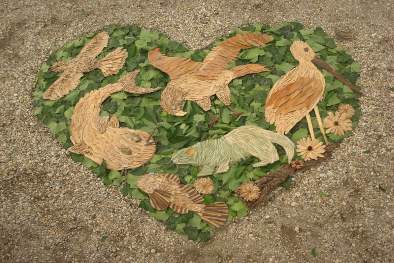 "This competition is a fantastic way for young residents of the Danube River Basin to demonstrate their connection to water in a creative way," said Ivan Zavadsky, Executive Secretary of the International Commission for the Protection of the Danube River. "As every year, I was very impressed by the colourful and very original contributions received."
Children were encouraged to visit local rivers and surrounding areas and to consider what the environment means to them. They were then asked to reflect their thoughts and inspirations through environmental art using materials from in and around the river.
The competition was jointly organized by the International Commission for the Protection of the Danube River in cooperation with the Global Water Partnership Central and Eastern Europe with support from the Green Danube Partnership with the Coca-Cola system.
The award ceremony at the Budapest Water Summit is attended by the national Danube Art Master winners and their accompanying persons. János Áder, President of Hungary, awards certificates for the national winners today at 17:30 o'clock.
After the ceremony, the winners will join a full-day environmental programme, organized by the Global Water Partnership Hungary, which included trips to the surroundings of Budapest and the Danube bend, Szentendre and the Danube Museum.