The meeting addressed problems connected to water management in the country. Although Slovenian water resources are healthy in comparison to many other countries, during periods of drought some parts of the country experience problems with water supplies and extensive damage to agriculture.
In the last twenty years there have been six agricultural droughts that have reached the dimensions of a natural disaster. The last two droughts in 2012 and 2013 led to more than 50% reduced agricultural production. In addition problems appear during flooding, and both these kind of extreme weather phenomena are becoming increasingly frequent.
Looking at this, experts have calculated that preventive measures and adaptation would be much cheaper than paying damages, which has been the case in the past. Timely adaptation is more effective and less costly than adaptation at the last minute. Adaptation can also deliver immediate benefits and timely adjustment can bring new opportunities.
In some of the key conclusions of the meeting, the participants agreed that the Government plays a major role in ensuring sustainable management of natural resources, but water management problems also need to be solved at institutional and individual levels. Education about the possibilities of mitigation and adaptation is key to reaching good water management.
Furthermore, participants agreed that a strategy of large-scale natural disasters should be prepared and adopted and that reinforcement of knowledge, experiences and good practices should be encouraged between researchers and users. It was suggested that interested public should be invited to the preparation of a Drought Management Plan at its initial stage.
A full report of the event is available to download.
On 21 March GWP Slovenia will hold a National Consultation on the post-2015 Water Development Agenda. The consultation will be co-organised by the Ministry of Foreign Affairs and the Ministry of Agriculture and Environment. It is part of the country consultations that GWP is organising in connection to the GWP-OECD initiative Global Dialogue on Water Security and Sustainable Growth.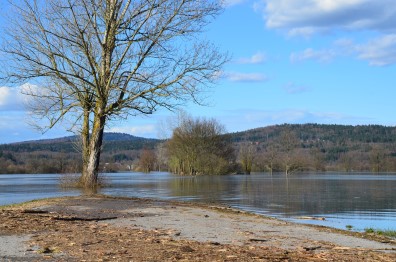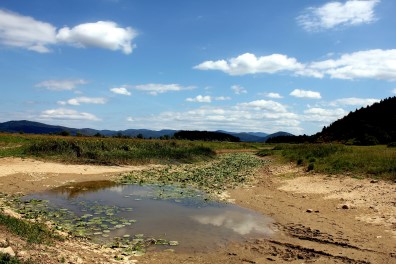 Top photo: GWP Project Manager Sabina Bokal speaking at the event in Ljubljana.
Bottom photo 1: Spring flooding in Slovenia, April 2013. By Katarina Pika Širca.
Bottom photo 2: Dried up lake in Slovenia, August 2013. By Tea Vardjan.