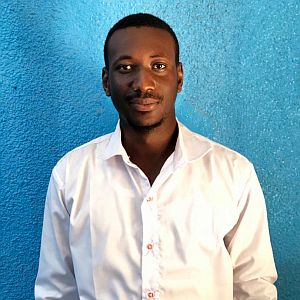 While talking to one of my aunts who works in a GWP-WA partner organization, particularly at IUCN, I first heard about this organization. She described it as an Organization acting in the promotion of IWRM. After many searches on the Internet (Google and www.gwp.org) on the objectives, vision and location of GWP-WA in Burkina Faso, I learned that GWP-WA, in collaboration with its partners (IUCN, VBA, Eau Vive Internationale and IRC), promotes the professional integration of young people in West Africa through its Regional Programme for Youth Employability in Water Security and Climate Resilience Occupations, implemented through the Integrated Drought Management Project in West Africa (IDMP-WA), the TonFuturTonClimat initiative, the Nexus & Food and Nutrition Security Programme and the Water Climate and Development Programme (WACDEP).
So, I did various researches that allowed me to learn about the organization where I finally applied for an internship. A few days later, I was informed that I had been selected and I was invited to an interview with the woman who will be my internship supervisor, Mrs Félicité VODOUNHESSI. During this interview, she gave me information about the different projects underway at GWP-WA and she told me about the various activities I could work on during my time in the Organization.
We then had a few working sessions that allowed me to clearly define the theme of my internship, "the contribution to the implementation of the TonFuturToncClimat project in Burkina Faso: Support for the development of a drip irrigation perimeter in the village of Ramitenga, rural commune of Loumbila".
The choice of this theme is for me a case study of the Urban and Agricultural Hydraulic Network (UHAN) module that I appreciated at the university. For me, this will contribute to deepening my theoretical knowledge by working on field data. By whipping my own student ego, I thought I could provide technical support for the implementation of this development and irrigation project.
Have I learned anything?
My time at GWP-WA was a great experience for me. I was especially impressed by the staff of the organization, which is dynamic and open to others. I admired the sharing spirit of the GWP-WA agents of their knowledge and experiences, which facilitated my integration and learning because I felt confident. I have also had the opportunity to see all the sacrifices that are made at all levels for the realization of the various projects and to allow me to reconcile theory with practice. Things that may seem trivial to professionals, but I have learned to write administrative documents such as terms of reference (TOR) for internships, missions, interview guides, investigation reports...
Did I bring anything?
This internship gave me an opportunity to contribute to the implementation of the TFTC project by collecting data and information that helped me to determine the preferred crops of the beneficiaries, to assess and analyze broadly the water needs of these crops and to make a summary analysis of the development proposals for the project site. This experience first allowed me to surpass myself because with the intense pace of work I was able to push my own limits. Then, it allowed me to be more responsible because I was given tasks that I had to perform within defined deadlines. To do this, I have learned to organize myself better and to invest myself more seriously in carrying out the various tasks. Finally, with my time with the GWP-WA team, I am more open to the rest of the world. I am shy by nature, and the support of all the GWP-WA staff and especially the open-mindedness and close accompaniment of my supervisor, I was able to get out of my shell. I also believe that I have contributed above all to strengthening collaboration between my University (Ecole Supérieure Polytechnique de la Jeunesse - ESUPJ) and GWP-WA.
GWP-WA in addition to being an organization has been a school for me. I come out of this experience with new qualities such as the ability to plan and values such as openness to others, which will allow me to practice the engineering profession in all circumstances. Many thanks to GWP-WA!