The three event took place on 24 to 26 August in Bohicon, under the charimanship of the Director General of Water, Mr. Said Hounkponou, in the presence of the chair of CWP-Benin and the representative of the departmental director of water and mines of Zou.
The general objective of the workshop is to carry out consultations in view of a participatory and inclusive evaluation of PANGIRE 2 and the elaboration of the main orientations of PANGIRE 3.
The meeting was meant to identify and analyze the strengths, weaknesses, threats and opportunities resulting from the implementation of PANGIRE 2, develop the major orientations that will guide the formulation of the PANGIRE 3, formulate the main recommendations (roadmap) for better development of the PANGIRE 3.
An in-depth consultation with the members of the PANGIRE 2 Steering Committee was done with a broader participatory consultation with key national stakeholders to evaluate the implementation of PANGIRE 2 and a roadmap guiding to the development of PANGIRE 3 was developed together with the formulation of recommendations.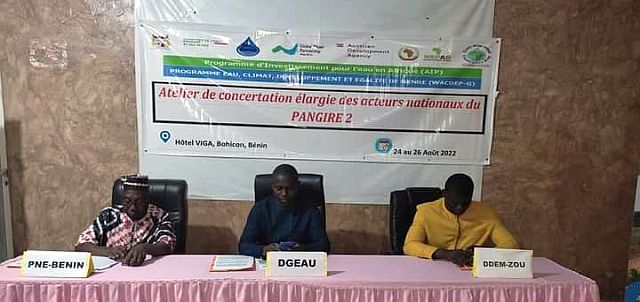 Approximately 32 participants, including 6 women, took part in this workshop and represent state actors from institutions including the Ministry of the Living Environment and Sustainable Development, Ministry of Agriculture, Livestock and Fisheries, Ministry of Economy and Finance, Ministry of State in charge of Development and Coordination of Government Action, Ministry of Infrastructure and Transport, Ministry of Decentralization and Governance, Ministry of Water and Mines, Benin Chamber of Commerce and Industry, National Association of Communes of Benin and non-state actors like CWP-Benin, Protos Benin and CIPCRE-Benin.