A regional conference on geospatial data and information technology services in agriculture and water was organized in Ouagadougou, Burkina Faso on 17 and 18 April 2019 by the Inter States Committee to Fight Drought in the Sahel (CILSS). The conference brought together about a hundred participants from West Africa and Europe from public and private institutions, ICTs, water, food security, climate change and the geospatial world, including GWP-WA represented by its two young professionals. The event was under the dual patronage of the Minister of Agriculture and Water Management of Burkina Faso, who is the Coordinating Minister of CILSS and the Minister of Development of the Digital Economy and Posts.
The theme of the regional conference was: "Computer and geospatial data services in the field of intelligent agriculture in the face of climate change (AIC): digital technology to increase business opportunities and entrepreneurship for youth and women." The objectives are to promote the use of geographical data and modern technologies, to develop climate-smart agriculture and to catalyze partnerships, with a view to stimulating the widespread use of sustainable experiences for the benefit of women and young people.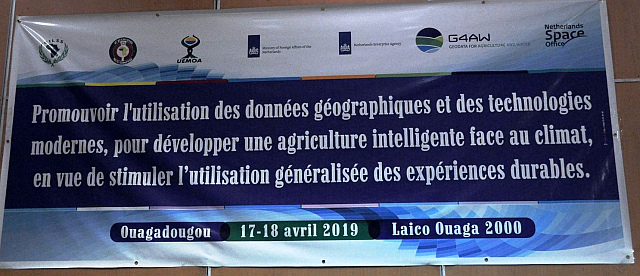 There were several plenary sessions during the two days, leading to the signing of a partnership agreement between SNV-Mali and the Dutch Embassy in Burkina Faso.
The Executive Secretary of CILSS, Dr. Djimé Adoum, expressed his satisfaction with the organization of the conference and undertook, on behalf of CILSS, to ensure wide dissemination of the results achieved in the countries and to continue the partnership with the Netherlands Space Office (NSO) and the Netherlands Ministry of Foreign Affairs. There are partnership opportunities for GWP-WA with structures like World Waternet and AKVO. ECOWAS also announced on 15 February 2019 the availability of an Investment Fund for Agricultural Entrepreneurship called "ABC Fund" (Agri-Business-Capital).