Gender equality is essential for the resilience of communities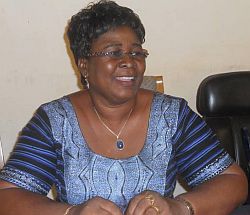 Dr Mamounata BELEM / OUEDRAOGO, Research Chair INERA / CNRST, Former Minister of Water, Hydraulic infrastructures and Sanitation of Burkina Faso. She is an Officer of the National Order
The water sector is one of the key sectors of basic social development. Without access to safe drinking water for all, there is no sustainable development in a country.
In Burkina Faso, the water sector has been identified as a sector vulnerable to climate change and climate variability (PANA / BF, 2005).
Men and women are the main players in the water sector. There is a more pronounced involvement of women, with the help of children, as the main actors in supplying the household with water.
When it is known that water resources management must be done in an integrated way, taking into account all actors, it can be easily stated that the water sector is key in stepping it up to gender equality.
In trying to strengthen the resilience of communities to the water crisis, all components of the entire population should be considered. And that is where the water sector plays a great role in taking gender equality forwards.
For gender equality all components should play their role like women do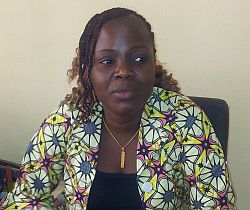 Félicité Vodounhessi, Engineer, Project Manager at GWP WAf
Water is at the heart of all life. The human body (children, young people, girls, boys, old men, women, etc.) contains about 60% of it.
Also, the vital importance of the water resource is no longer to be demonstrated because without water, no other sector can develop.
Women are central to the provision, management and safeguarding of water, for a gender equality it is necessary to take into account all levels of society (children, young people , Girls, boys, elders, men, women) in the management of this rare and unavoidable resource for the life, in all sectors of development.
This consideration of all, at all levels, would be a genuine means of strengthening gender equality.
Investing to improve the sector can contribute to set it up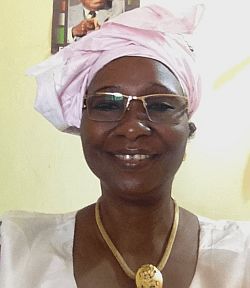 Fatoumata Goundo SISSOKO, Vice-Chair CWP Mali, member of the Coordination of Female Association and NGOs of Mali
For me the water sector can strengthen gender equality in the sense that improving this sector allows the woman to spend more time on her working time and hence her income will increase; She will have time to take care of her well-being; Girls will have more time to take care of their studies instead of helping their mothers with the water chore, women and girls have more time for training, they will know their rights and duties better to the community; Their health is preserved as well as that of their family.
The fact is that women put more time on water (6-8 hours per day) in some communities because they are at the heart of water supply, management and conservation processes, while men have more free time to take care of their business, to position themselves strategically.
Faced with this situation, each actor must fully play their role in improving the water sector (state, communities, decision-makers at all levels), women themselves must fight to be in the decision-making bodies so that their fundamental concerns are considered in development plans at all levels. They must be trained, to have substantial incomes to be at levels of responsibility, only after that we can think of gender equality through the water sector.
WISH ALL WOMEN TO CELEBRATE WELL IN MEN'S COMPANY!
Gender equality for a just and equitable participation of man and woman to sustainable development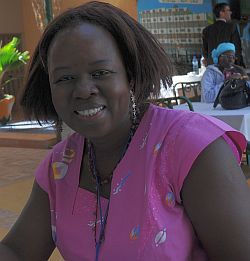 Dr. Karidia SANON, Lecturer and Researcher at University of Ouaga 2, Burkina Faso
Karl Marx said that "The oppression of women is the very symbol of the oppression of the classes? ". Gender equality in the water sector is now perceived as a necessity for a just society without oppression and for good governance in the water sector.
Thus, in the transition to Integrated Water Resources Management (IWRM) as a substitute for sectoral management, the need for the effective implementation of the Dublin Principle 3, which places women at the heart of the Water supply, management and conservation responds to the question "How can the water sector step it up for gender equality?", since the application of this principle will lead to the effective involvement of women and men through their equal participation in quality and quantity in decision-making bodies on water resources and in the sharing of benefits.
Here, I notice two difficulties which undermine the application of this principle in Africa and, consequently, this equality:
the social context marked by a social organization centred around virility: traditional societies are characterized by a male predominance, where power is mainly patriarchal. This makes the actions and difficulties of women invisible in the management of the economy;
the low level of representation of women in the central and decentralized administration which deals with water issues, although many documents advocate a reversal of the trend.
A Gender analysis is needed in the interests of equity in the water sector (based on Principle 3), which will present itself as a research-action instrument for the fair and equitable participation of man and women in the water resource management process in the context of IWRM. This analysis should be based on the spatial and temporal dynamics of gender in Africa.