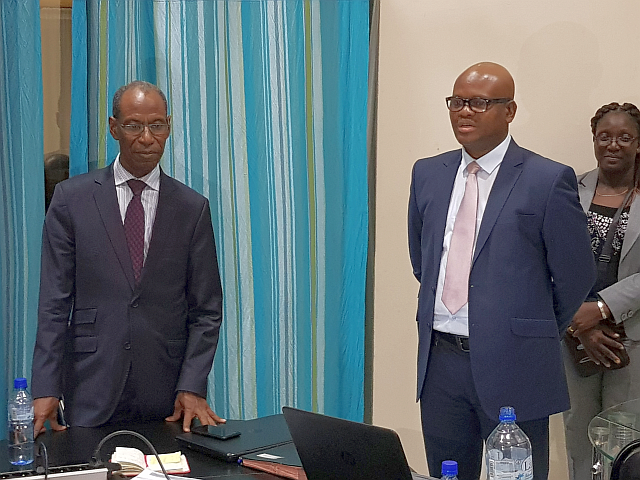 Professor Amadou Hama MAIGA, Chair GWP WA presided the ceremony and expressed the network gratitude to Dam MOGBANTE whom he said "everybody recognizes his professionalism and hardworking mind. You have devoted most of your life working for GWP", he said addressing to the outgoing coordinator. He welcomed the new Executive Secretary Armand HOUANYE whom "everybody agrees you are the person that GWP needed at this moment and commended me to work with", Professor Maiga told Mr. HOUANYE.
The partners were given the floor and each expressed grateful words towards Dam MOGBANTE whose human characteristics were highlighted. Besides, professional relations he has built human relationships with almost all of the partners who took the floor. Most of them have already met and worked with the incoming coordinator whom they characterized as someone who has respect to others.
On behalf of the staff, Sidi COULIBALY brought a life experience the staff have had during years of collaboration with Dam MOGBANTE to whom he said, "You have not been a boss to us but a brother who has guided most of the staff members on everyday life basis trying to understand and bring appropriate solutions as you can". To the new coordinator he reminded the respectful working relationships since he was national coordinator for CWP Benin up now through the Africa GWP Coordination Unit in Pretoria. "Everybody knows and says that you have a great love for your work and we expect you to put your efforts in taking GWP forwards to meet people's needs". He ensured the new ES of the good mind of the staff to work besides him for GWP success in the region.
Dam MOGBANTE, expressed gratitude to all GWP partners, praised the leadership of all the chairs he worked with during the years at GWP as well all staff members from 2000 to 2017. "Any achievement that can be attributed to GWP in the region during these years is their work and I wanted to recognize today and thank everybody", he said. Addressing both to the chair and the incoming coordinator, he said "I wouldn't feel at ease when leaving GWP if I were not handing over to someone like Armand HOUANYE whom I know will take GWP to our expectations".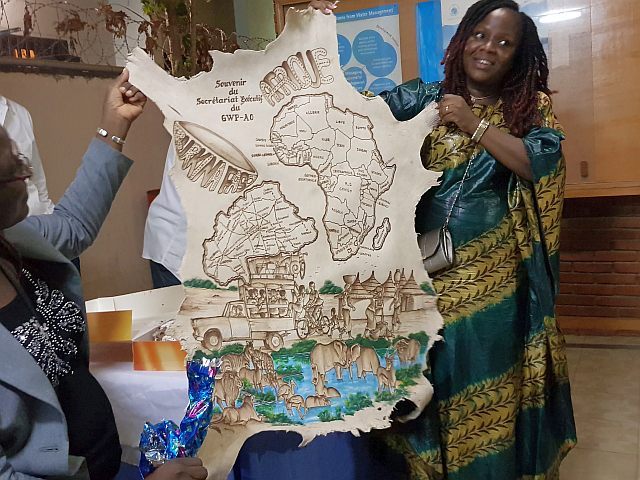 Armand HOUANYE paid tribute to all former chairs of GWP WA as well and added "I am not replacing Dam MOGBANTE. You are one of the resources we will rely upon towards our priority goals stated at the recent statutory meetings of our network". He expressed happiness having to work with Prof. MAIGA as the chair of GWP WA and Dr. BARRY as RTEC chair as well as the secretary to take high GWP in the region. He reiterated that he is aware of the great challenges GWP is facing to "advance national, regional and international priorities related to water resources in the region". He concluded by calling everybody to work together, the only "we can succeed together".
Symbolic gifts were given to Dam MOGBANTE and family. But he will remain with the secretary to support many initiatives that are still running at express request of the chair and coordinator.