The ceremony was attended by the Executive Director of the Volta Basin Authority (VBA), Mr. Robert DESSOUASSI, the member of the global Steering Committee, Pr. Aboubacar AWAISS of IUCN/PACO, Mr. Dibi MILLOGO, Deputy director of VBA and chair of the CWP Burkina, Farida KONE, representing the youth organizations in the regional steering committee, Dr. Karidia SANON, outgoing gender focal point and member of the technical committee.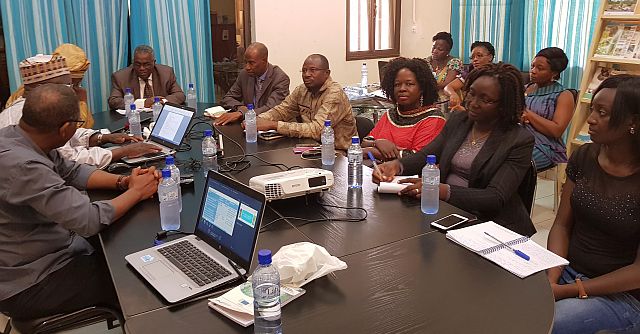 Renewed congratulations were repeated preceded by the presentation of ongoing initiatives implemented by GWP West Africa.
The Director of VBA seized the opportunity to ask GWP to help in the duplication of the Mekrou project in the Volta basin and support his institution in the capitalization of lessons learned, tools developed in the Volta basin. He also requested GWP to support VBA for fundraising with the strategic action plan. Mr. DESSOUASSI said that GWP could help to raise awareness on the serious phenomenon of herbicides, there is the need for awareness channels to slow down pesticide use. The MOU between GWP WA and VBA needs to be updated, he said.
After signing and handing over the transfer report between the two personalities, the Secretariat hand over a symbolic farewell gift to Pr. Abel AFOUDA who served GWP WA as chair since May 2013.