The TonFuturTonClimat project focuses on reducing gender inequalities to involve rural Youth (women, boys & girls) in climate development resilient activities. Thus, the CWP Burkina Faso together with GWP WA organized the first awareness session on good hygiene and sanitation practices for some 50 women on April 9, 2019, in the market place of Koankin, a village located in the rural commune of Sapone (about 30 km from Ouagadougou).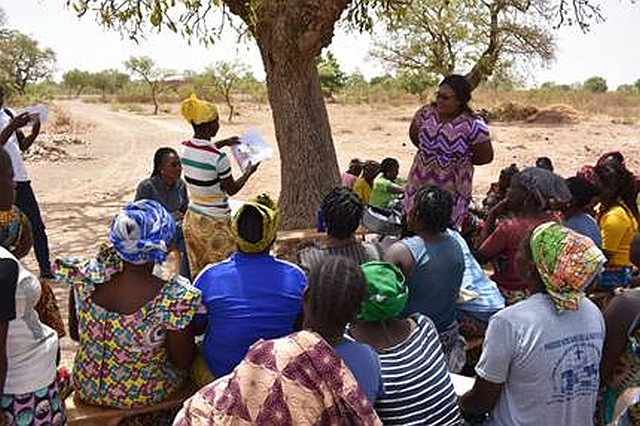 After the customary greetings and a reminder of the context of the awareness session, the facilitators of CWP Burkina Faso used some educational tools from the PHAST (Participatory Hygiene and Sanitation Transformation) method, which is a method that builds self-confidence and individual capacity to act and make improvements in their community.
The tool used is called "the three piles of matches game", highlighting 3 different situations of hygiene and sanitation practices: the good, the bad and the ugly. The application focused on water transport with a canister or bucket, cleanliness around a drinking water point (drilling), household waste management at the family level and food protection. The participants gathered into 5 groups were able to quickly classify the 3 images and explain the consequences of the ugly situation which is the main cause of common diseases in the area, namely diarrhoeal diseases and malaria.
The women of Koankin have committed to improving environmental health and banning poor hygiene practices in order to reduce their frequency at the Sapone primary health centre for diseases that they could have prevented with simple actions.
The TFTC Project funded by the Government of Quebec (Canada) is jointly implemented by the International Secretariat for Water (ISW), the Global Water Partnership West Africa (GWP-WA), Eau Vive Togo and the Country Water Partnerships of Benin and Burkina Faso.