The chair, Professor Euloge AGBOSSOU, announced on the national television the competition which is to be launched by CWP-Benin in the coming days. Two other members of the CWP Coordination were interviewed on radio and television channels on the theme, and on the state of the water sector in Benin.
At INE, the WWD celebration was delayed to March 30 on the campus of the University of Abomey-Calavi. The events were marked by a caravan led by INE students, followed by a panel on the theme of the Water Decade 2018-2028, "Water for Sustainable Development" which was led by the Executive Secretary of CWP-Benin and on "Water Entrepreneurship", provided by a guest entrepreneur for the occasion. Also, the support given by CWP-Benin to the National Water Institute (INE) for the celebration of this day consisted in offering 130 T-shirts and 120 caps bearing the logo of CWP-Benin to be worn by the caravanners, in addition to the communications on the Water Decade 2018-2028.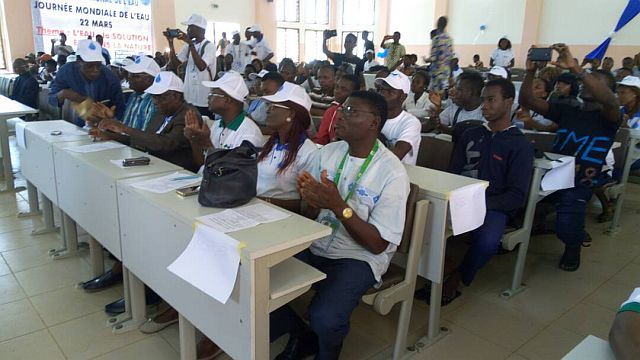 The CWP will make a follow up with the organization of the contest on water. A campaign to collect ideas on nature-based methods to provide solutions to various water-related challenges will be soon launched in order t build a directory on endogenous practices and innovative ideas on nature-based solutions to water-related challenges. A selection of the best ideas will be made, the winners awarded, and the ideas capitalized, then popularized in Benin and in the sub-region.