The Minister of Fisheries, Water Resources and Matter with Parliament, Honourable Mass Axi Gye, opened the ceremony and stressed the fact that "The Gambia shares the Gambia River basin with Guinea, Guinea-Bissau and Senegal. The 1978 Convention relating to the status of the Gambia River and the creation of the Gambia River Basin Development Organisation (OMVG) has some important gaps of which value can be added by the ratification of the UN Watercourses Convention". Honourable Mass Axi Gye went on to encourage participants "to seize this opportunity to participate actively so that The Gambia could be in line with other sister countries that have already gone far in transboundary issues in line with the IWRM processes".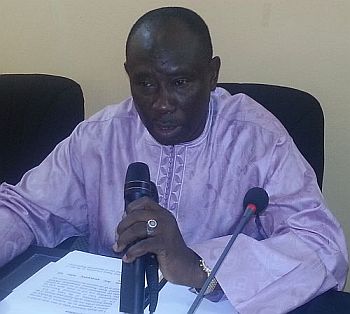 Honourable Minister Mass Axi Gye
Just before the Communications Officer of Global Water Partnership, Mr. Sidi Coulibaly, speaking on behalf of his organization and the partners (WWF, ECOWAS Water Resources Coordinating Center) stressed out that "This workshop with the media is meant to give voice to what has been done and needs to be completed in The Gambia for this country to be among the first ones in the process." He recalled that the advocacy for the ratification started in the country in September 2011 and since then a lot of activities have been done. The IWRM focal person, Mr. Yusupha BOJANG very optimistically put it that the hope is that the Convention is ratified by The Gambia before the end of 2013. After the national campaign of information and sensitization throughout the country, the process has got the legal approval of the Ministry of Justice. The Ministry in charge of Water Resources is developing the final document to argument the ratification decision before it is transmitted to Cabinet for approval before any vote by the Parliament.
Chairing the session, the deputy director of the Department of Water Resources, Mr. Bernard GOMEZ stressed on the importance of water resources for any development. He said that Gambia being an downstream country of the River Gambia has all reasons to ratify the UN Convention than any other country.
The participants were asked to propose ideas on how a campaign can be carried out now and after the entry into force Convention to inform the general public.
The workshop was facilitated by Mr. Yusupha BOJANG and the Coordinator of the Gambia Country Water Partnership, Mr. Momodu NJIE.
It was financed from the Norwegian funded project signed with WWF International.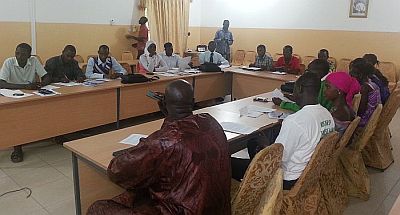 Partial view of particiapants