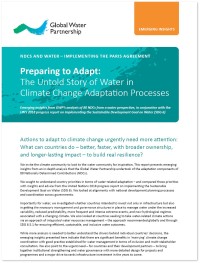 The report shows that while countries highlight the need to climate-proof water supply and build resilient water infrastructure, few are paying attention to the one thing that will make these ambitions sustainable in the long-term: strengthening water governance through robust water management institutions.
Speakers from Mauritania, Sri Lanka and Nepal shared their ambitions, moderated by Oyun Sanjaasuren of the Green Climate Fund. H. E. Nezha El Ouafi, Secretary of State, Ministry of Environment, Morocco, and Co-Chair of the NDC Partnership spoke at the event. The UNFCCC Executive Secretary, Patricia Espinosa, referenced the document's finding in remarks at a UN-DESA event.
Bottom line? The need to pay attention to water management and governance systems gained visibility - and GWP and our partners gained credibility. Countries are looking to engage on water adaptation and its link to the SDGs – a message that we will take to Country Water Partnerships.
Here is a summary of GWP's COP 24 messages and here, GWP's Statement to the 24th Conference of the Parties to the UN Convention on Climate Change.
Watch a video of the launch of "The Untold Story of Water" (links to Facebook).
Watch the GWP Press Conference at COP24 below: